iPod Nano 4th Generation (Purple)
Capacity: 16GB (flash)
Manufactuer: Apple Inc.
Software version: 1.0.3
Themes: / Audiobook / Podcast / iTunes /
This is my third Nano and my fourth iPod. So far I'd rank it as the 2nd best audiobook and podcast player I've ever used. This Nano is just a smidge smaller than my previous iPod Nano, an 8gb 3rd generation model. The 3rd generation had a couple of features that make me prefer it over this latest model.
First, though the 4th generation's screen is exactly the same dimensions as the 3rd's it doesn't function as well for audiobooks and podcasts. This is because the 3rd gen's horizontal layout was friendlier for reading. The 4th generation, when turned sideways, will NOT display text from the Audiobook or Podcast folders, you have to keep the iPod vertical, this makes the amount of time you have to wait to see what's in a directory a second or so longer. Second, unlike ALL previous iPod models the 4th gen will not charge with my bedside charger/speaker system. In order to keep the iPod charged I have to plug it into the computer itself. I am currently looking into an adapter – the seem to be about $50.00.
The Nano model series has been the best audiobook/podcast player up to the 3rd generation. Up to that point each model and software update the iPod Nano had been improving. Adding a bigger screen and more memory. On the day my first generation Nano was stolen I went straight to the store and immediately bought the 3rd generation – not only was the memory bigger, it's screen was too. If my new 4th generation was stolen today I'd go out and buy another today- but for if they were still making 3rd gens in 16gb models, I'd buy that instead.
There are issues with the iTunes/iPod interface, many people complain about it, I myself have bitched now and again, but compared to the vast field of MP3 and other portable media players out there iPod+iTunes combo still has no serious competitors.
Features that make the iPod Nano a winner include:
1. True audiobook and podcast bookmarking.
2. A one handed (just your thumb actually) highly intuitive interface.
3. Small size (it can fit in a shirt pocket).
The bad:
1. DRM.
Audible.com provides all of the audiobooks available through the iTunes store, all are DRM'd making sharing and sometimes even accessing audiobooks inconvenient. And, the iPod isn't compatible with Overdrive (the other big DRM audiobook service) – libraries are wasting their money on a service that can't be used by more than 70% of the market.
2. $$$
The price is a little high, given the competition I'm willing to pay the premium, but the fact is these devices are always more expensive than their similarly featured (though not similarily functional) rivals. My latest iPod cost me $199.99 CDN, admittedly for the highest end 16gb model. But that's about $20.00 more than the 16gb Microsoft Zune.
3. Reliability
iPods can be fairly good or fairly bad. When they work, they can work great day after day, and week after week for more than a year. But they all seem to have a fairly short lifespan. My last iPod lasted through only a 13 months of daily use. I definitely got my money's worth, but I'd prefer to get MORE than my money's worth.
4. Music/Video domination.
Despite the high praise I give for the iPod Nano as an audiobook and podcast player the machine is still primarily designed for music (and increasingly video). This reveals itself further in this the newest model, which has a widescreen interface (making it harder to read text and easier to watch movies). Another new feature, "genius" idea (shake it to mix it) is also utterly useless for audiobooks and podcasts. The only shaking I do with my ipod is when I've had too much coffee.
Posted by Jesse Willis
The Bat Segundo Show has an interview with Catherynne M. Valente (Palimpest) |MP3| and Charlie Huston (The Mystic Arts of Erasing All Signs of Death) |MP3|
You can subscribe to the feed at http://feeds.feedburner.com/segundo
Posted by Charles Tan
Here's a new FREE LibriVox H. Beam Piper audiobook, it took a little while for the podcast feed to appear but its all ready for listening now…
The Edge Of The Knife
By H. Beam Piper; Read by Julio Martini
6 Zipped MP3 Files or Podcast – Approx. 1 Hour 48 Minutes [UNABRIDGED]
Publisher: LibriVox.org
Published: February 12, 2009
The Terro-Human Future History is Piper's detailed account of the next 6000 years of human history. 1942, the year the first fission reactor was constructed, is defined as the year 1 A.E. (Atomic Era). In 1973, a nuclear war devastates the planet, eventually laying the groundwork for the emergence of a Terran Federation, once humanity goes into space and develops antigravity technology. The story "The Edge of the Knife" (collected in Empire) occurs slightly before the war, and involves a man who sees flashes of the future. It links many key elements of Piper's series.
Podcast feed:

http://librivox.org/bookfeeds/the-edge-of-the-knife-by-h-beam-piper.xml
Posted by Jesse Willis
StarShipSofa Aural Delights No. 68 – Kim Newman |MP3|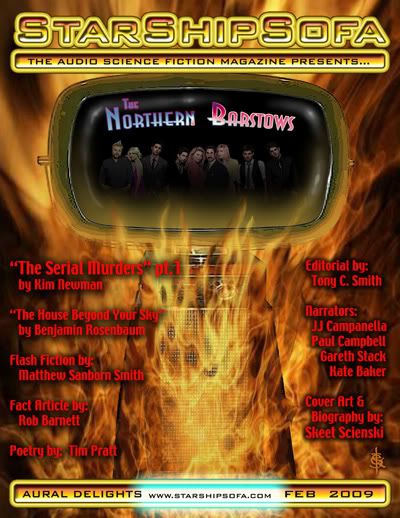 Aural Delights No. 68 Kim Newman
Editorial: "Kindle the Savior of Book Publishing" by Tony C. Smith 00:10
Poetry: "Angle Bites" by Tim Pratt 15:30
Flash Fiction: Brothers and Sisters by Matthew Sanborn Smith 18:00
Fact: Sofa Art Cover by Skeet 24:00
Fiction: The House Beyond Your Sky by Benjamin Rosenbaum 32:00
Fact: Movie Talk by Rob Barnett 01:03:00
Main Fiction Serial: The Serial Murders Kim Newman Part 1 of 4 01:12:00   
Fact: Fiction Crawler No. 5 Matthew Sanborn Smith 02:06:11
Narrators: Kate Baker, Gareth Stack, Paul W Campbell, JJ Campanella
Twitter #futuerjer http://tinyurl.com/futurejer
Links to Fiction Crawler No. 5:
At the Bottom of the Garden by Jo Walton

Non-Disclosure Agreement by Scott Westerfeld
The Support Technician Tango by Daniel Abraham
Big Man: a Fable by Joe R. Lansdale
The Shangri-La Affair By Lavie Tidhar
Posted by Tony C. Smith
When I first read the email I thought it was refering to some new twist in the ongoing "buy American" campaign. But no, this is about Richard K. Morgan's newest novel (a Tantor Media audiobook)…
Steen Hansen reports…
"I signed up like a good consumer to Audible, I have 2 monthly unused credits paid for and finally I see something I want. But I cannot buy 'The Steel Remains' [Richard K. Morgan's new novel] even though I am in Canada.

Hmm, maybe I should just download it now and then buy it later…

Kinda got scared of the 'Gay Porn' label by some reviews on Audible, probably fundies, but nobody made a big deal about it on Amazon so I think it is not a issue. Who knows maybe gay porn isn't that bad anyway."
What's weird is even after figuring out what Steen was talking about it still sounds like American protectionism to me. Don't we have a free trade agreement?
UPDATE:
The |PDF| sell sheet for The Steel Remains says Tantor has "North American" rights.
Posted by Jesse Willis
Star Wars: Millennium Falcon
By James Luceno, Read by Marc Thompson
8 CDs – 10 hours [UNABRIDGED]
Publisher: Random House Audio
Published: 2008
ISBN: 9780739377130
Themes: / Star Wars / Science Fiction / Fantasy / Religion / Space Travel / Adventure / Hardware /
Marc Thompson does the reading here, after a very long stretch of excellent Star Wars narration by Jonathan Davis. The series is in good hands. Marc Thompson is a bit of a impressionist, able to invoke Harrison Ford's Han Solo merely by the tone and meter of his voice. Most of the time it works great, but every now and then I got a clear view of David Puddy in my head (Elaine's boyfriend from Seinfeld, played by Patrick Warburton). Who knew that Ford's and Warburton's voices were so near each other? These times are few, though, and Marc Thompson is a narrator I'd listen to any time.
Star Wars: Millenium Falcon spans a lot of history. The famous ship has been around, and James Luceno takes us on a tour of its busy life. Han Solo and Leia are married, for those who haven't been keeping up, and have grandkids (yes, a LOT has happened), one of which is named Allana. One day she asked Han about the history of the ship, which prodded him into looking more into it.
In the meantime, a previous owner of the ship (before Lando) has been in stasis for quite a few years. He wakes up and immediately goes after something he left on the ship. Eventually, their paths cross.
This is an entertaining adventure that ties together the whole Star Wars saga through the history of the Millenium Falcon. It's extremely well done, and lots of fun for a fan like me.
Random House Audio Star Wars page
After listening to this audiobook, I was curious – did the Millennium Falcon make an appearance in Episodes I, II, or III? The answer is yes, but only briefly:
Posted by Scott D. Danielson