I do not hide my love for the Red Panda.
But, SPOILER ALERT, I'm actually in love with the Flying Squirrel.
Both of my loves show up in the three Red Panda novels that are now available on Audible.com.
Written by a certified genius, Gregg Taylor, and read by a certifiable genius, Gregg Taylor, these are the long-form superhero adventures that we've been waiting for. They are:
Posted by Jesse Willis
The latest Jake Sampson: Monster Hunter serial has just wrapped. If you're young enough you probably won't appreciate all the historical and mythological detail that's in these terrific adventure stories – but they're definitely in there! Previous adventures have seen Jake and crew visiting lush jungles or dessicated deserts – this one sees them flying up to THE ROOF OF THE WORLD!!!
Here's the official description:

Jake is summoned to Massachusetts to visit an aging former professor. Soon the gang is involved in a quest for a magic flower that only grows in a remote part of Tibet. Others also hunt the secrets held within that mysterious land, but for a more nefarious purpose. What is the price for immortality, and does the fabled lost city of Shambala really exist? Weird tales abound in the land known as The Roof of the World!
Part 1 |MP3| Part 2 |MP3| Part 3 |MP3| Part 4 |MP3| Part 5 |MP3|
Podcast feed: http://brokensea.com/jakesampson/feed/
iTunes 1-Click |SUBSCRIBE|
Posted by Jesse Willis
Here's the latest crime collection from iambik audio. And while imabik offers excellent DRM free versions of their titles on their easy to use website you may also be interested to know that more than thirty titles are now available through Audible.com too.
The pick of the bunch, just going by the descriptions, appears to be The Vaults by Toby Ball. And based on the reviews of the print edition, which came out last September, it seems this debut novel is rather well regarded!
Hard Cold Whisper
By Michael Hemmingson; Read by Adam Verner
MP3 Download – Approx. 2 Hours 56 Minutes [UNABRIDGED]
Publisher: iambik audio
Published: July 15, 2011
Sample |MP3|
David Kellgren is a process server, a job where everyone wants to kill the messenger and things can get a little bit dangerous and out of hand. David is attacked when trying to serve legal papers to a gang member and an angel comes to his rescue: nineteen-year-old Gabriella Amaya, trapped in a large dilapidated house, caring for her dying aunt. This elderly aunt has money, diamonds, and real estate, promised to Gabriella when the aunt dies. Is there any way the sultry caregiver can get her crafty hands on that wealth sooner? And share it with her new lover, the unsuspecting process server who starts to wonder if he's become a patsy in an elaborate murder plot, or if he simply cannot allow himself to truest any woman who says, "I love you." Set in San Diego, Chula Vista, and Tijuana, Hard Cold Whisper is Michael Hemmingson at his finest, most terse and torqued prose in the crime genre. — Hemmingson wrote Hard Cold Whisper as an experiment during the 2010 3 Day Novel Challenge during Labor Day Weekend, a concerted event where writers all over the world participate. The method here pays homage to hardboiled noir master Gil Brewer, who wrote many of his finest Fawcett Gold Medal titles in a possessed, white hot flash fury of several days or a week. Hard Cold Whisper is Hemmingson's nod to the feel and atmosphere of the Gold Medal paperback.
Listen To The Dead
By Randall Peffer; Read by Art Carlson
MP3 or M4B Download – Approx. 7 Hours 27 Minutes [UNABRIDGED]
Publisher: iambik audio
Published: July 15, 2011
Sample |MP3|
Inspired by one of the largest unsolved cases of serial killings in the United States, the New Bedford Serial Killings of 1988. Harbormaster Corby Church finds the bones of a human body on Bird Island off Cape Cod. As brassy, young police detective Yemanjá Colón struggles with the case, she realizes that Church may know more than he's letting on, and a trip he took to the Bahamas in the '80s may prove the key.
Richmond Noir
Edited by Andrew Blossom, Brian Castleberry and Tom De Haven; Read by Charles Bice
MP3 or M4B – Approx. 7 Hours 51 Minutes [UNABRIDGED]
Publisher iambik audio
Published: July 15, 2011
Sample |MP3|
Collection edited by Andrew Blossom, Brian Castleberry and Tom De Haven. "In The Air-Conditioned Nightmare, Henry Miller tosses off a hard-bitten assessment of the City on the James: 'I would rather die in Richmond somehow,' he writes, 'though God knows Richmond has little enough to offer.' As editors, we like the dying part, and might point out that in its long history, Richmond, Virginia has offered up many of the disparate elements crucial to meaty noir. The city was born amid deception, conspiracy, and violence…
The Painted Messiah
By Craig Smith; Read by Clive Catterall
MP3 or M4B Download – Approx. 9 Hours 54 Minutes [UNABRIDGED]
Publisher: iambik audio
Published: July 15, 2011
Sample |MP3|
The Painted Messiah combines a blistering action thriller set in the streets of Zurich and on the lakes and wooded slopes of Switzerland with a compulsive and convincing account of first century Romano-Judaean politics and the real reason for Pontius Pilate's condemnation and execution of Christ. A legend persists that, after the 'scourging', Pilate commanded that his victim be painted from life. Somewhere, the painting survives, the only true image of Christ, granting the gift of everlasting life to whoever possesses it. Kate Kenyon, the wealthy young widow of an English aristocrat killed on a Swiss mountain, has an addiction to mortal risk. She feeds it by engaging in the armed robbery of priceless artefacts with her accomplice and lover Ethan Brand, a Tennessean who owns a bookshop in Zurich. Their latest target is a priceless 'Byzantine' icon hidden in the tower of a chateau by Lake Lucerne. So far they have never had to shoot anyone. This time will be different.
Thought You Were Dead
By Terry Griggs; Read by Gregg Margarite
MP3 or M4B Download – Approx. 7 Hours 42 Minutes [UNABRIDGED]
Publisher: iambik audio
Published: July 15, 2011
Sample |MP3|
Meet the Perfect Man… no, no he's not the hero of Thought You Were Dead. That would be Chellis Beith, literary researcher, slacker, reluctant detective, and a man bedeviled by every woman in his life. There's his lost love, Elaine Champion, a now happily married inventor who uses him for market research, his best friend's dotty ex-wife, Moe, his two vanished mothers, and his menacing boss, Athena Havlock, a celebrated writer who herself becomes embroiled in the dark side of fiction. The humour is wild, the language a thrill, the mystery within marvelously deft and daft. And as for the Perfect Man… well, nothing is as it seems. Is it? Thought You Were Dead is the most unconventional of all murder mysteries, turning the genre completely on its head, by bludgeoning flat language and Puritanical sensibilities with evident glee. This is further evidence that Terry Griggs is sui generis: an original and completely inimitable literary voice, with an eye for the cinematic.
The Vaults
By Toby Ball; Read by Michael Agostini
MP3 or M4B Download – Approx. 9 Hours 5 Minutes [UNABRIDGED]
Publisher: iambik audio
Published: July 15, 2011
Sample |MP3|
In a dystopian 1930s America, a chilling series of events leads three men down a path to uncover their city's darkest secret. At the height of the most corrupt administration in the City's history, a mysterious duplicate file is discovered deep within the Vaults—a cavernous hall containing all of the municipal criminal justice records of the last seventy years. From here, the story follows: Arthur Puskis, the Vault's sole, hermit-like archivist with an almost mystical faith in a system to which he has devoted his life; Frank Frings, a high-profile investigative journalist with a self-medicating reefer habit; and Ethan Poole, a socialist private eye with a penchant for blackmail. All three men will undertake their own investigations into the dark past and uncertain future of the City—calling into question whether their most basic beliefs can be maintained in a climate of overwhelming corruption and conspiracy.
Posted by Jesse Willis
Speaking of Gloomy Sunday and the 1930s … October 30th, 1938 was a Sunday. And as it happens an important one.
I've been re-watching all The Simpsons Treehouse Of Horror episodes. There's a terrific, and hilarious sequence in The Simpsons Treehouse Of Horror XVII called "The Day The Earth Looked Stupid." It's a parody and satire of the Orson Welles' broadcast of The War Of The Worlds with a little Fallout 3 and Iraq War thrown in.
Orson Welles: "They're grinding up the bodies of human beings."
[SOUND EFFECT]
Orson Welles: "Now they're riding horses in the rain."
[SOUND EFFECT]
Orson Welles: "Now they're playing the xylophone while bowling near an airport."
[.....]

I Don't Want To Set The World On Fire |MP3|
[via Rocker Chris Video and Archive.org]
Posted by Jesse Willis
The SFFaudio Podcast #036 – Jesse and Scott are joined by Julie of Forgotten Classics to talk with Allan Kaster, the editor of Infinivox's new audiobook anthology: The Year's Top Ten Tales Of Science Fiction! We discuss this terrific audiobook, in depth, as well as a few other new releases and recent arrivals.
Talked about on today's show:
Infinivox (an imprint of Audiotext), biology, study guides, chemistry, Great Science Fiction Stories, Bioware (from medical software to video games), Mass Effect, The Year's Top Ten Tales Of Science Fiction, A Walk In The Sun by Geoffrey A. Landis |READ OUR REVIEW|, Guest Of Honor by Robert Reed, The Shobies' Story by Ursula K. Le Guin, Hollywood Kremlin by Bruce Sterling, immortality, Hard SF, Robert Reed, vampires are rather liberal (for being immortal), Five Thrillers by Robert Reed, sociopathy, Ted Chiang, StarShipSofa's (#88) interview with Ted Chiang, Exhalation by Ted Chiang, consciousness, souls, religion, transcendence, Ray Gun: A Love Story by James Alan Gardner, meta-science fictional stories, "ray guns and spaceships", Adrift by Scott D. Danielson, World Of The Ptavvs by Larry Niven, Star Trek Animated Series (The Slaver Weapon), "The Soft Weapon" by Larry Niven, romance, Galileo's Children: Tales of Science vs. Superstition edited by Gardner Dozois, The Dream Of Reason by Jeffrey Ford, The Empire Of Ice Cream by Jeffrey Ford, The Dreaming Wind by Jeffrey Ford (on StarShipSofa AD #75), sense of wonder, 26 Monkeys, Also The Abyss by Kij Johnson, Fantasy vs. Science Fiction, Mini-Masterpieces Of Science Fiction, The Gambler by Paolo Bacigalupi, Fast Forward 2, Fencon 2009 (Dallas, TX), Aliens Rule edited by Alan Kaster, How Music Begins by James Van Pelt, Carolyn Ives Gilman, Laws Of Survival by Nancy Kress, City Of The Dead by Paul McAuley, Shoggoths In Bloom by Elizabeth Bear, H.P. Lovecraft, lovecraftian homage, we need an audio collection of stories inspired by H.P. Lovecraft, frontier, space western, archaeology, aliens, Ray Bradbury, Mrs. Carstairs And The Merman by Delia Sherman, Dercum Audio, 1930s, 19th century, sea creatures, squids, Greg Egan, Peter Watts, The Art of Alchemy by Ted Kosmatka, industrial espionage, The N Word by Ted Kosmatka, Seeds Of Change edited by John Joseph Adams, future releases from Infinivox, Infinivox on Audible.com, Mike Resnick's Kirinyaga cycle, Guest Law by John C. Wright, Beggars In Spain by Nancy Kress, physics, pirates, Pirates Of The Caribbean: On Stranger Tides, On Stranger Tides by Tim Powers, Charles Stross, Antibodies, Lobsters, A Colder War, The Chief Designer by Andy Duncan |READ OUR REVIEW|, Michael Swanwick, The Edge Of The World by Michael Swanwick, The Griffin's Egg by Michael Swanwick, the state of the magazine industry, Fast Forward 2, Sidewise In Time, Eclipse 2, Extraordinary Engines, Penguin Audio, Level 26: Dark Origins by Anthony E. Zuiker and Duane Swierczynski, Brilliance Audio, The Beastmaster by Andre Norton, Richard J. Brewer, Audible Frontiers, The Short Victorious War by David Weber, The Rise Of Endymion by Dan Simmons, caterbury tales in space, Luke Burrage's SFBRP on the Hyperion series, Kick-Ass Mystic Ninjas on Simmons' Hyperion series, Ilium by Dan Simmons, The Terror by Dan Simmons, novella length stories, Escape Route by Peter F. Hamilton, a recent interview with Audible's founder, The Law Of Nines by Terry Goodkind, Mark Deakins, Rammer by Larry Niven, narrator Pat Bottino, the MP3-CD format vs the CD format, The Martian Chronicles by Ray Bradbury, Gateway by Frederik Pohl, Robert J. Sawyer, Man Plus by Frederik Pohl
Posted by Jesse Willis
The Scarifyers: For King and Country
Full cast audio drama
Written by Simon Barnard and Paul Morris
Directed by Simon Barnard
Music by Edwin Sykes
Produced by Cosmic Hobo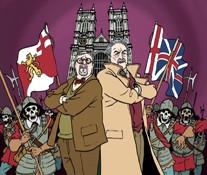 Part one of series three of The Scarifyers, For King and Country, will be aired on February 22 at 6PM and 12AM GMT on BBC 7, continuing on consecutive Sundays in four parts. Each episode is available for six days after broadcast. Stars Terry Molloy and Nicholas Courtney.
'Sir' Harry Price, self-proclaimed ghost detective, has built a machine. His previous experiment – to turn a goat into a man – may have ended ignominiously, but now Harry plans to capture the spirits of the dead with his Price Ghost Captivator™. If he can make it work, that is.
Meanwhile, Londoners are being killed, in especially gruesome fashion, with their own electrical appliances. But most puzzling of all is the Faraday Murderer's habit of leaving cryptic messages in 17th century English at the scene – cryptic messages that mention a certain Harry Price…
Age-old forces are stirring… The dead will rise… The Crown will fall. Can Lionheart and Dunning save King and Country? 
UPDATE: Okay, it's up and streaming. Listen to part one of For King and Country here –right now!
Posted by RC of Radio Tales of the Strange & Fantastic