Crucible (Star Wars)
By Troy Denning; Read by Marc Thompson
Publisher: Random House Audio
Publication Date: 9 July 2013
ISBN: 9780385362924
[UNABRIDGED] – 12 hours, 8 minutes
Listen to an excerpt: | MP3 |
Themes: / Star Wars / Jedi / space / science fiction /
Publisher summary:
When Han and Leia Solo arrive at Lando Calrissian's Outer Rim mining operation to help him thwart a hostile takeover, their aim is just to even up the odds and lay down the law. Then monstrous aliens arrive with a message, and mere threats escalate into violent sabotage with mass fatalities. When the dust settles, what began as corporate warfare becomes a battle with much higher stakes—and far deadlier consequences.
 
Now Han, Leia, and Luke team up once again in a quest to defeat a dangerous adversary bent on galaxy-wide domination. Only this time, the Empire is not the enemy. It is a  pair of ruthless geniuses with a lethal ally and a lifelong vendetta against Han Solo. And when the murderous duo gets the drop on Han, he finds himself outgunned in the fight of his life. To save him, and the galaxy, Luke and Leia must brave a gauntlet of treachery, terrorism, and the untold power of an enigmatic artifact capable of bending space, time, and even the Force itself into an apocalyptic nightmare.
Star Wars Crucible takes place after the Fate of the Jedi series and is the furthest in the Star Wars timeline to date. I came to this book without having read Fate of the Jedi but didn't have any trouble what was going on in the story and Denning explained sufficiently for those of us not in the know. Luke, Han, and Leia are getting pretty old at this point, and this novel seems to represent something of a retirement for them or a passing of the torch to the new generation. Denning plays to the characters' strengths throughout most of the novel. You can't have Han getting up to his full antics without a buddy, so a healthy dose of Lando is also in there too. If anyting, I liked how this is a nice standalone Star Wars book from that era of Star Wars instead of being part of some 9+ book series.
The general plot of the story has to do with Luke, Han, and Leia going to visit Lando (the ever present entrepreneur) to help him with problems at his mining operation in the outer rim. Cue the bad guys that can even give Jedi problems and the story gets going. The plot is interesting because it pits the gang against highly intelligent organized crime figures (Qrephs) who have an old grudge to settle. There is an element of Battlestar Galactica in here too because anyone could be working for the bad guys so you don't know who is a cylon…err…agent of the Qrephs. I liked the novel for the most part except near the climactic battle when things to all trippy and weird like anime (Evangelion I'm looking at you).
Luke and Leia were pretty good in this book but Denning really made Han and Lando fun in this book. Since this takes place so far out and they've done so many great things, the characters are pretty well revered by people they encounter in the book. Han and Lando setting up a sabaacc game to draw in competition was definitely fun to go through. The sabaacc time goes kind of heavy into logic and tactics sometimes and really makes it look like Han is stronger in the Luck than Luke is in the Force any day.
As for the audiobook, Marc Thompson does as good a job with this book as any other Star Wars book I've listened to. All of the background music, ambient sounds, and special effects you'd expect are there and they do a great job of adding that little bit of extra immersion to the experience. Thompson does a great job impersonating the main cast down to Lando pronouncing "Han" with the 'a' instead of 'o' sound. I also really liked the stoic and simpering voices he used for the Qrephs.
Posted by Tom Schreck
Star Wars: Dawn of the Jedi: Into the Void
ISBN: 978-0804148153
[UNABRIDGED] 10 hours 18 minutes
Themes: / star wars / space / jedi / force /
Publisher summary:
On the planet Tython, the ancient Je'daii order was founded. And at the feet of its wise Masters, Lanoree Brock learned the mysteries and methods of the Force—and found her calling as one of its most powerful disciples. But as strongly as the Force flowed within Lanoree and her parents, it remained absent in her brother, who grew to despise and shun the Je'daii, and whose training in its ancient ways ended in tragedy.
 
Now, from her solitary life as a Ranger keeping order across the galaxy, Lanoree has been summoned by the Je'daii Council on a matter of utmost urgency. The leader of a fanatical cult, obsessed with traveling beyond the reaches of known space, is bent on opening a cosmic gateway using dreaded dark matter as the key—risking a cataclysmic reaction that will consume the entire star system. But more shocking to Lanoree than even the prospect of total galactic annihilation, is the decision of her Je'daii Masters to task her with the mission of preventing it. Until a staggering revelation makes clear why she was chosen: The brilliant, dangerous madman she must track down and stop at any cost is the brother whose death she has long grieved—and whose life she must now fear.
The "Dawn of the Jedi" series was first produces in comic form and of course the logical progression is novelization. It takes Star Wars back to its roots. As the title says, it's the origin story to the Jedi, the beginning of our favorite protectors of the universe, users of the force (and lightsabers!), and purveyors of piety.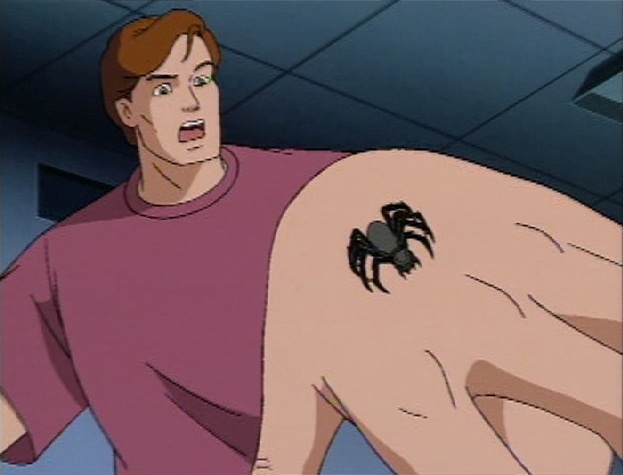 (It was radioactive spiders that created the Jedi!)
And you'll never believe how they began. In fact, if I gave you infinite guesses, you'd never get it. And it's not for the reason you think.
The "Je'daii" have a mysterious society that does its own thing, which tends to be for the betterment of the universe, saying "may the force go with you."
Yeah, you'd never be able to guess because you'd be going for something new. Also, they use the force and swords and have masters and apprentices. So it's definitely an origin story and not just an exact replication of the jedi we know and love.
Okay, so if you're reading Star Wars books, you really can't go into it expecting a whole lot. And sadly, any of the newer books have the added reputation of being bloated series with little plot.
However, what you can expect is lots of action and lots of fun. Into the Void delivers on both counts. While I make fun of the "origin story" it's still an entertaining and interesting look at the beginnings of the Jedi. These Je'daii go through an interesting training period on an incredibly dangerous planet.
Into the Void follows Lanoree Brock, a Je'daii Ranger, who spends most of her time on her own in solitary missions ranging around the galaxy. She's called in for a special mission that could result in the salvation or destruction of the galaxy as they know it, and it's all because of her brother Dal, once thought dead.
The narrative switches between the present where Lanoree is in pursuit of her brother in her current mission and her past training where she and her brother participated together. It's a great way to introduce Dal and find out what his motivations are for his dark pursuits later in his life.
Lebbon does a great job with these characters and his narrative structure works well to set things up for an exciting ending while providing plenty of excitement throughout the training on this dangerous planet. I'm interested to try out Lebbon's other works because he obviously knows what he's doing.
Like other Star Wars audiobooks, Into the Void is filled with suspenseful music and every type of sound effect they can possibly fit in. Like a movie in your head, I can't recommend Star Wars audiobooks enough. And January LaVoy does an excellent job bringing Lanoree and every other character to life.
But what I really can't wait for the origin of the origin story. That's where the money is.
3.5 out of 5 Stars (recommended)
Posted by Bryce L.
More Than Honor (Worlds of Honor #1)
By David Weber, David Drake, S. M. Stirling; Read By Victor Bevine, L. J. Ganser, Khristine Hvam
Publisher: Brilliance Audio
Publication Date: 21 May 2013
ISBN: 978-1-4805-2813-0
[UNABRIDGED] – 9 discs; 11 hours
Themes: / telepathic tree cats / short stories / military sci-fi / Honor Harrington /
Publisher summary:
New York Times bestselling author David Weber invites David Drake and S.M. Stirling, two of today's top writers of military science fiction, to join him in an exploration of Honor Harrington's universe.
 More Than Honor consists of the following four parts.
A Beautiful Friendship by David Weber, narrated by Khristine Hvam.
A Grand Tour by David Drake, narrated by Victor Bevine.
A Whiff of Grapeshot by S.M. Stirling, narrated by Khristine Hvam.
The Universe of Honor Harrington by David Weber, narrated by L. J. Ganser.
This collection starts and ends strong, but unflatteringly sags in the middle.  The story "A Beautiful Friendship" is a short work introducing Stephanie Harrington and the first bonding between humans and treecats.  It's a powerful piece and Khristine Hvam narrates it with skill and style.  David Weber later lengthened this short story into a novel, which now is on my to-read list.  This collection is worth picking up if for no other reason than to simply read this first story.  I know for those of you who aren't familiar with Honor Harrington and treecats, the idea of a six-legged cat might seem weird, it's not, well not really.  Trust me on this, just go with it and all shall become groovy.
The following two works in this collection were in my opinion, unneeded baggage that added little and entertained less.  "A Grand Tour" by David Drake, narrated by Victor Bevine, tells the story of a largely forgettable cast of characters doing stuff that really doesn't matter to anyone outside of the narrative.  Going from "A Beautiful Friendship" to this was like going from steaming jets of hot water shooting from the showerhead to being sprayed down in county lockup with a fire hose gushing ice water.  Victor Bevine as narrator gives a solid effort though at times, I felt he was overdoing it and this contributed to my overall sense of "Mehh" for this piece.  "A Whiff of Grapeshot" by S.M. Stirling, narrated by Khristine Hvam, wasn't as bad as "A Grand Tour" but still, not great.  Stirling does tie this into the Honor Universe and Khristine Hvam gives another outstanding performance as reader.  Others may find this short story enjoyable and if you are one of these individuals, I can understand why you may like this.  I however found it lacking any sense of urgency and as a result, I felt unengaged for the duration of this short work.
This collection concludes with an appendix providing a wealth of historical reference to the Honor Universe.  For those of you who are into this series, I highly recommend reading this.  L. J. Ganser narrates this final section, "The Universe of Honor Harrington" by David Weber.  And for what it's worth, Ganser does a great job of reading mostly historical exposition.  I found some of this material to be fascinating while some of it was dry and skim-worthy but still, good stuff to read through.
In the end, I'd say it's an okay expansion pack but falls short of what it promises.  Sadly, this collection doesn't even come close to scratching the military SF itch like Weber has done in the past with his earlier Honor Harrington books.  I was left wanting more treecats and more space battles.
Posted by Casey Hampton.
Redshirts
By John Scalzi; Performed by Wil Wheaton
Publisher: Brilliance Audio
Published: 11 June 2013
[UNABRIDGED] – 8 hours
Themes: / Star Trek / humor / space /
Publisher summary:
Ensign Andrew Dahl has just been assigned to the Universal Union Capital Ship Intrepid, flagship of the Universal Union since the year 2456. It's a prestige posting, and Andrew is even more thrilled to be assigned to the ship's xenobiology laboratory, with the chance to serve on "Away Missions" alongside the starship's famous senior officers. Life couldn't be better . . . until Andrew begins to realize that (1) every Away Mission involves some kind of lethal confrontation with alien forces, (2) the ship's captain, its chief science officer, and the handsome Lieutenant Kerensky always survive these confrontations, and (3) sadly, at least one low-ranked crew member is invariably killed. Unsurprisingly, the savvier members belowdecks avoid Away Missions at all costs. Then Andrew stumbles on information that completely transforms his and his colleagues' understanding of what the starship Intrepid really is . . . and offers them a crazy, high-risk chance to save their own lives.
A John Scalzi book making fun of Star Trek? Read by Wil Wheaton? YES PLEASE! I had heard some mixed things about this book (and the audio in particular coming in). That didn't really deter me, I just hadn't gotten around to it yet. Things sort of converged where I got the chance to review it for this site and it was the alternate July pick for the Sword & Laser book club.
This book really cracked me up. I found myself going between chuckling to myself and bursting out into embarrassing fits of laughter. Thank goodness no one was around to see it. And you won't tell people about it, will you internet?
In the book, Ensign Andrew Dahl has just been assigned to the Universal Union Capital Ship Intrepid, flagship of the Universal Union. Oh so he's an Ensign in Starfleet on the Enterprise? Got it. The book extrapolates on the ridiculousness of sending Kirk, Spock, Mccoy and Ensign Timmy, in his bright red shirt, down to the dangerous planet on an away mission. One of them dies. Guess which one?
The original series was before my time (I'm a Next Gen/DS9 Trekker), and I've only really watched the movies and very few episodes, but the meme of being the Redshirt on an away mission is well known to just about everyone at this point. The book gets pretty Meta, but I found it to be an enjoyable book, even if it loses a bit of steam as it goes along. The main story was very enjoyable and the three Codas were alright. I liked the first one the most. The second two were OK, but I don't think either added too much to the story.
This is the second audio book I've listened to that is Narrated by Wil Wheaton (The other being Ready Player One by Ernest Cline.) I really enjoy him as a narrator, especially for a book like this. I couldn't think of a more perfect reader for a Star Trek Parody book.
That said, this book does suffer what I like to call "Unabridgedness". That's where the author does something that in print would likely be ignored or read differently (like an image, or specially printed text) that is a bit painful to listen to.
I won't say the particular issue with this book so as not to plant it in your head (like it had been in mine before listening). Maybe you won't notice :)
Despite that, I think this is great to listen to in an audiobook, and I especially enjoy the way Mr. Wheaton reads sarcastic statements (of which this book has many). Oh, and he does a great drunk voice!
It's a quick read (~8 hours for the normal speed audiobook), and the perfect summer/vacation book.
Review by Rob Zak.
Please welcome another new reviewer, Tom Schreck. Tom heard about the call for reviews from another new reviewer that you will hear from shortly.
The Colors of Space
By Marion Zimmer Bradley; Read by Jim Roberts
Publisher: Speculative! via Brilliance Audio
ISBN: 978-1-4692-5948-2
5 discs – 5 hours [UNABRIDGED]
Themes: / space / aliens / science fiction / interstellar travel /
Publisher summary:
Young Bart Steele, Space Academy graduate, is waiting in a spaceport for a ship to take him home when something happens that suddenly thrusts him into the center of a quest for the secret of interstellar travel. The method of faster than light travel, called "warp drive" in later Sci-Fi stories, is a tightly kept secret of an alien race known as the "Lhari." Some humans feel that they should not have to depend on the Lhari to get to far away planets and enlist Bart to help them wrest the secret from the Lhari by undertaking a perilous mission. Bart's survival and the freedom of the human race suddenly depend on his courage and wits.
The Colors of Space is one of Marion Zimmer Bradley's earliest books and is a solid enjoyable book. It's short, the pace keeps moving, and overall comes to a satisfying conclusion.
Mankind has expanded throughout the solar system and nearby star systems but it takes years to travel those distances with their current technology. Sometime in their exploration they met an alien race called the Llari who have the capability of faster-than-light travel. The Llari are happy to supply such transport to humans but won't share the secrets of their technology with humans. The humans and Llari entered into a mutually beneficial relationship for interstellar travel, but some parts of humanity have become disgruntled of the monopoly the Llari hold. Our protagonist Bart Steele gets involved in a human plot to discover this secret in this story.
The book is fairly simple so don't expect any deep/intricate character development, but it explores interesting social issues like relating to people different from yourself, friendship, and loyalty.
Jim Roberts has a great voice but his performance comes off kind of stiff and dry. As I got further into the book, I either got more used to his reading style or he relaxed a bit in his reading. If trying to decide between the print or audio version, the audio book version is pretty good but I don't think it adds anything to the enjoyment of the book.
Posted by Tom Schreck
Methuselah's Children
By Robert Heinlein; Read by MacLeod Andrews
6 CDs – 7 Hours [UNABRIDGED]
Publisher: Brilliance Audio
Published: July 2012
ISBN: 9781455878987
Themes: / space / genetic engineering / genetic modification / aging / death / interstellar travel / aliens /
Publisher Summary:
After the fall of the American Ayatollahs as foretold in Stranger in a Strange Land and chronicled in Revolt in 2100, the United States of America at last fulfills the promise inherent in its first Revolution: for the first time in human history there is a nation with Liberty and Justice for All.

No one may seize or harm the person or property of another, or invade his privacy, or force him to do his bidding. Americans are fiercely proud of their re-won liberties and the blood it cost them; nothing could make them forswear those truths they hold self-evident. Nothing except the promise of immortality….
This 1941 novel by Robert Heinlein is a short but epic space adventure about the Howard Families, a population of people who can live very long lives thanks to a history of selective breeding. Over the centuries, they took on different identities to hide their long-life nature from "short-lifers," but eventually some of them decided to share their scientific achievement with the public.
However, instead of celebrating the Howard Families' scientific achievement, the short-lifers suspect them of concealing the true secret to long life. This is where the story starts: when the government and the public begin to persecute the Howard Families, Lazarus Long (the kilt-wearing leader of the group who is more than 200 years old and who always has a knife strapped to his thigh) hijacks a city-sized starship so the families can flee Earth and go in search of a new home.
Despite its short size, this book covers a long length of time, is packed with ideas, and manages to explore deep themes such as aging, death, human genetic modification, and individualism, among others. There's bound to be something in here for everyone, although personally I struggled with the first half because of the lengthy democratic meetings and the seemingly endless strategizing about what to do, how to do it, and when to do it. I also thought the discussions about the technicalities of interstellar travel or alien biology were a little tedious, but I'm sure hard-SF fans will love every moment.
I really got into the story later, when the families started arriving on other planets and things got weird. The alien cultures, worlds and philosophies were brilliant and often eerie. How can you not love aliens who say things like, "My people will like to see you and smell your skin."
The human characters, on the other hand, were less lovable for me. They lacked depth and tended to speak literally and directly, without subtext. The narration on the audiobook didn't help warm the dialog up either, because in the reading the characters sometimes sounded like they were barking lines at each other, and at other times odd words in the dialog were emphasized that I don't think should have been.
The narrator McLeod Andrews did give a very clear reading though, and once I got used to his style the odd emphases were less noticeable. He did an awesome job of embodying the voice of grumpy but optimistic Lazarus Long, who was the most developed and interesting character.
Ultimately, even though not everything might be to your taste, there are just so many great ideas and themes squished into this book that you're bound to find a ton to enjoy, despite its short length.
Review by Marissa VU