Please welcome another new reviewer, Tom Schreck. Tom heard about the call for reviews from another new reviewer that you will hear from shortly.
The Colors of Space
By Marion Zimmer Bradley; Read by Jim Roberts
Publisher: Speculative! via Brilliance Audio
ISBN: 978-1-4692-5948-2
5 discs – 5 hours [UNABRIDGED]
Themes: / space / aliens / science fiction / interstellar travel /
Publisher summary:
Young Bart Steele, Space Academy graduate, is waiting in a spaceport for a ship to take him home when something happens that suddenly thrusts him into the center of a quest for the secret of interstellar travel. The method of faster than light travel, called "warp drive" in later Sci-Fi stories, is a tightly kept secret of an alien race known as the "Lhari." Some humans feel that they should not have to depend on the Lhari to get to far away planets and enlist Bart to help them wrest the secret from the Lhari by undertaking a perilous mission. Bart's survival and the freedom of the human race suddenly depend on his courage and wits.
The Colors of Space is one of Marion Zimmer Bradley's earliest books and is a solid enjoyable book. It's short, the pace keeps moving, and overall comes to a satisfying conclusion.
Mankind has expanded throughout the solar system and nearby star systems but it takes years to travel those distances with their current technology. Sometime in their exploration they met an alien race called the Llari who have the capability of faster-than-light travel. The Llari are happy to supply such transport to humans but won't share the secrets of their technology with humans. The humans and Llari entered into a mutually beneficial relationship for interstellar travel, but some parts of humanity have become disgruntled of the monopoly the Llari hold. Our protagonist Bart Steele gets involved in a human plot to discover this secret in this story.
The book is fairly simple so don't expect any deep/intricate character development, but it explores interesting social issues like relating to people different from yourself, friendship, and loyalty.
Jim Roberts has a great voice but his performance comes off kind of stiff and dry. As I got further into the book, I either got more used to his reading style or he relaxed a bit in his reading. If trying to decide between the print or audio version, the audio book version is pretty good but I don't think it adds anything to the enjoyment of the book.
Posted by Tom Schreck
Methuselah's Children
By Robert Heinlein; Read by MacLeod Andrews
6 CDs – 7 Hours [UNABRIDGED]
Publisher: Brilliance Audio
Published: July 2012
ISBN: 9781455878987
Themes: / space / genetic engineering / genetic modification / aging / death / interstellar travel / aliens /
Publisher Summary:
After the fall of the American Ayatollahs as foretold in Stranger in a Strange Land and chronicled in Revolt in 2100, the United States of America at last fulfills the promise inherent in its first Revolution: for the first time in human history there is a nation with Liberty and Justice for All.

No one may seize or harm the person or property of another, or invade his privacy, or force him to do his bidding. Americans are fiercely proud of their re-won liberties and the blood it cost them; nothing could make them forswear those truths they hold self-evident. Nothing except the promise of immortality….
This 1941 novel by Robert Heinlein is a short but epic space adventure about the Howard Families, a population of people who can live very long lives thanks to a history of selective breeding. Over the centuries, they took on different identities to hide their long-life nature from "short-lifers," but eventually some of them decided to share their scientific achievement with the public.
However, instead of celebrating the Howard Families' scientific achievement, the short-lifers suspect them of concealing the true secret to long life. This is where the story starts: when the government and the public begin to persecute the Howard Families, Lazarus Long (the kilt-wearing leader of the group who is more than 200 years old and who always has a knife strapped to his thigh) hijacks a city-sized starship so the families can flee Earth and go in search of a new home.
Despite its short size, this book covers a long length of time, is packed with ideas, and manages to explore deep themes such as aging, death, human genetic modification, and individualism, among others. There's bound to be something in here for everyone, although personally I struggled with the first half because of the lengthy democratic meetings and the seemingly endless strategizing about what to do, how to do it, and when to do it. I also thought the discussions about the technicalities of interstellar travel or alien biology were a little tedious, but I'm sure hard-SF fans will love every moment.
I really got into the story later, when the families started arriving on other planets and things got weird. The alien cultures, worlds and philosophies were brilliant and often eerie. How can you not love aliens who say things like, "My people will like to see you and smell your skin."
The human characters, on the other hand, were less lovable for me. They lacked depth and tended to speak literally and directly, without subtext. The narration on the audiobook didn't help warm the dialog up either, because in the reading the characters sometimes sounded like they were barking lines at each other, and at other times odd words in the dialog were emphasized that I don't think should have been.
The narrator McLeod Andrews did give a very clear reading though, and once I got used to his style the odd emphases were less noticeable. He did an awesome job of embodying the voice of grumpy but optimistic Lazarus Long, who was the most developed and interesting character.
Ultimately, even though not everything might be to your taste, there are just so many great ideas and themes squished into this book that you're bound to find a ton to enjoy, despite its short length.
Review by Marissa VU
Star Wars: Scoundrels
By Timothy Zahn, Read by Marc Thompson
Publisher: Random House Audio
ISBN: 0345511506
[UNABRIDGED] – 13 Discs, 13 Hours 54 Minutes
Themes: / Star Wars / Heist / Ocean's Eleven / Han Solo /
Publisher Summary:
To make his biggest score, Han's ready to take even bigger risks.

But even he can't do this job solo.

 Han Solo should be basking in his moment of glory. After all, the cocky smuggler and captain of the Millennium Falcon just played a key role in the daring raid that destroyed the Death Star and landed the first serious blow to the Empire in its war against the Rebel Alliance. But after losing the reward his heroics earned him, Han's got nothing to celebrate. Especially since he's deep in debt to the ruthless crime lord Jabba the Hutt. There's a bounty on Han's head—and if he can't cough up the credits, he'll surely pay with his hide. The only thing that can save him is a king's ransom. Or maybe a gangster's fortune? That's what a mysterious stranger is offering in exchange for Han's less-than-legal help with a riskier-than-usual caper. The payoff will be more than enough for Han to settle up with Jabba—and ensure he never has to haggle with the Hutts again.

All he has to do is infiltrate the ultra-fortified stronghold of a Black Sun crime syndicate underboss and crack the galaxy's most notoriously impregnable safe. It sounds like a job for miracle workers . . . or madmen. So Han assembles a gallery of rogues who are a little of both—including his indispensable sidekick Chewbacca and the cunning Lando Calrissian. If anyone can dodge, deceive, and defeat heavily armed thugs, killer droids, and Imperial agents alike—and pull off the heist of the century—it's Solo's scoundrels. But will their crime really pay, or will it cost them the ultimate price?
I have to start out being a bit misleading. Star Wars audiobooks are simply the best – they combine the intimacy of reading a book with the sound effects and music of the movies. Blasters, lightsabers, R2D2 squeals, and the same compositions as the movies! Then they get amazing voice actors who are pitch-perfect when it comes to the voices of the characters we love. That's a pretty big role to fill when books are based on movies since we already know how these people sound and anything different…just wouldn't work.
I have to say Marc Thompson does not let us down. His Lando Calrissian is spot-on even though his Han Solo borders on sounding like Patrick Warburton. You don't realize how close they actually are until you hear it.
There's one scene toward the beginning where Thompson voices 11 characters having a discussion and he doesn't miss a beat. I was astounded, although I had to go back and re-listen because I wasn't paying attention to what was actually being said, it was way too impressive! But I guess I'm getting ahead of myself.
Star Wars: Scoundrels takes us back (or forward since Old Republic is going on right now) to just after the first movie in the Star Wars franchise, episode IV, Star Wars: A New Hope. If you're confused now, it's best to just turn away.
I'm not the most well-read when it comes to Star Wars novels, in fact I've only "read" any of them through audio form. But, I do know that it can be a confusing timeline because there are A LOT of Star Wars books. Where do you even start? Luckily, they provide you with a nice timeline at the front of every book showing a listing of the books and the movies. In this case, Scoundrels can be read as long as you've watched the original movies.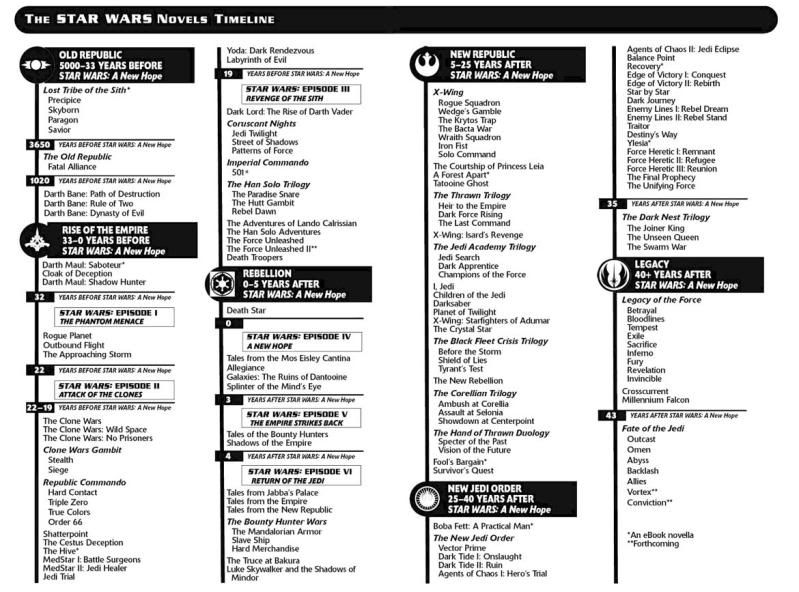 (It looks like this, but I couldn't find one with Scoundrels on it. You'll just have to trust me I guess.)
Another way to put this, if you're human, you can read Scoundrels at any point. It's just filler, taking place in between movies, it doesn't follow any other books, although I've heard it does contain characters from other Han Solo-involved books. Again, I show my lack of actual knowledge. Scoundrels is essentially Ocean's Eleven meets Star Wars. There are even 11 people! Han Solo lost all his reward money and still needs to pay off that darned Jabba the Hutt. He's approached, after a quick nod to the "who shot first" controversy, and gets a team together to get some money.
Of course, it's all but impossible because blah blah blah. The scene mentioned above with the 11-person discussion revolves around this in fact. Like I said, Ocean's Eleven inevitably springs to mind, you can't help it. This comparison's been thrown around a lot and while it's fitting, I think it's a huge detriment to this book. Here's why I said I was being misleading, I've been very positive about this book up to this point, but there was plenty I didn't like. You can't help but think of the comparison, but quickly you start thinking how much better Ocean's Eleven is. At least that was my experience. It really just wasn't that great of a heist. It wasn't terrible, but things just kept getting added on and suddenly the ball starts rolling and I really just didn't care.
Then there's just not a whole lot of Han Solo. He's the person this essentially revolves around, but he doesn't really play a huge part. On the other hand, Lando was really fun to follow for the first time outside of the movies. But he doesn't really do a whole lot in the movies either. This was cool to see his easy-under-pressure "gambler" side.
The final complaint I have, which really isn't a complaint, is that I've found I prefer lightsabers in my Star Wars. In fact, this was a new discovery during this read. Han Solo's great and all, but I really really like jedis and lightsabers I guess. I missed them here. I noted above that Star Wars books have lightsaber sounds, but there wasn't one sound in this audiobook.
Scoundrels is a fun read and the narrator is incredible even, but on the whole I didn't love this book. It was entertaining at times, boring at others, and just didn't live up to expectations. That's not always the book's fault, but it ran a line much too close to Ocean's Eleven that begged for the comparison and missed the mark.
3 out of 5 Stars (Recommended with Reservations)
Note: I have to say this is one of the best covers I've seen whether Star Wars or not. It puts a spell on you so you have to read the book just to hold longer.
Review by Bryce L.
We recently received four collections from Speculative! via Brilliance.
Murray Leinster Collection
Includes: The Pirates of Ersatz, The Aliens, Operation Terror
By Murray Leinster; Read by Jim Roberts and Ran Alan Ricard
13 hours
In The Pirates of Ersatz, Murray Leinster presents a fast-paced, light-hearted adventure story with a touch of Monty Python and much derring-do. The hero, Bron Hodon, comes from a planet where there is only one vocation – space piracy. His dream is to become an electrical engineer so he makes his way to a planet with a "perfect society" and invents a power source that should benefit all. The perfect society does not appreciate it, accuses him of creating "death rays" and forces him to flee to Darth, a much more primitive planet. There, and in space, he undergoes a number of rollicking adventures that make him wonder if space piracy – with a twist – might not be so bad after all. This tongue-in-cheek space adventure has often been compared to The Stainless Steel Rat by Harry Harrison.
The Aliens: Among other things, Murray Leinster is credited with the invention of "parallel universe" stories and in 1956 he won the prestigious Hugo Award for Best Novelette. Leinster wrote over 1,500 short stories in his career and two of the best, "First Contact" and "The Aliens", deal with humanity's first encounter with an alien race. In this story, the human race is expanding through the galaxy and so are the Aliens. When two expanding empires meet, war is inevitable. Or is it?
Operation Terror: Murray Leinster's science fiction stories typically dealt with themes of frustration with human frailty and its limitations, cynicism vs. idealistic ethics, and romance. When a mysterious alien spacecraft lands in a lake in Colorado and the invaders begin using a paralyzing ray that no one can understand or stop, it takes an ingenious man like Lockley to save the girl and solve the mystery of the aliens.
Kurt Vonnegut Jr. Collection
Includes: The Big Trip Up Yonder, 2BRO2B
By Kurt Vonnegut, Jr.; Performed by Emmett Casey and Kevin Killavey
2 hours
The Big Trip Up Yonder: Kurt Vonnegut Jr. was known for blending satire, black comedy, and science fiction, and that is exactly what he does in this story. It was written in 1954 and first appeared in Galaxy Science Fiction. In the chronology of his works, it came between Player Piano and The Sirens of Titan. The story takes place in a future in which the population has grown so huge, due to an anti-aging product, that generations are forced to live together in crowded apartments. The family in this story is ruled by a dictatorial grandfather, the owner of the apartment and oldest of the clan.
2BR02B: Kurt Vonnegut Jr. was known for blending satire, black comedy, and science fiction, and that is exactly what he does in this little gem of of a story from 1962. In the chronology of his works, it came between Mother Night and Cat's Cradle. The title is pronounced "2 B R naught 2 B" and references the famous phrase, "To be or not to be" in Shakespeare's Hamlet. The story takes place in a future when diseases and aging have been eliminated and, as a result, the government has taken measures to insure population control
Edmond Hamilton Collection
Includes: City at World's End; The Stars, My Brothers
By Edmond Hamilton; Performed by Jim Roberts
8 hours
City at World's End: The midwestern town of Middletown is the "first strike" of a new super bomb. However, instead of destroying the town, the attack rips a hole in the space-time continuum, sending the town and it's inhabitants to a distant Earth, cold and foreboding. The story of their struggle, survival, and ultimate success in rekindling the planet and dealing with the people and aliens of the future is the stuff of great science fiction. As you listen, see if you agree with the many who think this story was the origin of the Star Wars characters Chewbacca and Leia.
The Stars, My Brothers: Edmond Moore Hamilton was a popular science-fiction author during the "Golden Age" of American science fiction. "The Stars, My Brothers" is considered one of his best, and certainly most imaginative, stories. A spaceman is killed in space and frozen. He is left orbiting the space station where he was killed in the hope that a method will be found to bring him back to life. That day finally comes a hundred years later, when he awakens to a very different world and comes to realize he has become both a symbol and a pawn in a human/alien conflict.
Alan Edward Nourse Collection
Includes: The Coffin Cure, Image of the Gods
By Aland Edward Nourse; Performed by Ben Hurst
1 hour
The Coffin Cure: No one likes a cold. It has plagued mankind for generations. When Dr. Coffin and his colleagues finally devise a cure for this ailment, the discovery is met with excitement worldwide. A month later though, noses everywhere start to rebel. Can they find a cure for the cure and do it in time to save their own necks?
Image of the Gods: In this story, an earth colony discovers that their relationship with the mother planet has suddenly changed due to an overthrow of the Earth's government. They decide not to go along with the new totalitarian regime and to declare their independence. They expect a fight for liberty and get it. However, their relationship with the natives of the planet, the "dusties", changes the whole situation in a very dramatic way.
Energized
By Edward M. Lerner; Read by Grover Gardner
Length: 10.5 hours [UNABRIDGED]
Publisher: Blackstone Audio, Inc.
Published: 2012
ISBN: 1470813033
Themes: / Science! / satellites / engineers / NASA / terrorists / oil / energy / space / thriller /
The SFFaudio crew pegged me to read this book because the description says that one of the main characters is a NASA engineer. I always think it's funny when people specify "NASA" engineer. It's like on TV shows when you see people working near the space shuttle, they're all wearing NASA hats. Nobody does that. The description could just as easily said "aerospace engineer" and the meaning would be the same…but less sexy, somehow. I admit, I was weary of reading this one at first. My experience with people who write about "NASA engineers" is that they have no idea what they're talking about excepting cursory research. I'm happy to report that Edward M. Lerner does know what he's talking about with regards to the space and satellite stuff (looking at his bio, it's no surprise). That said, I went into this thinking it was going to be a science fiction book. It's much more a mystery/thriller with science fiction elements. It's as much "science fiction" as Daemon is (which is to say, not much).
In the interest of full disclosure, it's probably worth mentioning that I am currently employed by a company that (among other things) designs and builds satellites, both for the government and the commercial sector. I currently work on the commercial side of things and have never worked on a NASA contract. There are definite holes and inaccuracies with the science and engineering in this book. But most people won't recognize them, and they don't impact the overall enjoyment of the story.
That disclaimer done with, Energized was pretty entertaining. Set in the near-future United States, the world has gone through a "crude-tastrophe" and the price of oil has skyrocketed to the tune of $20+/gallon to fill up a car. There is a fixed market, controlled mostly by Russian interests, for oil, so naturally the US explores alternate energy sources. Unfortunately, Rome wasn't built in a day and it's virtually impossible to produce enough energy via alternate sources overnight. NASA has been working on a large-scale satellite that can beam solar energy to earth from space.
The first third of the book (maybe closer to the first half) deals with the public (and private sector) reactions to this kind of a satellite and introduces the reader (listener?) to the concept and its risks. Admittedly, this section could have been shorter without sacrificing much of the story; it did seem to drag on a bit.
The second section of the book introduces the "thriller" aspect. As anybody in the aerospace industry is aware, the stuff built "for the powers of good" in/for space can usually be used to do evil. Sure enough, terrorists find a way to take over the satellite and use its harnessed energy to destroy ground-based and air-based targets. As is typical for thrillers, there are some good guys in the area, capable of stopping the terrorists. In this case it's Marcus Judson, NASA engineer, one of the lead consultants for the power satellite project, along with some of his colleagues. Yet again, this section seemed overly long and drawn out.
However, the length of the first two sections may only seem long in relation to the final section–the part where the final "battle" occurs and either good or evil triumphs. This part felt a bit rushed, comparatively. In retrospect, I think it was probably the right length and that the other two parts were just a bit too long. I won't spoil it for you, but the final "battle" involves maneuvering (literally and metaphorically) on the ground and on the 2 mile-on-a-side power satellite. It stretches the belief but still left me interested and wanting to listen to see what happened next.
As I stated previously, the book was enjoyable. It was a bit far-fetched but not so far-fetched as to be completely unbelievable. The science fiction elements are there and create an atypical setting for most mystery/thriller type books, and I'd recommend this to anybody that enjoys the mystery/thriller genre.
Grover Gardner is one of my favorite narrators and he shines in this type of book. He also narrates the Andy Carpenter books, another mystery/thriller series, so it feels natural for him to read Energized. The only "weirdness" I had is that the Andy Carpenter books have a character named Marcus as well, so hearing of two very different "Marcus" characters read by the same narrator was a bit jarring at times.
All in all, this is a popcorn-type book, easily consumed and digested. It does have its flaws (with the technical side of things as well as story length), but they're not so big as to ruin the fun. If you're in the market for a hard science fiction book with far-reaching themes, this isn't the book for you. But if you're in the mood for a thriller with science fiction elements, you'll probably enjoy Energized well enough.
Review by terpkristin.
Earthseed (The Seed Trilogy, #1)
Written by Pamela Sargent; Read by Amy Rubinate
8 hours [UNABRIDGED]
Publisher: Blackstone Audio
Published: December 2011
ISBN: 9781455118335
Themes: / space colonies / adventure / science fiction / space /
Awards: AudioFile Earphones Award; ALA Best Books for Young Adults Selection, 1983
Publisher Summary:
Ship hurtles through space. Deep within its core it carries the seed of humankind. Launched by the people of a dying Earth over a century ago, its mission is to find a habitable world for the children—fifteen-year-old Zoheret and her shipmates—whom it has created from its genetic banks.

To Zoheret and her shipmates, Ship has been mother, father, and loving teacher, preparing them for their biggest challenge: to survive on their own, on an uninhabited planet, without Ship's protection. Now that day is almost upon them, but are they ready? Ship devises a test, and suddenly instincts that have been latent for over a hundred years take over. Zoheret watches as friends become strangers—and enemies. Can Zoheret and her companions overcome the biggest obstacle to the survival of the human race—themselves?
It is understandable why this book is getting attention again, almost 30 years since it was written: it's another YA book that is similar to The Hunger Games.
In Earthseed, the reader is introduced to Zoheret, one of many teenagers aboard a ship traveling through space. Zoheret, and her ship mates, were all "born" on the ship, created by the ship (known as "Ship") from DNA samples of Ship's creator. Ship was sent from Earth with samples (and programming) from "the last of humanity on Earth," set with a mission to find another world where no intelligent life exists and "seed" the world with humans. Ship raised these kids (about 50ish in total) from birth, teaching them, fulfilling a parental role. We enter the story as the kids, now teens, are getting ready to spend time in the "holo" (I presume it's "holo" and not "hollow," either way, it's a wilderness environment on-board the ship) to train for what it will be like on the surface of the planet.
At this point, I'm sure you're thinking that some Lord of the Flies type story is going to happen (I know that's what I thought), and in fact there are some parallels between Lord of the Flies and Earthseed. However, Sargent does a wonderful job of making the story engaging with some surprising twists and turns along the way. While listening, I felt myself making excuses to listen to more of the story, not wanting to stop. I won't spoil the story, but I will say that at the end, Ship's residents find themselves making a life on the surface of the new planet and Ship goes off to seed another world.
I thought Amy Rubinate's narration was superb. I normally don't care for female narrators; usually they sound too dramatic for my taste. But Rubinate did a great job. I could always distinguish the voices of the characters, whether it was two females, two males, or a male and a female talking, and at no point did I feel like it was overdramatized. Also, the voice she used for Ship was a perfect matronly but somewhat robotic voice.
All three books in The Seed Trilogy are available in audio from Blackstone – Farseed (Book #2) and Seed Seeker (Book #3).
Review by terpkristin.