Four great reasons to listen to District of Wonders this week…
StarShipSofa No 255 Gregory Frost Benjamin Rosenbaum  |mp3|
Coming Up
Short Story: Angry Child by Benjamin Rosenbaum 03:00
Main Fiction: The Seals of New R'lyeh by Gregory Frost 10:00
Promo: Cheapskates Host 40:00
Fact: Poetry Planet by Diane Severson 45:00
First Chapters: The Mechanikals, Book 1: The Apprentice by John Dodds
Narrators: Bob Hoe, Gregory Frost
Crime City Central No 9 Dave Zeltserman |mp3|
Coming up
Main Fiction: Dave Stevens, I Presume? by Dave Zeltserman
Narrator: Wilson Fowlie
Tales to Terrify No 36 Maria Alexander Angela Slatter |mp3|
Coming up:
Good evening: 0:00:40
A short riff on comedy and horror 0:00:55
Main Fiction: "A Conspiracy of One by Maria Alexander 0:08:35
Fiction: The Bones Remember Everything by Angela Slatter 0:31:53
Pleasant dreams… 01:01:54
Narrators: Steven Howell, Elise Goodman
Protecting Project Pulp No. 9: E. Hoffman Price |mp3|
Main Fiction: "Live Bait" by E. Hoffman Price, first published in Alibi, April 1934.
Narrator: Steven Howell.
Four reasons to listen to District of Wonders this week!
StarShipSofa No 254 Allen Steele  |mp3|
Short Story: War Memorial by Allen Steele 06:40
Main Fiction: The Emancipation of the Knowledge Robots by Carl Frederick 37:20
Crime City Central No 8 John R. Corrigan  |mp3|
Main Fiction: Shooter by John R. Corrigan
Tales To Terrify No 35 John Everson, Laurel Winter  |mp3|
Fiction: Run, Run, Run by Laurel Winter 0:07:30
Fiction: The White House by John Everson 0:24:50
Protecting Project Pulp No. 8: Captain S. P. Meek  |mp3|
Main Fiction: "When Caverns Yawned" by Captain S.P. Meek, first published in Astounding Stories, May 1931.
Posted by Tony C. Smith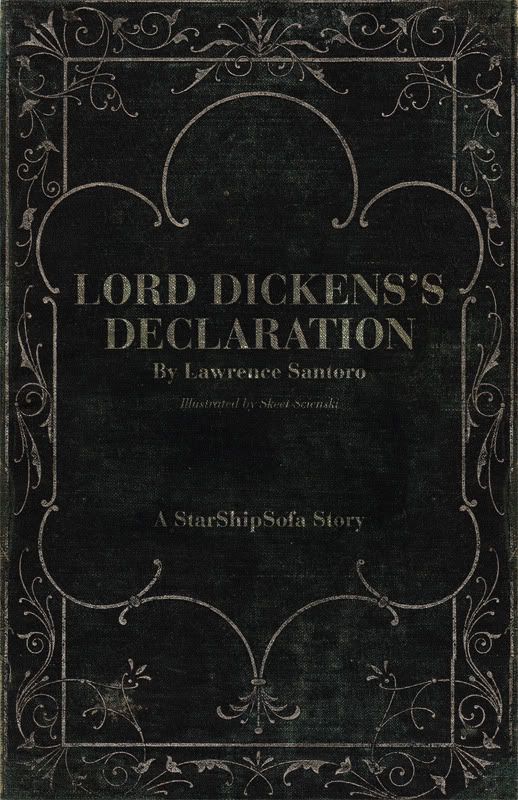 The British podcast StarShipSofa is rallying the science fiction/fantasy community around Spider and Jeanne Robinson this Holiday Season with a special book offer.
The online audio magazine has released an original three-episode novella by multiple Bram Stoker Award nominee Lawrence Santoro. StarShipSofa visitors and subscribers alike can hear Santoro reading "Lord Dickens' Declaration" for free. They may also elect to purchase an ebook of the 23,000 word novella with art by American illustrator Skeet Scienski.
All proceeds from the sale of the book will go to the Robinsons to support them during Jeanne's battle with cancer.
Diagnosed with a rare biliary cancer, the treatments have eaten away at the Robinson's finances as doctors aggressively fight the to keep the disease from spreading.
Santoro suspended work on another writing project to write and record "Lord Dickens…". "Over the years, Spider and Jeanne's work has been a constant on my home shelf and in my memory," he said. "Giving them a couple months work is small payback. Keep dancing, Jeanne!"
This "Lord Dickens…" ebook will be available for purchase only through December 31st. Priced at 2.99 GBP (about $5 US), the purchaser has an option to donate more in increments of 10, 20, 50, & 100 Pounds.
Said, StarShipSofa editor Tony C. Smith, "Any fan of the Robinson's can attest to their strength, but we hope that through this time of strife, the science fiction and fantasy community can help them survive through the worst. Thank you for standing with them in their time of need."
Posted by Tony C. Smith
The science fiction podcast magazine StarShipSofa  Aural Delights rang in a new Golden Age of Science Fiction by making publishing history.
Celebrating the show's 100th episode, show host and editor Tony C. Smith unveiled StarShipSofa Stories Volume 1, an anthology of some of the finest stories featured on the show.
The book was released simultaneously in print-on-demand paperback (deluxe and standard versions) and a free downloadable ebook. This is absolutely the first anthology to present writers of this calibre without big publisher backing – from Science Fiction Grand Master Michael Moorcock to Hugo winner Elizabeth Bear and  Nebula winner Jeffrey Ford to the SF writer who's just bagged the £1,000,000 ten book deal Alastair Reynolds (that's almost $2,000,000 in the USA), trust me you have never seen an anthology like this one before.
Speaking of seeing, that's something you've got to do with this book. Don't take my word for it – download the free ebook or flip through the pages for yourself at this super-cool online widget. This volume is an homage to the "tatty old paperbacks" of science fiction past, recapturing the visual wonder of the 1950's pulp paperbacks that we all love so well. Original artwork sets off each story, rendered by top artists published by the likes of 2000AD and Neil Gaiman. Sprinkled liberally throughout are original vintage images and magazine adverts from the 1950's. An homage to classic science fiction and a daring experiment in the publishing revolution, this is nostalgia nouveau and tomorrow today all in one package.
A great anthology and a bold exploration of the latest in publishing technology, everyone wins with StarShipSofa Stories Volume 1.  New and established writers are reaching out to new audiences, sales and donations are being generated to support the show, and a remarkable world-wide community of science fiction fans is growing. Everyone is a winner! There is no doubt that StarShipSofa is leading the way for podcasts into a new and brighter future.
Posted by Tony C. Smith
Aural Delights No 82 Michael Bishop
Editorial: Michael Bishop by Tony C. Smith
Poetry: Jamie's Hair by Michael Bishop 02:00
Intro to Main Fiction: Michael Bishop
Main Fiction: Vinegar Peace by Michael Bishop 07:41
Sofa Art Cover: Ed Bellisimo
Narrators: Diane Severson, Dale Manley
Published in the July 2008 issue of Asimov
StarShipSofa narrates Vinegar Peace, an SF story writtten by Michael Bishop for his son Jamie Bishop who died two years ago at the Virginia Tech shooting.
Michael Bishop says:
I wrote "Vinegar Peace" — in August of 2007 — because I had to. Our 35-year-old son, Jamie, died on the morning of April 16, 2007, as one of thirty-two victims of a disturbed shooter on the campus of Virginia Tech in Blacksburg, Virginia.

Jamie, an accomplished digital artist who did lovely covers for four or five of my books, was holding forth in Room 2007 of Norris Hall in his German class more than two hours after his eventual murderer had slain two students in a dormitory on another part of campus. The administration failed to issue a warning — a warning that might well have saved many lives — in a timely fashion. However, some of its members secured their own offices and notified their own family members of this initial event; and so the worst school shooting in the history of the United States claimed our son, four other faculty members (including a man, Dr Librescu, who had survived the Holocaust and who held a table against his classroom door until all own students could escape), four of Jamie's students, and twenty-one other young people in Norris Hall, not to mention the first two victims in West Ambler-Johnston dorm. Another twenty-eight students were wounded by bullets or injured leaping from upper-story windows. Some of these young people will live with their injuries the rest of their lives.

All of the administrators, with the exception of a woman who later died of a stroke or a heart attack (a death that my wife and I can't help but attribute partially to the stress of living with the mistakes of the President and the other Policy Group members), remain in their positions. So much for accountability, and so much for justice.

In any case, "Vinegar Peace" grew from this disaster and from a grief that I can't imagine ever laying totally aside. Jeri and I mourn Jamie's loss every day in some private way, and we think continually of all the other parents and loved ones of the slain and injured who will carry a similar burden with them until they die. We think, too, of the parents and loved ones of the dead and wounded from the United States's optional war in Iraq, who long for their dead and who pray for their injured with an intensity not a whit different from our own. How ironic that our son died on American soil. How sad the wasted potential and disfigured lives resulting from violence everywhere. And forgive me the inadequacy of these remarks. Clearly, I wrote a story because I could not address either my outrage or my grief in any other way.

-Mike Bishop
StarShipSofa is very honoured and humbled to be allowed to bring this story to a wider audience. I know I speak for the SF community when I say our hearts and prayers go out to Mike and Jeri and all the families who have to live with this grief every day.
Posted by Tony C. Smith
StarShipSofa podcasts all  Nebula Short Story nominees for 2008 in one day!

StarShipSofa has, in one day, done what no other SF podcast has done before. In another unprecedented move, StarShipSofa has put out all seven Nebula Short Story 2008 nominees, all available as free audio podcasts for your listening pleasure.
Tony, who helms the podcast, says, "The Nebula's are a very special event in the SF world and I wanted the StarShipSofa to mark this occasion by doing something unique for this year's awards.
"I wanted to put out all the stories nominated in one day so people can, straight away, have them downloaded back to back… sitting on their iPod and,  for the next few hours, submerge themselves in SF stories of the very best calibre. All for free.
"Things are changing rapidly in this medium and this is one example of StarShipSofa pushing the boundaries of normal podcasting in both terms of quality and accessibility.
"It's what the StarShipSofa was built for."
Below are the links to all seven stories direct via iTunes. If you don't use iTunes… check out each individual postings at StarShipSofa.
Super-fast iTunes download links:
Nebula Nominee Kij Johnson -26 Monkeys, Also the Abyss
Nebula Nominee Ruth Nestvold – Mars: A Traveler's Guide
Nebula Nominee Mike Allen -The Button Bin
Nebular Nominee Jeffery Ford – The Dreaming Wind
Nebula Nominee Nina Kiriki Hoffman – Trophy Wives
Nebula Nominee James Patrick Kelly – Don't Stop
Nebula Nominee Gwyneth Jones -Tomb Wife
Posted by Tony C. Smith