BBC7's The 7th Dimension program is re-broadcasting an action-packed reading of a Leigh Brackett novelette: The Last Days of Shandakor was originally published in the April 1952 issue of Startling Stories magazine. It was first broadcast on BBC7 back in March 2007.
NOTE: The story will be aired in 2 parts on Wednesday, October 15 and Thursday, October 16 evenings at 6:30pm and 12:30am GMT.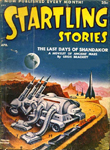 The Last Days Of Shandakor
By Leigh Brackett; Read by Nathan Osgood
Broadcast in 2 parts – Approx. 50 minutes
Broadcaster: BBC 7 / 7th Dimension time slot
Broadcast: Wednesday, October 15 and Thursday, October 16, 2008
An epic science fiction adventure written in Brackett's classic style in which Mars is portrayed as a dying planet where desperate Earthmen compete with the last Martians races for lost knowledge and hidden power. Follow Jon Ros on his solitary trek as he learns more about Mars' history and visits a remote Martian city lost in its own memories of the past.
And remember, if you miss it, BBC7 provides a "listen again" feature that keeps programs available for 6 days following the broadcast –like this and this.
Posted by RC of RTSF
The Naked Sun

By Isaac Asimov; Read by William Dufris
7 CDs or 1 MP3-CD – 8 Hours 30 Minutes [UNABRIDGED]
Publisher: Tantor Media
Published: 2007
ISBN: 140010422X (CDs), 1400154227 (MP3-CD)
Themes: / Science Fiction / Mystery / Robots / Artificial Intelligence / Sociology / Alien World
On the beautiful Outer World planet of Solaria, a handful of human colonists lead a hermit-like existence, their every need attended to by their faithful robot servants. To this strange and provocative planet comes Detective Elijah Baley, sent from the streets of New York with his positronic partner, the robot R. Daneel Olivaw, to solve an incredible murder that has rocked Solaria to its foundations.
[disclaimer- As an audiobook publisher (www.wonderaudio.com), I have a working relationship with the narrator, William Dufris. I have no other professional associations with this title. Although I've kept the paragraph about the narration on this title brief, reader's may question the objectiveness of the review in such cases. On the other hand, just because I have an association with an author or narrator doesn't negate my reason or enthusiasm for that artist.]
The Naked Sun is a sequel to The Caves of Steel. It can be read or listened to without first acquainting yourself the first title, but it's recommended that they be read in order…(The Caves of Steel was also designated an SFFaudio Essential by a different reviewer).
Like the first book, the main character is Earthman detective Elijah Baley. And he is reunited with robot and assistant Daneel Olivaw. He is sent to Solaria, which is hostile to Earth, to investigate a murder. Asimov takes the setting of The Caves of Steel and flips is on it's head. In that first book the setting was of a vastly overpopulated Earth living in the confines of gigantic city/buildings. The mere thought of being outside is frightening to Earth's inhabitants.
In The Naked Sun, Elijah Bailey, is sent to the planet Solaria to investigate a murder. Solaria's inhabitants live on vast estates alone or with their spouses. They communicate with one another via holographic telepresence. They call this "viewing" versus "seeing." "Seeing" is when they are in one another's physical presence. They have a natural aversion to "seeing" and consider it a social taboo. This has additional relevance to our own society, or should I say to our social media networked world. Socially, we have moved closer to the virtual aspects of a world like Solaria than the world of 1956 when the novel was first published in Astounding Stories.
Asimov's writing style is very clean, sparse and not very stylistic in a literary way. He's fond of moving the story along with one-on-one dialogue. This is not untypical of the mystery genre and serves the Robot Novels very well. One of William Dufris' strengths is handling dialogue. And he's perfect for these novels. His voice characterization are distinctive, and he's got a gift for pacing a conversation.
The murder mystery is very satisfying and there's a much larger implication between the future of Earth and the Spacers giving the novel a larger feel than just a murder mystery with a SF setting. I find The Caves of Steel and The Naked Sun to be the best of Asimov's novels and should be on every SF enthusiast's list of must listens.
There is another sequel with Elijah Baley and Daneel Olivaw called The Robots of Dawn. This title was written much later in Asimov's career and is also published by Tantor with William Dufris as narrator.
Posted by The Time Traveler of the Time Traveler Show
Rally Cry: The Lost Regiment #1
By William R. Forstchen; Read by Patrick Lawyor
11 Cassettes, 12 CDs or 1 MP3-CD – 15 Hours 30 Minutes [UNABRIDGED]
Publisher: Blackstone Audio
Published: 2006
ISBN: 0786145056(Cassette), 078617199 (CDs), 078617658X (MP3-CD)
Themes: / Science Fiction / Military / Civil War / Aliens / Early Civilizations / Alien World /
— Click here for an audio sample —
"When Union Colonel Andrew Keane led his blue-coated soldiers aboard the transport ship, he could not have foreseen that their next port of call would be neither in the North nor the South but on an alternate world where no human was free."
In this exciting Military Science Fiction book, we find a regiment of Union soldiers swept away into a tunnel of light to find themselves on an alien planet. These are battle-hardened and battle-weary soldiers who have paid the terrible price of war. Their leader, Colonel Andrew Keane, has not only lost an arm but also his only brother in conflicts with the South.
Their first encounter on this new world is with a society of humans. The society originally came from Earth through that same tunnel of light that brought Keane and his men to this planet. These people were transplanted out of Medieval Russia. The nobles and the Church rule over the peasant serfdom. Conflict ensues as these two different societies battle with weapons from different eras.
There is also a nomadic alien race that lords over the humans of this planet. They are coming to take one out of every five humans as their tribute. What do they do to these humans? Mostly they eat them.
This is the first novel in a long series known as The Lost Regiment. The action is strong and convincing. Patrick Lawford reads the novel with a good range of voices and accents. The story is written in third person omniscient, so we get into the heads of many of the characters. Each character has their own motivations that justifies their actions.
The only disappointment was the lack of alien-ness to the aliens and setting. Sure the aliens are tall fangy creatures that eat humans, but their culture is not much different than many primitive nomadic warrior tribes. They measure their virtue in bravery and prowess in battle. Maybe it's not fair to expect an alien culture to be different, after all I haven't encountered any real ones. Maybe primitive cultures of different planets would share many of the same traits, if they are universally advantageous to that species. The setting also lacks in alieness and is very much like Earth except that it has two moons.
Overall, this is a rousing tale with plenty of action. The battle scenes are exciting without glorifying war. The characters suffer real losses, and we feel their anguish. If you are Civil War buff or like Military SF this is a book not to be missed.
The audiobook is only available in library editions. This means the packaging is sturdier and more permanent. Unfortunately this makes the price expensive. A more affordable download version is available at audible.com. Better still, make a request to your local library to carry it (with dozens of other SFF titles, of course).
posted by The Time Traveler