Four great reasons to listen to District of Wonders this week…
StarShipSofa No 255 Gregory Frost Benjamin Rosenbaum  |mp3|
Coming Up
Short Story: Angry Child by Benjamin Rosenbaum 03:00
Main Fiction: The Seals of New R'lyeh by Gregory Frost 10:00
Promo: Cheapskates Host 40:00
Fact: Poetry Planet by Diane Severson 45:00
First Chapters: The Mechanikals, Book 1: The Apprentice by John Dodds
Narrators: Bob Hoe, Gregory Frost
Crime City Central No 9 Dave Zeltserman |mp3|
Coming up
Main Fiction: Dave Stevens, I Presume? by Dave Zeltserman
Narrator: Wilson Fowlie
Tales to Terrify No 36 Maria Alexander Angela Slatter |mp3|
Coming up:
Good evening: 0:00:40
A short riff on comedy and horror 0:00:55
Main Fiction: "A Conspiracy of One by Maria Alexander 0:08:35
Fiction: The Bones Remember Everything by Angela Slatter 0:31:53
Pleasant dreams… 01:01:54
Narrators: Steven Howell, Elise Goodman
Protecting Project Pulp No. 9: E. Hoffman Price |mp3|
Main Fiction: "Live Bait" by E. Hoffman Price, first published in Alibi, April 1934.
Narrator: Steven Howell.
StarShipSofa Aural Delights No. 68 – Kim Newman |MP3|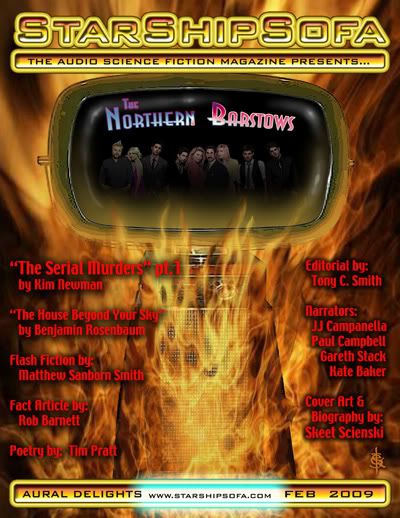 Aural Delights No. 68 Kim Newman
Editorial: "Kindle the Savior of Book Publishing" by Tony C. Smith 00:10
Poetry: "Angle Bites" by Tim Pratt 15:30
Flash Fiction: Brothers and Sisters by Matthew Sanborn Smith 18:00
Fact: Sofa Art Cover by Skeet 24:00
Fiction: The House Beyond Your Sky by Benjamin Rosenbaum 32:00
Fact: Movie Talk by Rob Barnett 01:03:00
Main Fiction Serial: The Serial Murders Kim Newman Part 1 of 4 01:12:00   
Fact: Fiction Crawler No. 5 Matthew Sanborn Smith 02:06:11
Narrators: Kate Baker, Gareth Stack, Paul W Campbell, JJ Campanella
Twitter #futuerjer http://tinyurl.com/futurejer
Links to Fiction Crawler No. 5:
At the Bottom of the Garden by Jo Walton

Non-Disclosure Agreement by Scott Westerfeld
The Support Technician Tango by Daniel Abraham
Big Man: a Fable by Joe R. Lansdale
The Shangri-La Affair By Lavie Tidhar
Posted by Tony C. Smith
Mur Lafferty of I Should Be Writing 2.0 interviews Benjamin Rosenbaum (The Ant King and Other Stories). |MP3|
You can subscribe to the podcast at this URL: http://feeds.feedburner.com/IShouldBeWriting
Posted by Charles Tan
PodCastle, the fantasy fiction podcast, features "The Ant King: A California Fairy Tale" by Benjamin Rosenbaum |MP3| and "Pahwahke" by Gord Sellar |MP3|.
You can subscribe to the feed at http://feeds.escapeartists.net/PodCastle_Main
Posted by Charles Tan
Cory Doctorow and Benjamin Rosenbaum are podcasting a new novella that they co-wrote. It will appear in print in the forthcoming anthology, Fast Forward 2. It's an homage to Vernor Vinge's famous story of the same name… Rosenbaum sez:
"This story came out of a conversation at the Hugo Loser's party at Worldcon 2002 — the part about 'the second law of thermodynamics as the ultimate party-spoiler in a transhuman utopia of self-spawning consciousness'; it acquired shades of Jane Austen, Voltaire, megamillion year ideological warfare, gender theory, coming-of-age story, and musical theater along the way.

We've pretty much been working on it for the past six years. It's been a delight to work on, and it's surprisingly exciting to have it done and ready for readers — or first, in this case, listeners.

See, Cory, inexhaustible font of energy that he is (for those who don't know Cory and who think of me as energetic, talkative, and full of enthusiasm for various projects — Cory is me cubed; he makes me look like a laconic hermit), has declared that we are podcasting it.

And so we are! I just have to hunt down a decent microphone so I can record the next installment…."
True Names
By Cory Doctorow and Benjamin Rosenbaum; Read by Cory Doctorow and Benjamin Rosenbaum
Podcast – [UNABRIDGED]
Podcaster: Cory Doctorow's Craphound
Podcast: March 2008 –
"Involves the galactic wars between vast, post-Singularity intelligences that are competing to corner the universe's supply of computation before the heat-death of the universe."
Subscribe to the podcast feed here:
http://feeds.feedburner.com/doctorow_podcast
Posted by Jesse Willis
The 320 page Science Ficition The Best Of The Year 2007 Edition anthology has been out since last spring. It contains 12 works of short fiction (short stories, novellas, etc.) that were originally published in 2006. But unlike with the 2006 edition, the publisher, Wildside Books, and the editor, Rich Horton, haven't managed to secure an audio edition. But that doesn't mean we can't listen to at least some of the stories.
Check these out:


Hesperia And Glory
By Ann Leckie; Read by Frank Key
1 |MP3| – [UNABRIDGED]
Podcaster: Escape Pod
Podcast: November 2007
"…unassumingly written in Victorian style at the start, quickly evokes the glory days of pulp sf adventure in the spirit of Edgar Rice Burroughs. Here, we are told a secondhand, heroic account of a man named John Atkins, a self-professed prince of Mars. The deftness with which the author handles the usually off-putting plot device of wish fulfillment (and the correspondingly eye-rolling trope of imagined realities) is not only commendable; it's entirely in keeping with the science-fantasy days of old. Well done." – review from John @ SFSignal.com
Inclination
By William Shunn; Read by William Shunn
3 MP3s – Approx. 2 Hours 10 Minutes [UNABRIDGED]
Podcaster: Science Fic Shunn Podcast
Podcast: April 2007
Get all three parts:
|Part 1 MP3|Part 2 MP3|Part 3 MP3|
On a space station there are two clashing social classes. Jude, a young member of the underprivileged Machinists, gets a job with the Sculpted and comes to learn the way of the world.
The House Beyond Your Sky
By Benjamin Rosenbaum; Read by Paul Tevis
1 |MP3| – [UNABRIDGED]
Podcaster: Escape Pod
Podcast: May 2007
"The simulations, while good, are not impenetrable even to their own inhabitants. Scientists teaching baboons to sort blocks may notice that all other baboons become instantly better at block-sorting, revealing a high-level caching mechanism."
Posted by Jesse Willis