Star Wars: Scoundrels
By Timothy Zahn, Read by Marc Thompson
Publisher: Random House Audio
ISBN: 0345511506
[UNABRIDGED] – 13 Discs, 13 Hours 54 Minutes
Themes: / Star Wars / Heist / Ocean's Eleven / Han Solo /
Publisher Summary:
To make his biggest score, Han's ready to take even bigger risks.

But even he can't do this job solo.

 Han Solo should be basking in his moment of glory. After all, the cocky smuggler and captain of the Millennium Falcon just played a key role in the daring raid that destroyed the Death Star and landed the first serious blow to the Empire in its war against the Rebel Alliance. But after losing the reward his heroics earned him, Han's got nothing to celebrate. Especially since he's deep in debt to the ruthless crime lord Jabba the Hutt. There's a bounty on Han's head—and if he can't cough up the credits, he'll surely pay with his hide. The only thing that can save him is a king's ransom. Or maybe a gangster's fortune? That's what a mysterious stranger is offering in exchange for Han's less-than-legal help with a riskier-than-usual caper. The payoff will be more than enough for Han to settle up with Jabba—and ensure he never has to haggle with the Hutts again.

All he has to do is infiltrate the ultra-fortified stronghold of a Black Sun crime syndicate underboss and crack the galaxy's most notoriously impregnable safe. It sounds like a job for miracle workers . . . or madmen. So Han assembles a gallery of rogues who are a little of both—including his indispensable sidekick Chewbacca and the cunning Lando Calrissian. If anyone can dodge, deceive, and defeat heavily armed thugs, killer droids, and Imperial agents alike—and pull off the heist of the century—it's Solo's scoundrels. But will their crime really pay, or will it cost them the ultimate price?
I have to start out being a bit misleading. Star Wars audiobooks are simply the best – they combine the intimacy of reading a book with the sound effects and music of the movies. Blasters, lightsabers, R2D2 squeals, and the same compositions as the movies! Then they get amazing voice actors who are pitch-perfect when it comes to the voices of the characters we love. That's a pretty big role to fill when books are based on movies since we already know how these people sound and anything different…just wouldn't work.
I have to say Marc Thompson does not let us down. His Lando Calrissian is spot-on even though his Han Solo borders on sounding like Patrick Warburton. You don't realize how close they actually are until you hear it.
There's one scene toward the beginning where Thompson voices 11 characters having a discussion and he doesn't miss a beat. I was astounded, although I had to go back and re-listen because I wasn't paying attention to what was actually being said, it was way too impressive! But I guess I'm getting ahead of myself.
Star Wars: Scoundrels takes us back (or forward since Old Republic is going on right now) to just after the first movie in the Star Wars franchise, episode IV, Star Wars: A New Hope. If you're confused now, it's best to just turn away.
I'm not the most well-read when it comes to Star Wars novels, in fact I've only "read" any of them through audio form. But, I do know that it can be a confusing timeline because there are A LOT of Star Wars books. Where do you even start? Luckily, they provide you with a nice timeline at the front of every book showing a listing of the books and the movies. In this case, Scoundrels can be read as long as you've watched the original movies.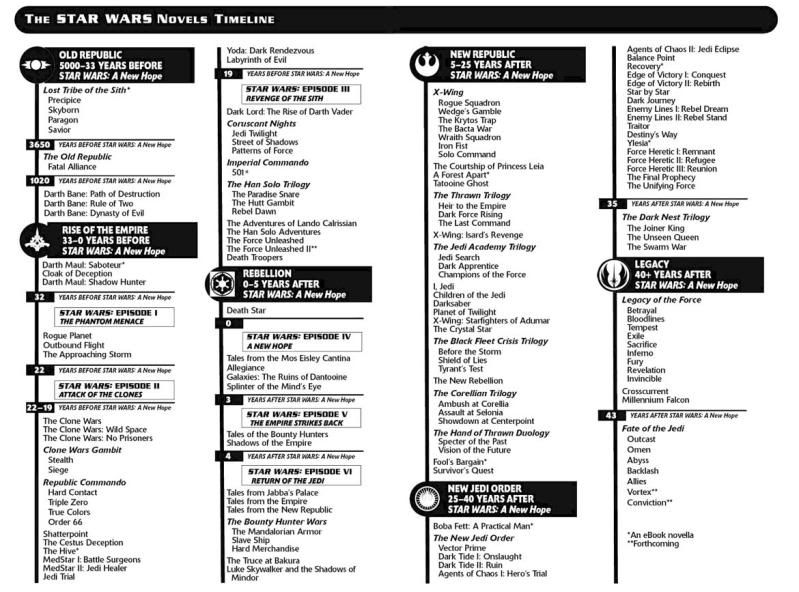 (It looks like this, but I couldn't find one with Scoundrels on it. You'll just have to trust me I guess.)
Another way to put this, if you're human, you can read Scoundrels at any point. It's just filler, taking place in between movies, it doesn't follow any other books, although I've heard it does contain characters from other Han Solo-involved books. Again, I show my lack of actual knowledge. Scoundrels is essentially Ocean's Eleven meets Star Wars. There are even 11 people! Han Solo lost all his reward money and still needs to pay off that darned Jabba the Hutt. He's approached, after a quick nod to the "who shot first" controversy, and gets a team together to get some money.
Of course, it's all but impossible because blah blah blah. The scene mentioned above with the 11-person discussion revolves around this in fact. Like I said, Ocean's Eleven inevitably springs to mind, you can't help it. This comparison's been thrown around a lot and while it's fitting, I think it's a huge detriment to this book. Here's why I said I was being misleading, I've been very positive about this book up to this point, but there was plenty I didn't like. You can't help but think of the comparison, but quickly you start thinking how much better Ocean's Eleven is. At least that was my experience. It really just wasn't that great of a heist. It wasn't terrible, but things just kept getting added on and suddenly the ball starts rolling and I really just didn't care.
Then there's just not a whole lot of Han Solo. He's the person this essentially revolves around, but he doesn't really play a huge part. On the other hand, Lando was really fun to follow for the first time outside of the movies. But he doesn't really do a whole lot in the movies either. This was cool to see his easy-under-pressure "gambler" side.
The final complaint I have, which really isn't a complaint, is that I've found I prefer lightsabers in my Star Wars. In fact, this was a new discovery during this read. Han Solo's great and all, but I really really like jedis and lightsabers I guess. I missed them here. I noted above that Star Wars books have lightsaber sounds, but there wasn't one sound in this audiobook.
Scoundrels is a fun read and the narrator is incredible even, but on the whole I didn't love this book. It was entertaining at times, boring at others, and just didn't live up to expectations. That's not always the book's fault, but it ran a line much too close to Ocean's Eleven that begged for the comparison and missed the mark.
3 out of 5 Stars (Recommended with Reservations)
Note: I have to say this is one of the best covers I've seen whether Star Wars or not. It puts a spell on you so you have to read the book just to hold longer.
Review by Bryce L.
After doing a little online research about a low budget vampire movie called Stake Land (which could be set in the universe of Richard Matheson's I Am Legend), I stumbled over the Double Feature podcast. The hosts, hosts Eric Ingrum and Michael Koester, pair two movies that are somehow connected and bring to the discussion both interesting facts and intelligent analysis (or as they put it "blasphemy, skepticism, dirty words and bloodlust").
In the case of the episode I heard (Die Hard + Man On Wire) the connection goes like this:

"Secret heist films that take place in famous buildings (and are based on books!)"
WOW! I didn't know that Die Hard was based on a 1979 novel called Nothing Lasts Forever by Roderick Thorp!
Did you?
Have a listen |MP3|.
I'm pretty damn impressed with this podcast. The next time I see a movie or two that they've covered I'm listening.
Podcast feed: http://feeds.feedburner.com/doublefeatureshow
iTunes 1-Click |SUBSCRIBE|
Posted by Jesse Willis
According to the Wikipedia entry, BBC Radio 7 was renamed BBC Radio 4 Extra back in April. I'm not much for re-branding – it's a grubby little idea that makes me think of scientific management, focus groups and meetings … endless … unproductive … meetings. The more I think about meetings the less I want to think.
Hopefully the new name will last a few years, and then perhaps BBC management can go ahead and arrange to have a meeting about considering the update of their antiquated delivery methods – perhaps they've already started as I hear they've finally dropped RealAudio (the web's first big audio technology).
Speaking of delivery methods, I discovered my first interesting BBC Radio 4 Extra offering over on RadioArchive.cc. RA.cc is my favourite site for public radio, its chock full of great taxpayer funded programming. The site is extremely well organized and make even people who are wary of the word "torrent" comfortable with the technology. Files are, naturally, in the MP3 format, and when well seeded, a program the size of Topkapi will take only about TEN minutes to download. That's service folks!
Topkapi, aka The Light Of Day, is a 1962 novel Eric Ambler. I'd heard about it – but until it showed up on RadioArchive.cc I never even thought to investigate it. Well, after investigating it turns out that The Light Of Day was an Edgar Award winning novel, 1964, and has a fair cachet in espionage and crime fiction circles. The name change, for this reading, was likely done to remind BBC listeners of the movie – Topkapi is pretty famous, the Ottoman Sultans used it as their personal residence as well as an "impregnable fortress" that housed its famous seraglio/harem.
The Wikipedia entry for Ambler has this gem:

"A recurring theme in Ambler's books is the amateur who finds himself unwillingly in the company of hardened criminals or spies. Typically, the protagonist is out of his depth and often seems for much of the book a bumbling anti-hero, yet eventually manages to surprise himself as well as the professionals by a decisive action that outwits his far more experienced opponents."
That certainly fits Topkapi.
I can't say how much of the novel was excised for this abridgement, but I can say the novel definitely works as a quick listen. There are some unnecessary sound effects added, but when they show up they don't overwhelm the text. The story is told in first person, by the clever, but unlucky anti-hero. David Westhead, the reader, is truly excellent in performing the lead character. He's got a wonderfully subdued humor, and the voice and accent work he provides for the man supporting characters adds a lot of color.
Topkapi (aka The Light Of Day)
By Eric Ambler; Read by David Westhead
Six 30 minute episodes – Approx. 3 Hours [ABRIDGED]
Broadcaster: BBC Radio 4 Extra
Broadcast: May 2011
Source: RadioArchive.cc
Small time operator Arthur Abdel Simpson is an illegitimate stateless half British half Egyptian pimp and pornographer. He makes his living fleecing tourists in Athens, Greece. When he picks up a likely looking pigeon at the airport he soon discovers that he's the one in trouble. He's then blackmailed into driving a car to Istanbul.
1/6. Minor crook Arthur Abdel Simpson spots a likely mark at Athens airport
2/6. Arthur Simpson is interrogated by Turkish security for unintentional arms smuggling.
3/6. Arthur is now seconded to Turkish security. He also has to work at the suspect's villa.
4/6. Unwilling agent Simpson watches a group of 'tourists', while he works as their driver.
5/6. Arthur Simpson witnesses a vicious knife fight and waits for news of Fischer.
6/6. Arthur Simpson is still on the roof. He has just reluctantly robbed the Treasury.
Here's the trailer for the film version:
I'll try to find a copy of the film itself, and maybe see if its anything like the audiobook.
Posted by Jesse Willis
Heist Society
By Ally Carter; Read by Angela Dawe
5 CDs, 1 MP3-CD or Audible Download – Approx. 6 Hours 7 Minutes [UNABRIDGED]
Publisher: Brilliance Audio
Published: February 9, 2010
ISBN: 1441826734 (cd), 9781441826756 (mp3-cd)
Themes: / Crime / Caper / Heist / Grifting / Art / Europe / Romance /
SAMPLE |MP3|
Since she can remember, Katarina's relatives have been grooming her for the family business – thieving. But when Kat tries to go straight and leave the "Life" for a normal life, she's promptly kicked out of her new school for stealing the headmaster's car and mounting it on the school fountain. Although she could have done it without breaking a sweat, ironically, this time, she's innocent. In fact, she was framed – by another highly skilled thief. Her friend and brother-in-trade Hale, with his mischievous smile and limitless bank account, has appeared out of nowhere to bring her back to the Life, back to the family Kat tried so hard to escape. Hale has a good reason: A powerful mobster has just been robbed of his priceless art collection, and he wants to retrieve it. Only a master thief could have cracked this vault, and Kat's father isn't just on the suspect list, he IS the list. Now, caught between Interpol and a far more deadly predator, Kat's dad needs her help. For Kat, a consummate thief in her own right, the solution is simple: track down the paintings and steal them back. So what if it's a spectacularly impossible job? She's got two weeks, a teenage crew, and maybe just enough misguided pride to pull off the biggest heist in history – or at least in her family's (very crooked) history.
I can't say there's much more to this novel than the very detailed premise outlined above. It's theme is as old as YA. A smart kid must save his or her parent from something. Mayhaps it's not the most exicting theme ever, but it's far more interesting than:

"Love conquers all, or love is the strongest force or something. Something about love being so strong to overcome anything."
And as I value my time, and try to be pragmatic about these things, I find it hard not to recommend Heist Society as a breezy listen! It's easily picked up, and just as easily dropped. I listened to it over the course of about four months – between more serious audiobooks and a forced reading of part of Twilight. Now, being a fan of practically every grifter/heist movie ever made, I can't say I learned a single new trick or wrinkle while listening to Heist Society. But then again I didn't really expect to. That isn't to say, though, that I wouldn't have liked to. And while all this probably doesn't sound like a particularly ringing endorsement I'd much rather hand a copy of Heist Society to practically any kid than something far more popular with far more vapidity (like say something with a sparkly vampire and the teen who pines after him). See, the negatives with Heist Society aren't particularly egregious. Sure Katarina's and Hale are a pair of kids who act variously cynical and cool, innocent and dastardly, all while lusting (ever so gently) towards each other – but they do so in a slightly more realistic world, talking about slightly more realistic subjects, with slightly more interest in history, art and a lot more of the taking-charge-of-shit and a lot less of the lying-around-and-wishing-that a handsome-prince-whose-been-in-high-school-for-ninety-years would stare at her while she sleeps.
Bitter? Noooo, I'm not bitter.
Anyway, Ally Carter's writing style is brisk, unobtrusive, and not wholly unsophisticated. It delivers a soft boiled tale that seems far more inspired by the Oceans 11, 12, 13, Entrapment, The Maiden Heist end of the spectrum than the The Silent Partner, The Great Train Robbery, Thief end. And if you're an adult, in the mood for a YA novel that doesn't have a single brooding vampire anywhere in sight (not even in the castles), this might just fill a few empty hours.
Narrator Angela Dawe performs Kat well enough, perhaps sounding a bit too adult. Dawe is not, however, quite able to fully sell me on the male characters. Her voice range isn't particularly vast. Thankfully, as most scenes aren't full of multiple characters, there isn't much of a chance of confusing any of them. She's certainly good enough for this novel.
Posted by Jesse Willis
As part of our revival of the Aural Noir label, we'll be re-running some of our classic (offline) Aural Noir posts, including this "vintage" audiobook review which was first posted in December 2005…
Fever
By Sean Rowe; Read by William Dufris
5 CDs – Approx 6 Hours [UNABRIDGED]
Publisher: Tantor Media
Published: 2005
ISBN: 1400101778
Sample: |MP3|
Themes: / Crime / Heist / Noir / Thriller / Terrorism / Florida / Cuba / Nautical / Family /
Raw, is probably the best one-word sum up of Sean Rowe's first novel Fever. Rowe's prose lacks the polish found in novelists like Lawrence Block, Donald Westlake and Elmore Leonard, but he doesn't lack what it takes to eventually become worthy of hanging out with these masters, especially if he keeps writing like this!
Fever follows a tight knit group of fuck-ups through their attempt to rob thirty million dollars of stashed drug money from an aging cruise ship plying the waters between Miami and Cuba. The crew, on paper at least, looks like it should be able to handle anything. It consists of an ex-FBI agent Matt Shannon, his step brother (an ex-DEA agent named Jack Fontana), an emergency room nurse named Julia, a former Black Panther, and a South American soldier of fortune. Despite their collective skill set these are all losers in almost every way. Shannon's past is slowly revealed, working backwards we know that he's an in-debt alcoholic, with a dead wife, missing an index finger and has a step-brother who is a recently paroled felon. When the step-brother frames Shannon in the sinking of a freighter Matt is half-blackmailed into going along, with a vague desire to somehow help his brother. The rest of the crew are nearly as sad, Julia was an orphan who was sexually abused from a young age. And Jack Fontana is dying after serving his sentence. Even the minor characters have their share of problems…. one passage detailing the last job the mercenary took killing Indians in the jungles of South America is brutal, funny and illustrative of just how unlikely this string will be of pulling off this or any job. The malformed love triangle between Shannon, his brother, and Julia pays off in a tasty neo-noir style. In fact love, brotherly and the other kind is probably at the heart of this story. Fever is extremely enjoyable, the dialogue is crisp and fun, the scenes are imaginative and original. A constant surprise awaits in every chapter. None of it goes exactly according to plan and that makes it all the better to follow. The novel's few problems seem mostly structural, scene transitions aren't handled as well as I'd like and despite it being a first person perspective we never really get an idea of what's going on inside the narrator's head. This could be a deliberate style on the part of Rowe, as both flaws could be thought to pay off in certain ways later in on the book, but I'm thinking a more seasoned novelist might have been better able to give us everything. I eagerly look forward to reading the next Sean Rowe novel!
Read by the always reliable William Dufris, the first person perspective plays into such classics as Double Indemnity and The Postman Always Rings Twice. Dufris' natural timbre doesn't exactly embody the gravelly voiced loser we imagine as the narrator but his voicing of the rest of the crew is spot on. Men, women, a Colombian drug lord, the string and even minor characters like an aging boxer all sound just like you'd want them to. Tantor Media, an exciting new player in unabridged audiobooks has packaged Fever in a clamshell CD case with leaved pages. The cover is the same as the Little Brown & Co. original and the sound quality is phenomenal. The pricing is extremely reasonable too. I think Tantor is probably the most exciting new big little publisher of the decade!
Posted by Jesse Willis
Back in 2005 SFFaudio spun-off a sister site called AuralNoir.com. But it didn't take. Those who visited loved it, but too few visited. So, what we're doing now is posting non-Science Fiction, Fantasy or Horror, reviews, news, etc, under special headers like the one above. So welcome to our first such. Stick around, we'll see how the string plays itself out.
Dirty Money
By Richard Stark; Read by Stephen Thorne
Audible Download – 5 Hours 12 Minutes [UNABRIDGED]
Publisher: BBC Audiobooks America
Provider: Review copy provided by Audible.com
Published: 2008
Themes: / Crime / Heist / Armored Car / Double-cross / Massachusetts /
Master criminal Parker takes another turn for the worse as he tries to recover loot from a heist gone terribly wrong. Parker and two cohorts stole the assets of a bank in transit, but the police heat was so great they could only escape if they left the money behind. Now Parker and his associates plot to reclaim the loot, which they hid in the choir loft of an unused country church. As they implement the plan, people on both sides of the law use the forces at their command to stop Parker and grab the goods for themselves. Though Parker's new getaway van is an old Ford Econoline with "Holy Redeemer Choir" on its doors, his gang is anything but holy, and Parker will do whatever it takes to redeem his prize, no matter who gets hurt in the process.
Richard Stark is the alternate personality of crime writer Donald E. Westlake. I'm a giant fan of both guys, Westlake seems to write instinctually, sometimes it all comes together sometimes it doesn't. Dirty Money doesn't blow my socks off. But, it is the latest installment in Stark's long running (more than 20) series of novels about the hardened heister known only as "Parker." What seems to have gone wrong is that Dirty Money is only a small part of the overall-arc of the last three books (the previous being Nobody Runs Forever and Ask The Parrot) – in previous decades all the action would have been crammed into one novel. There is value here, for long time Parker readers, but not enough, and it definitely isn't the place to start reading the series.
The best place to start with Stark is his first book. In 1962 the world of paperback books was introduced to a novel about a professional thief who could do something all the previous fictional thieves could never seem to do – that is, actually get away with crime. Getting back to Dirty Money though, the plot starts as a continuation of the scene following mere moments after the closing sentence of the previous novel, Ask The Parrot. It seems Parker is still chasing the loot from the armored car heist he pulled off with a few other thugs two novels back (Nobody Runs Forever). In the back-story the crew had had to dump the money in an abandoned church so as to flee the area without carrying incriminating evidence. Now, having escaped the encircling noose, Parker's putting his neck right back into it, but using his semi-straight common-law wife, Clarie, as his cover. As always, Parker's not the only man after the swag though – his former partners are on the prowl, as are the cops, both local and federal. Everyone is intent on recovering the dirty money. findin. Like in every Parker tale, nothing goes quite according to plan. The twists and turns in Dirty Money, sadly, are unusually subdued. There are a lot of characters poking their noses into Parker's business, but none of them seem quite up to the challenge of really making Parker's life the miserable one we all like to see.
Stephen Thorne, the narrator, doesn't project the voice of Parker all that well either. Parker seems too sedate, too settled – he's seems almost comfortable with being a tourist in a Massachusetts autumn. Parker as a "leaf peeper" could almost be comedic, but it doesn't quite come off that way – it comes off weak. And from what we know of him he aint weak. I still recall the kinetic menace of my favorite Parker narrator – Michael Kramer's readings of the first dozen or so audiobooks done for Books On Tape projected danger in the most flip of lines – for me he'll probably always be the voice of Parker. Still, knowing that Stark and Westlake novels are hit and miss affairs, I'll be back, looking for more adventures should they come.
A note about this edition. Though originally released by BBC Audiobooks America, our review copy of Dirty Money came via Audible.com. Normally we don't mention prices on SFFaudio, but I'm going to break that code here just for a moment. $10.48 is how much Dirty Money costs from Audible.com. The price for the CD edition on the BBC Audiobooks America website is $64.95. Normally, that wouldn't be a big issue, I could just borrow a copy from the local library. Unfortunately, there isn't one CD version of Dirty Money in all of Canada! Audible is definitely the deal here.
Posted by Jesse Willis