In the Embers
A Great Northern Audio Theatre Production
Written, Directed, and Produced by Brian Price and Jerry Stearns
[AUDIO DRAMA] – 1 Hour, 19 Minutes
Published: 2015
Themes: / Audio Drama / time / archaeology / jazz / quantum physics /
A song, a pressed flower, and the sound of two girl's voices recovered from a burned wooden beam by using a laser to read its charred surface like the grooves of an old 78rpm record. These are the clues that archaeologist, Digger Morgan, discovers while working on a routine Maryland plantation dig. Who were the girls? When was the fire? The answers all lead to 1920s jazz pioneer, Kit Jeffers, whose voice mysteriously appears on Digger's computer, and whose existence remains haunted by a singular tragic event.
The first sounds offered by this wonderful work of audio drama are the broken haunting voices of two people trying to escape a barn fire. I can hear them as I type this. The voices were impressed on charred barn beams until archaeologist Digger Morgan discovered a way to read them with a laser. Hearing those voices was a powerful moment for me, a moment in which I not only felt the emotion of two people trapped in a fire, but also in which I considered the possibility of strong emotion leaving an imprint on our surroundings.
"In the Embers" doesn't shy away from considering the implications either. In fact, this fine work of science fiction goes even further. How large an imprint could one leave? And could emotion somehow be transmitted through time? What would be the effect?
The story is excellent, the music is excellent, the audio quality is excellent, and so are the actors. Robin Miles as Kit Jeffers was particularly outstanding. From the riveting opening to the emotional closing scene, this is a drama that goes in the permanent collection. I'll be listening to this again, no question.
"In the Embers" premiered at last weekend's HEAR Now Festival in Kansas City, and will be broadcast on Sound Affects over two weeks – June 21 and 28.
Posted by Scott D. Danielson
Cool for Cats
By Andrew Ordover; Read by Andrew Ordover
7 hours – [UNABRIDGED]
Publisher: Andrew Ordover
Published: 2012
Themes: / Mystery / Private Eye / Jazz /
And I didn't want to rely on Internet archives. First of all, our local paper is crap, and it keeps crap archives online. But more importantly, when they do archive stories, they do what everyone else does–they reformat them into a computer-friendly layout. Well, I didn't want that. I wanted to see the paper, the way the paper looked back then. I wanted the articles, sure, but I also wanted the short items, the calendar listings, the classified ads–the whole newsprint enchilada. As a professional snoop, I've found that not everything of importance comes with a byline, or over the fold.
Jordan Greenblatt is a small-time detective. He drifted into detective work the way he drifted into playing bass with a local jazz combo. He does both ok, but he's never going to hit the bigtime with an attitude like that. And that's ok with Jordan. He doesn't mind being a supporting player.
Until his phone rings with a request to look into an old hit-and-run case … and Jordan realizes that he knows the victim. He had a big crush on Giselle Palmer and never even knew she was also in Atlanta. So he takes the case, even though it is completely unlike his usual work trailing cheating husbands. What Jordan uncovers is not only a murder but the key to his own future.
I liked this book a lot. Andrew Ordover gives readers a slacker detective who just needed the right motivation to stand up and move in a new direction. We follow Jordan as he figures out how to look at more than one clue, how to think like a real detective, and how to put together the puzzle pieces of an important case that is getting attention from the authorities.
This is Ordover's first book but it only shows in the lack of layers (for want of a better term). Part of the lack of complexity is due to Jordan's slacker personality, part may be because until Jordan deals with his own past he can't move forward. Also, I wished for more depth from Jordan's wife, Susannah. She objects when threats arise after Jordan's digging gets him close to the heart of the mystery. However, those objections do not seem fierce enough and she forgives extremely easily. Or perhaps that is how Susannah is wired. I never felt that I got enough about her to know one way or the other. However, that is a small point overall.
Originally I read Cool for Cats in paperback. However, Ordover has now released the audiobook on his website, which he reads himself, and it works spectacularly. As in the best cases, where the author knows the character inside and out, he brings Jordan to life in a way I didn't experience when simply reading to myself. Because of this, I genuinely understood Jordan's growth both as a detective and as a human being on a deeper level. At $5.00 for the entire book, it is a steal.
Another nice little riff is the connection with a playlist, if you like, of albums referenced in the book, via a widget in Ordover's website sidebar. Jazz is integral to Jordan's character and is referenced frequently. If you're a jazz fan, the playlist idea is a great one for hearing the music that's playing in his head.
Quibbles aside, Cool for Cats is a solid, entertaining mystery from this new author. It is one that left me hoping there would be a sequel.
SPECIAL FEATURE: Andrew Ordover narrated the first chapter for me over at Forgotten Classics. Go listen for free.
(Full disclosure – I am email pals with Ordover's wife Heather who is the podcaster at CraftLit … and who provided me with a review copy. I'd have liked it anyway.)
Posted by Julie D.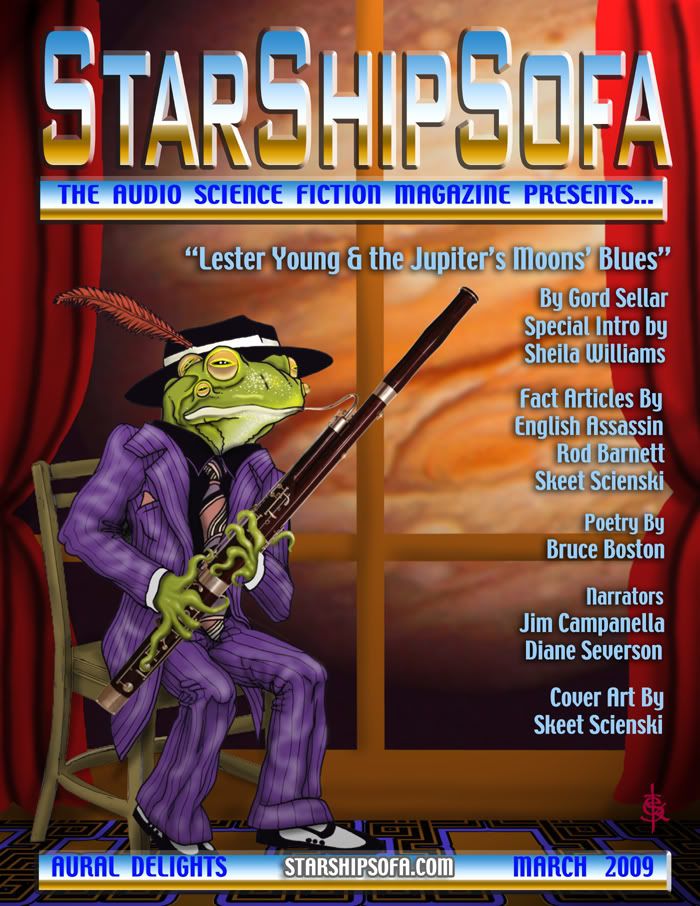 Aural Delights No 71 Gord Sellar mp3

Poetry:  Marble People by Bruce Boston 04:00
Fact: English Assassin on Books 04:39
Fact: Film Talk by Rod Barnett 04:39
Poetry:  Chess People by Bruce Boston 25:00
Intro to Main Fiction: Sheila Williams/Asimov's 26:40
Main Fiction : Lester Young and the Jupiter's Moons by Gord Sellar 29:20
Outro To Main Fiction: Gord Sellar 02:03:00
Fact: Cover Art by Skeet 02:11:00
Poetry:  Gargoyle People by Bruce Boston 02:20:0000
Narrators:  JJ Campanella Diane Severson
Posted by Tony C. Smith
Audio Gothic is one of Crazy Dog Audio Theatre's odder ventures. It was broadcast on RTÉ (Radio Ireland) in 2006. One part of Audio Gothic is entitled Marsyas: The Hippest Satyr. Here's the complete work (in the form of successive YouTube videos) as staged at the Dublin Fringe Festival in 1999. Here's the description:

A modern jazz retelling of the Greek myth of Marsyas, a humble satyr who comes under the spell of a cursed magical horn. Leading Irish guitarist Giordai Ua Laoghaire is the featured musician in this comic musical fable of pride and self-delusion.
Part 1:
Part 2:
Part 3:
Part 4:
Part 5:
[via Audio Drama Talk forums]
Posted by Jesse Willis