Dark Disciple: Star Wars
By Christie Golden; Foreword by Katie Lucas; Read by Marc Thompson
Publisher: Random House Audio
Publication date: 7 July 2015
[UNABRIDGED] – 11 hours
Themes: / Star Wars / Clone Wars / Sith / bounty hunter / Jedi /
Publisher summary:
The latest story never told in The Clone Wars television saga: A tale of trust, betrayal, love, and evil starring the hugely popular ex­ Sith/ never­ Jedi female bounty hunter, Asajj Ventress! A tale written but never aired, now turned into a brand­ new audiobook with the creative collaboration of the Lucasfilm Story Group and Dave Filoni, Executive Producer and Director of Star Wars: TheClone Wars and Star Wars: Rebels!    

When the Jedi decide to target Count Dooku­­Darth Tyranus­­himself, they turn to his ex­apprentice, Asajj Ventress, for help in getting close to the slippery Sith Lord. But when unexpected sparks fly between Ventress and Quinlan Vos, the unorthodox Jedi sent to work with her, the mission becomes a web of betrayal, alliances, secrets,and dark plotting that might just be the undoing of both Jedi and Sith­­ and everything in between.
Where did this book come from? I've never been much of a prequel person and didn't get into the Clone Wars TV show but man this book is one of my favorite Star Wars books to date. It has a lot more emotional depth to it than your typical Star Wars book and a lot transpires in such a small novel. Yes it still feels like your typical action pulp novel but with even a bit more. This is the novel that will finally get me to go back and watch the Clone Wars.
The general premise of the book is that the Jedi are concerned about the toll the Clone Wars are taking on the galaxy and decide that taking out the head of the snake will reduce the casualties. That means assassinating Count Dooku. If you can get past the very un-Jedi like premise of this, the ride is worth taking. They decide to send one of their most covert Jedi masters, Quinlan Vos, to team up with Asajj Ventress in going after the Sith Lord. Apparently she decided to become a bounty hunter at some point and he needs to stoke the flames of her hate for Count Dooku so she joins the cause…should be interesting!
The story chronicles everything from concept to courting Ventress (choice wording) all the way to conclusion of things. There are some cameos from the mainstream Star Wars characters but overall this story focuses on Vos and Ventress – which I love. It is a breathe of fresh air to see some other characters take center stage. They have a certain spark for each other and play off one another really well. I think their different backgrounds and their issues add much more of a dynamic to what happens.
We all know how Episode 3 starts but I genuinely did not know where this book was headed. I knew that they couldn't be the ones who finally did the deed, but wondered if they set up circumstances at the beginning of Episode 3 (I won't tell you if that happened though). The only reason I bring it up is because I've seen reviews of other Star Wars books where people said they almost believed Vader would turn against the Emperor (Lords of the Sith) or that some rebellion could succeed even if you knew it couldn't because of the movie. I guess this book was that to me where the others were just a fun ride I knew couldn't succeed.
I wouldn't say the book is perfect. A lot of things happen in a short period of time or at least I didn't feel the passage of time as the story progressed. The characters go through a LOT of change in that time and sometimes it felt a bit rushed, but I give Golden credit for pushing for that much change out of them. Other things typical of a pulp novel are here too; like meeting the bad guy and everyone getting away fine.
As for the audio side of things, Marc Thompson did a great job as usual and the sound engineers added all the sound effects and music we've come to expect from a Star Wars audiobook. My one minor gripe is that Thompson's Mace Windu sounds a hell of a lot like Lando Calrissian. That kept throwing me off when the Jedi would convene but apart from that, the audio was great!
Posted by Tom Schreck
A New Dawn (Star Wars)
By John Jackson Miller; Narrated by Marc Thompson
Publisher: Random House Audio
Publication Date: 2 September 2014
[UNABRIDGED] – 12 hours, 43 minutes
Themes: / Star Wars / Dark Times / rebels / Jedi / Empire /
Publisher summary:
A long time ago in a galaxy far, far away….

"The war is over. The Separatists have been defeated, and the Jedi rebellion has been foiled. We stand on the threshold of a new beginning." (Emperor Palpatine)

For a thousand generations, the Jedi Knights brought peace and order to the Galactic Republic, aided by their connection to the mystical energy field known as the Force. But they were betrayed – and the entire galaxy has paid the price. It is the Age of the Empire.

Now Emperor Palpatine, once Chancellor of the Republic and secretly a Sith follower of the dark side of the Force, has brought his own peace and order to the galaxy. Peace through brutal repression, and order through increasing control of his subjects' lives.

But even as the Emperor tightens his iron grip, others have begun to question his means and motives. And still others, whose lives were destroyed by Palpatine's machinations, lay scattered about the galaxy like unexploded bombs, waiting to go off….

The first Star Wars novel created in collaboration with the Lucasfilm Story Group, Star Wars: A New Dawn is set during the legendary "Dark Times" between Episodes III and IV and tells the story of how two of the lead characters from the animated series Star Wars Rebels first came to cross paths. Featuring a foreword by Dave Filoni.
This is it: The beginning of the new Star Wars content after the entire expanded universe became "legends" and it is….decent. Not awesome but also not bad. It's hard to be objective because John Jackson Miller is charged with kicking off all new characters with all new adventures, and that feels much different from previous stories with established characters. I was kind of disappointed with the characters because this was an opportunity to be unique and they chose to make recycled versions of previous Star Wars characters. That said, the book was the normal action packed Star Wars adventure you'd expect and didn't actually end the way I assumed it would – which I liked. I'd recommend this book to Star Wars fans or those interested in the new Rebels show (since this precedes it in the timeline) but would still point to Timothy Zahn's work as a real gateway drug into Star Wars books.
Miller does a great job getting the feel of Star Wars in this book but the story also feels a bit like the characters from Star Wars have been recycled a bit:
Kanan Jarrus: A bit of a rogue with budding jedi powers kept hidden. He comes of like 30% Luke and 70% Han. Marc Thompson didn't use either his Luke or Han voice for this character but I noticed him slipping somewhat into a Han voice on some of the more roguish moments.
Hera: Leia meets Mara Jade. She's all about investigating wrong doing by the Empire, runs around with a hood up, and does some spy-type stuff.
Count Vidian: Evil cyborg guy that works for the Empire. I guess you always need an evil guy that is mostly machine (Vader/Grievous) to show how much they're lost their humanity.
Skelly: This guy's hi-jinks just make me think of Jar Jar Binks. No weird accent at least.
The main plot of the story revolves around the Empire wanting to increase efficiency of their mining of a mineral they need for expanding the fleet. The Empire shows up with the ruthless efficiency expert Count Vidian to make the miners be more efficient or else. Action and drama ensue from there and I always find it amazing how many times an author can get all the good and bad guys together only to have people escape / not get hurt and continue on with their plans. I thought the story was pretty well thought out and there were interesting revelations about characters and their motivations throughout the story so it wasn't just straightforward action.
One thing that kind of annoyed me was a fairly major thread that seems to serve as an allegory to all the leaks in the media lately. There are contractors that monitor citizens (a la 1984) via hidden cameras and microphones but that monitoring has gotten out of hand since the emperor came to power. There is even a "military contractor" that is a whistle blower….. All of this may not have been intentional but it sure felt like it.
As for the audio side of things, Marc Thompson did a great job as usual. If you've listened to a Star Wars book narrated by him before, you've heard his different voices and know what to expect. All the great Star Wars sound effects, atmospheric sounds, and music are there too. I may be less critical now, but I thought all of that was better done, less distracting, and contributed a bit better to this story than in some others I've listened to in the past.
And just a fun treat, this isn't from this particular Star Wars novel but the same narrator:


Posted by Tom Schreck
Crucible (Star Wars)
By Troy Denning; Read by Marc Thompson
Publisher: Random House Audio
Publication Date: 9 July 2013
ISBN: 9780385362924
[UNABRIDGED] – 12 hours, 8 minutes
Listen to an excerpt: | MP3 |
Themes: / Star Wars / Jedi / space / science fiction /
Publisher summary:
When Han and Leia Solo arrive at Lando Calrissian's Outer Rim mining operation to help him thwart a hostile takeover, their aim is just to even up the odds and lay down the law. Then monstrous aliens arrive with a message, and mere threats escalate into violent sabotage with mass fatalities. When the dust settles, what began as corporate warfare becomes a battle with much higher stakes—and far deadlier consequences.
 
Now Han, Leia, and Luke team up once again in a quest to defeat a dangerous adversary bent on galaxy-wide domination. Only this time, the Empire is not the enemy. It is a  pair of ruthless geniuses with a lethal ally and a lifelong vendetta against Han Solo. And when the murderous duo gets the drop on Han, he finds himself outgunned in the fight of his life. To save him, and the galaxy, Luke and Leia must brave a gauntlet of treachery, terrorism, and the untold power of an enigmatic artifact capable of bending space, time, and even the Force itself into an apocalyptic nightmare.
Star Wars Crucible takes place after the Fate of the Jedi series and is the furthest in the Star Wars timeline to date. I came to this book without having read Fate of the Jedi but didn't have any trouble what was going on in the story and Denning explained sufficiently for those of us not in the know. Luke, Han, and Leia are getting pretty old at this point, and this novel seems to represent something of a retirement for them or a passing of the torch to the new generation. Denning plays to the characters' strengths throughout most of the novel. You can't have Han getting up to his full antics without a buddy, so a healthy dose of Lando is also in there too. If anyting, I liked how this is a nice standalone Star Wars book from that era of Star Wars instead of being part of some 9+ book series.
The general plot of the story has to do with Luke, Han, and Leia going to visit Lando (the ever present entrepreneur) to help him with problems at his mining operation in the outer rim. Cue the bad guys that can even give Jedi problems and the story gets going. The plot is interesting because it pits the gang against highly intelligent organized crime figures (Qrephs) who have an old grudge to settle. There is an element of Battlestar Galactica in here too because anyone could be working for the bad guys so you don't know who is a cylon…err…agent of the Qrephs. I liked the novel for the most part except near the climactic battle when things to all trippy and weird like anime (Evangelion I'm looking at you).
Luke and Leia were pretty good in this book but Denning really made Han and Lando fun in this book. Since this takes place so far out and they've done so many great things, the characters are pretty well revered by people they encounter in the book. Han and Lando setting up a sabaacc game to draw in competition was definitely fun to go through. The sabaacc time goes kind of heavy into logic and tactics sometimes and really makes it look like Han is stronger in the Luck than Luke is in the Force any day.
As for the audiobook, Marc Thompson does as good a job with this book as any other Star Wars book I've listened to. All of the background music, ambient sounds, and special effects you'd expect are there and they do a great job of adding that little bit of extra immersion to the experience. Thompson does a great job impersonating the main cast down to Lando pronouncing "Han" with the 'a' instead of 'o' sound. I also really liked the stoic and simpering voices he used for the Qrephs.
Posted by Tom Schreck
Kenobi: Star Wars
Written by John Jackson Miller; Read by Jonathan Davis
Publisher: Random House Audio
Publication Date: 27 August 2013
ISBN: 9780804148221
[UNABRIDGED] – 13 hours; 36 minutes
Download Excerpt: | MP3 |
Themes: / Star Wars / Jedi /
Publisher summary:
The Republic has fallen.
Sith Lords rule the galaxy.
Jedi Master Obi-Wan Kenobi has lost everything . . .
Everything but hope.
 
Tatooine—a harsh desert world where farmers toil in the heat of two suns while trying to protect themselves and their loved ones from the marauding Tusken Raiders. A backwater planet on the edge of civilized space. And an unlikely place to find a Jedi Master in hiding, or an orphaned infant boy on whose tiny shoulders rests the future of a galaxy.
 
Known to locals only as "Ben," the bearded and robed offworlder is an enigmatic stranger who keeps to himself, shares nothing of his past, and goes to great pains to remain an outsider. But as tensions escalate between the farmers and a tribe of Sand People led by a ruthless war chief, Ben finds himself drawn into the fight, endangering the very mission that brought him to Tatooine.
 
Ben—Jedi Master Obi-Wan Kenobi, hero of the Clone Wars, traitor to the Empire, and protector of the galaxy's last hope—can no more turn his back on evil than he can reject his Jedi training. And when blood is unjustly spilled, innocent lives threatened, and a ruthless opponent unmasked, Ben has no choice but to call on the wisdom of the Jedi—and the formidable power of the Force—in his never-ending fight for justice.
Star Wars Kenobi takes place between the events of Episode III and Episode IV and explains how Obi-Wan Kenobi settled in on Tatooine and became "Old Ben" that we see at the beginning of Episode IV. While that is mostly true, the feel I got from this book was more like, "The adventures of a bunch of frontier settlers on Tatooine who have problems with Tusken Raiders and each other with a Jedi in hiding mixed in". While the title of the novel is "Kenobi" more of the story is centered around those settlers and their problems than around Obi-Wan himself. The book isn't bad for it, it's just not necessarily what I would have expected based on the title and description.
I liked the book overall. There were some points where it felt like the story could have resolved sooner but I found the overall conclusion satisfactory. The western/frontier setting is pretty interesting with the sets of problems that frontier life and sand people can give you. I liked John Jackson Miller's portrayal of Obi-Wan as this passive guy that perpetually avoids conflict but gets forced reluctantly into action. You get some more insights into how Obi-Wan is reacting to the events of Episode III and where he thinks things went wrong.
If you like Star Wars books, this is a definite read. If you don't haven't read many, this book is not a bad place to start since it doesn't rely on any back story beyond the movies. The pace of the book keeps up pretty well throughout with only a few slow moments so overall this was a quick fun book. I have to admit that I was into the book enough that I wanted to hit some of the characters if they didn't get theirs eventually.
Jonathan Davis does a great job reading this book. His Obi-Wan impression does not disappoint and he does a great job with the other characters. One of the main characters is a bit of a schmoozer and he pulls it off really well (I just wanted to smack that guy sometimes.) The sound effects and music are always a plus in Star Wars books. My only grief here is that there are many scenes at a local store and the background sounds are that of a grocery store scanner – which I found incredibly distracting.
Posted by Tom Schreck
Star Wars: Dawn of the Jedi: Into the Void
ISBN: 978-0804148153
[UNABRIDGED] 10 hours 18 minutes
Themes: / star wars / space / jedi / force /
Publisher summary:
On the planet Tython, the ancient Je'daii order was founded. And at the feet of its wise Masters, Lanoree Brock learned the mysteries and methods of the Force—and found her calling as one of its most powerful disciples. But as strongly as the Force flowed within Lanoree and her parents, it remained absent in her brother, who grew to despise and shun the Je'daii, and whose training in its ancient ways ended in tragedy.
 
Now, from her solitary life as a Ranger keeping order across the galaxy, Lanoree has been summoned by the Je'daii Council on a matter of utmost urgency. The leader of a fanatical cult, obsessed with traveling beyond the reaches of known space, is bent on opening a cosmic gateway using dreaded dark matter as the key—risking a cataclysmic reaction that will consume the entire star system. But more shocking to Lanoree than even the prospect of total galactic annihilation, is the decision of her Je'daii Masters to task her with the mission of preventing it. Until a staggering revelation makes clear why she was chosen: The brilliant, dangerous madman she must track down and stop at any cost is the brother whose death she has long grieved—and whose life she must now fear.
The "Dawn of the Jedi" series was first produces in comic form and of course the logical progression is novelization. It takes Star Wars back to its roots. As the title says, it's the origin story to the Jedi, the beginning of our favorite protectors of the universe, users of the force (and lightsabers!), and purveyors of piety.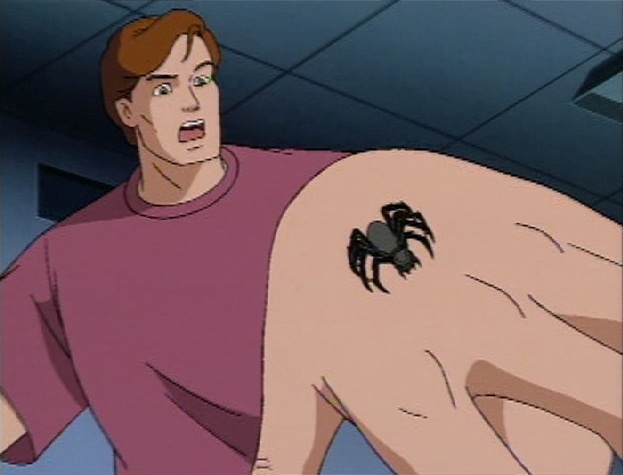 (It was radioactive spiders that created the Jedi!)
And you'll never believe how they began. In fact, if I gave you infinite guesses, you'd never get it. And it's not for the reason you think.
The "Je'daii" have a mysterious society that does its own thing, which tends to be for the betterment of the universe, saying "may the force go with you."
Yeah, you'd never be able to guess because you'd be going for something new. Also, they use the force and swords and have masters and apprentices. So it's definitely an origin story and not just an exact replication of the jedi we know and love.
Okay, so if you're reading Star Wars books, you really can't go into it expecting a whole lot. And sadly, any of the newer books have the added reputation of being bloated series with little plot.
However, what you can expect is lots of action and lots of fun. Into the Void delivers on both counts. While I make fun of the "origin story" it's still an entertaining and interesting look at the beginnings of the Jedi. These Je'daii go through an interesting training period on an incredibly dangerous planet.
Into the Void follows Lanoree Brock, a Je'daii Ranger, who spends most of her time on her own in solitary missions ranging around the galaxy. She's called in for a special mission that could result in the salvation or destruction of the galaxy as they know it, and it's all because of her brother Dal, once thought dead.
The narrative switches between the present where Lanoree is in pursuit of her brother in her current mission and her past training where she and her brother participated together. It's a great way to introduce Dal and find out what his motivations are for his dark pursuits later in his life.
Lebbon does a great job with these characters and his narrative structure works well to set things up for an exciting ending while providing plenty of excitement throughout the training on this dangerous planet. I'm interested to try out Lebbon's other works because he obviously knows what he's doing.
Like other Star Wars audiobooks, Into the Void is filled with suspenseful music and every type of sound effect they can possibly fit in. Like a movie in your head, I can't recommend Star Wars audiobooks enough. And January LaVoy does an excellent job bringing Lanoree and every other character to life.
But what I really can't wait for the origin of the origin story. That's where the money is.
3.5 out of 5 Stars (recommended)
Posted by Bryce L.