7th Anniversary Storypalooza continues!
Pulp Cover
By Gene Wolfe; Read by Mike Boris
24 Min – [UNABRIDGED]
Publisher: StarShipSofa (Aural Delights No 120)
Published: 2010
Themes: / Science Fiction /
This brilliantly narrated (by Mike Boris) story was part of the Aural Delights no 120 – Gene Wolfe podcast from StarShipSofa. Thanks Tony and crew for all the great stories and commentary week after week!
"Pulp Cover" is the story of a man who wants to marry his boss's daughter, but loses out to a perfect man from Yale. At least, that's what the story is about on the surface, but Gene Wolfe's stories are much more than the top layer. Subtle and satisfying.
Listening to Gene Wolfe is something I haven't been able to do often, but his stories are finally starting to show up on audio. Audible Frontiers recently published The Book of the New Sun. "Hunter Lake" appeared in The Best of Fantasy and Science Fiction Magazine in 2003, and before that, the only audiobook I know of was a cassette from Audio Prose Library with "The Island of Doctor Death and Other Stories" and "The Solar Labyrinth" on it, read by Wolfe himself. "The Tree is My Hat" was made into an audio drama at the World Horror Convention in 2002, and was included in StarShipSofa's Aural Delights No 49. That's all the Gene Wolfe audio I know of – any more out there?
Looks like an author page, Jesse!
Posted by Scott D. Danielson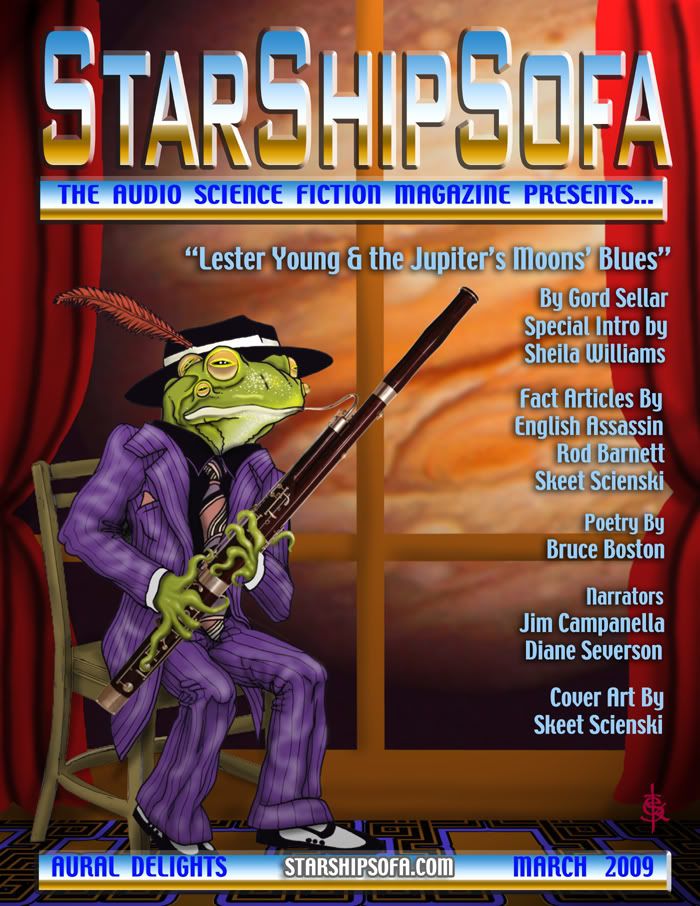 Aural Delights No 71 Gord Sellar mp3

Poetry:  Marble People by Bruce Boston 04:00
Fact: English Assassin on Books 04:39
Fact: Film Talk by Rod Barnett 04:39
Poetry:  Chess People by Bruce Boston 25:00
Intro to Main Fiction: Sheila Williams/Asimov's 26:40
Main Fiction : Lester Young and the Jupiter's Moons by Gord Sellar 29:20
Outro To Main Fiction: Gord Sellar 02:03:00
Fact: Cover Art by Skeet 02:11:00
Poetry:  Gargoyle People by Bruce Boston 02:20:0000
Narrators:  JJ Campanella Diane Severson
Posted by Tony C. Smith
StarShipSofa Aural Delights No. 68 – Kim Newman |MP3|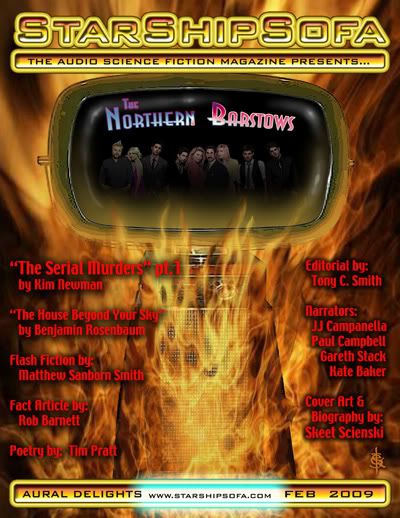 Aural Delights No. 68 Kim Newman
Editorial: "Kindle the Savior of Book Publishing" by Tony C. Smith 00:10
Poetry: "Angle Bites" by Tim Pratt 15:30
Flash Fiction: Brothers and Sisters by Matthew Sanborn Smith 18:00
Fact: Sofa Art Cover by Skeet 24:00
Fiction: The House Beyond Your Sky by Benjamin Rosenbaum 32:00
Fact: Movie Talk by Rob Barnett 01:03:00
Main Fiction Serial: The Serial Murders Kim Newman Part 1 of 4 01:12:00   
Fact: Fiction Crawler No. 5 Matthew Sanborn Smith 02:06:11
Narrators: Kate Baker, Gareth Stack, Paul W Campbell, JJ Campanella
Twitter #futuerjer http://tinyurl.com/futurejer
Links to Fiction Crawler No. 5:
At the Bottom of the Garden by Jo Walton

Non-Disclosure Agreement by Scott Westerfeld
The Support Technician Tango by Daniel Abraham
Big Man: a Fable by Joe R. Lansdale
The Shangri-La Affair By Lavie Tidhar
Posted by Tony C. Smith
Listen here to the full Aural Delights No 64 Ted Kosmatka mp3 show!


Editorial: The Good the Bad and the Ugly by Tony C. Smith 02:00
Poetry: Her Opals by Samantha Henderson 12:30
Flash Fiction: Where Credit Is Due by Edward M. Lerner 14:39
Fact: Science News by JJ Campanella 24:20
Main Fiction: The Art of Alchemy by Ted Kosmatka 40:22
Fact: Kim Stanley Robinson by English Assassin 01:34:00
Narrators: David Lamb, Annette Bowman, Dale Manley
http://www.starshipsofa.com/rss
Posted by Tony C. Smith
Listen NOW to the full Aural Delights No 63 John Scalzi mp3
Editorial: by Tony C. Smith 01:42
Poem: Spot In Space by GO Clark 04:45
Flash: Jesus and the Cowboys by Jay Lake 07:00
Fact: Miles J Breuer by Amy H Sturgis 13:22
Main Fiction: After The Coup by John Scalzi 34:00
Narrators: John Scalzi, Jim Campanella, Julie Davis
http://www.starshipsofa.com/rss
Posted by Tony C. Smith
This week sees the StarShipSofa's audio magazine Aural Delights hit Paul di Filippo's great short story Escape From New Austin and if that was not enough, how about the Fact Article on writing, Plot Part 2 by Terry Edge or if you ever wanted to know what went on over there at SF Signal listen to John DeNardo explains all; or if you are so inclined and want to drift away with some audio poetry take a listen to the fabulous Cinderella's Funeral by Samantha Henderson, then to finishes off sample Sebastian Cevery's excellent flash fiction Fork Bomb. Take all of those above, mix it with the best of narrators and a host who lives life on the edge… (who once stayed a week in Margate in a caravan) and you have the makings of a perfect SF audio magazine. Blast Off!
Aural Delights No 50 Paul di Filippo mp3
Poem: Cinderella's Funeral by Samantha Henderson 02:46
Flash Fiction: Fork Bomb by Sebastian Cevery 05:30
Fact: "Plot Part 2" Terry Edge 08:55
Article: "SF Signal" by John DeNardo 22:20
Main Fiction: Escape From New Austin by Paul Di Filippo 27:29
Narrators:  Amy H Sturgis Ray Sizemore Julie Davis
Subscribe to the podcast via this feed:
http://www.starshipsofa.com/rss
Posted by Tony C. Smith