Star Wars: Dawn of the Jedi: Into the Void
ISBN: 978-0804148153
[UNABRIDGED] 10 hours 18 minutes
Themes: / star wars / space / jedi / force /
Publisher summary:
On the planet Tython, the ancient Je'daii order was founded. And at the feet of its wise Masters, Lanoree Brock learned the mysteries and methods of the Force—and found her calling as one of its most powerful disciples. But as strongly as the Force flowed within Lanoree and her parents, it remained absent in her brother, who grew to despise and shun the Je'daii, and whose training in its ancient ways ended in tragedy.
 
Now, from her solitary life as a Ranger keeping order across the galaxy, Lanoree has been summoned by the Je'daii Council on a matter of utmost urgency. The leader of a fanatical cult, obsessed with traveling beyond the reaches of known space, is bent on opening a cosmic gateway using dreaded dark matter as the key—risking a cataclysmic reaction that will consume the entire star system. But more shocking to Lanoree than even the prospect of total galactic annihilation, is the decision of her Je'daii Masters to task her with the mission of preventing it. Until a staggering revelation makes clear why she was chosen: The brilliant, dangerous madman she must track down and stop at any cost is the brother whose death she has long grieved—and whose life she must now fear.
The "Dawn of the Jedi" series was first produces in comic form and of course the logical progression is novelization. It takes Star Wars back to its roots. As the title says, it's the origin story to the Jedi, the beginning of our favorite protectors of the universe, users of the force (and lightsabers!), and purveyors of piety.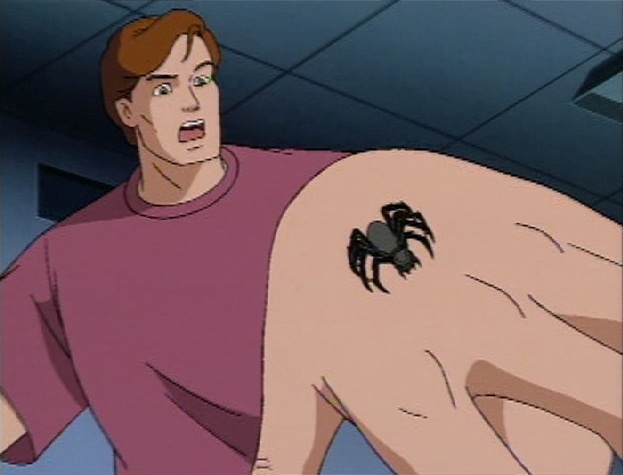 (It was radioactive spiders that created the Jedi!)
And you'll never believe how they began. In fact, if I gave you infinite guesses, you'd never get it. And it's not for the reason you think.
The "Je'daii" have a mysterious society that does its own thing, which tends to be for the betterment of the universe, saying "may the force go with you."
Yeah, you'd never be able to guess because you'd be going for something new. Also, they use the force and swords and have masters and apprentices. So it's definitely an origin story and not just an exact replication of the jedi we know and love.
Okay, so if you're reading Star Wars books, you really can't go into it expecting a whole lot. And sadly, any of the newer books have the added reputation of being bloated series with little plot.
However, what you can expect is lots of action and lots of fun. Into the Void delivers on both counts. While I make fun of the "origin story" it's still an entertaining and interesting look at the beginnings of the Jedi. These Je'daii go through an interesting training period on an incredibly dangerous planet.
Into the Void follows Lanoree Brock, a Je'daii Ranger, who spends most of her time on her own in solitary missions ranging around the galaxy. She's called in for a special mission that could result in the salvation or destruction of the galaxy as they know it, and it's all because of her brother Dal, once thought dead.
The narrative switches between the present where Lanoree is in pursuit of her brother in her current mission and her past training where she and her brother participated together. It's a great way to introduce Dal and find out what his motivations are for his dark pursuits later in his life.
Lebbon does a great job with these characters and his narrative structure works well to set things up for an exciting ending while providing plenty of excitement throughout the training on this dangerous planet. I'm interested to try out Lebbon's other works because he obviously knows what he's doing.
Like other Star Wars audiobooks, Into the Void is filled with suspenseful music and every type of sound effect they can possibly fit in. Like a movie in your head, I can't recommend Star Wars audiobooks enough. And January LaVoy does an excellent job bringing Lanoree and every other character to life.
But what I really can't wait for the origin of the origin story. That's where the money is.
3.5 out of 5 Stars (recommended)
Posted by Bryce L.
Hammer Chillers – Series 1:
Episode 1 – The Box
By Stephen Gallagher; Performed by a full cast
Released: June 7, 2013
The culmination of the Wainfleet Maritime College sea rescue and safety course is a session in The Box, an underwater helicopter escape simulator. The candidates are ex-navy or air force, and The Box should be an easy exercise for such experienced men. So why are the drop-outs gradually increasing in number? Men are seeing things when they're submerged, and won't talk about them when they come out… What is the secret of The Box?
Episode 2 – The Fixation
By Mark Morris; Performed by a full cast
Released: June 14, 2013
When Ian Hibbert witnesses a hoodie dumping a bin of rubbish outside his house, he decides enough is enough. He convenes a group of Darwell residents and sets out to clean up the estate, which has been falling to rack and ruin the past few years. But the Clean Up Darwell group are abused; his daughter is attacked; and finally, one of the committee members disappears. Ian discovers to his cost that someone – or something – doesn't want him to clean up Darwell. But why?
Episode 3 – Spanish Ladies
By Paul Magrs; Performed by a full cast
Released: June 21, 2013
Phil doesn't need a girlfriend, his overbearing Mummy tells him. His Mummy will look after him forever. She steams open his post, reads his diary and checks under his bed for mucky magazines. Suspecting that her shy, middle-aged son is seeing a lady, she employs her friend Renee from Friday night bingo to spy on him. But when Mummy discovers that it's Renee herself who is carrying on with her darling boy, she exacts a terrible revenge…
In the annals of cinema, Hammer Film Productions are a legend, most famous for producing a string of classic horror movies from the mid '50s until the late '70s. They brought iconic characters like Professor Quatermass, Dracula, Baron Frankenstein and the Mummy to the screen and made Peter Cushing and Christopher Lee stars.
Hammer ceased film production in 1976 and after a couple of well remembered anthology TV series in the early '80s – Hammer House of Horror (1980) and Hammer House of Mystery and Suspense (1984), the studio closed its doors. But much like their famous horror creations, they didn't stay dead. Hammer came back from the grave in the 21st century with a string of new movies – Let Me In (2010), The Resident (2011), Wakewood (2011) and the box office smash The Woman In Black (2012).
However the reborn Hammer hasn't confined itself to making fine movies – in 2011 they launched a publishing arm, releasing new books by big names such as Jeanette Winterson and Tim Lebbon, and a series of novels that re-imagine their classic movies. Furthermore in January this year Hammer took to the stage with a new play adapting Henry James' classic ghost story The Turn Of The Screw opening in the famous Almeida Theatre in London.
And now the legendary house of horrors is moving into the world of audio drama with the launch of Hammer Chillers, a series of 30 minute plays which are to be released as weekly downloads from the 7th June, with a complete series CD coming on July 26th. Much like their book imprint, Hammer have gathered together a fine roster for this foray into sonic terror, with established genre writers penning the scripts and plenty of familiar names from British TV and film in the casts.
First out of the gate is The Box (released 7th June) starring Con O'Neill, Alex Lowe and Zoe Lister. The titular device resides at the Wainfleet Maritime College and is used in training courses to simulate an underwater helicopter escape. However this routine exercise is regularly being failed by experienced personnel, leading course instructor Sean (Con O'Neil) to suspect that all is not right within the Box.
Scripted by accomplished novelist and screen writer Stephen Gallagher, The Box presents us with an eerie little mystery that pays off with a rather neat twist-in-the-tail. With a strong cast, excellent production values, and a simple but strong storyline, this is a wonderfully chilling opener for the series. It sets the bar high from the outset and rightly so to build audience loyalty with the rest of the series.
However as good as The Box is, it is comparative gentle compared to the following episodes. The second episode is The Fixation, written by Mark Morris, an author who has been turning out good solid horror novels that are highly entertaining for a good few years now. And The Fixation is quintessential terror Morris-style, taking us to a small English town where something isn't quite right. Ian Hibbert is a somewhat fussy fellow who becomes increasingly irritated by the litter and trash that is cluttering his community, and vows to clean up his local area. However there is a more sinister reason for the ever growing piles of rubbish accumulating in Darnell than the general decline of society that Hibbert is so worried about.
Like much of Morris's work, The Fixation reworks classic horror tropes into a contemporary English setting, creating intriguing and imaginative tales that reflect current society. This episode features some wonderful character work, with comic actor Miles Jupp delivering a great performance as the often petty Hibbert. However while Hibbert is in many ways a satire of an irritatingly over-zealous do-gooder, the strength of Morris' script and Jupp's performance, is that he and his family will have your sympathy as the horrors unfold. The Fixation is an excellent small town horror tale, chiming nicely with social issues we can relate to, but also using the medium of sound to fine creepy effect.
The third episode comes from Paul Magrs – another very well established author who's written a very diverse range of books ranging from literary novels to mysteries to Doctor Who fiction. And Mr Magrs is no stranger to audio drama either having scripted several radio plays for the BBC and numerous Doctor Who audio adventures for Big Finish. And his past experience serves him well here in Spanish Ladies. It's the twisted tale of an overbearing Mummy and her grown-up son Phil who isn't so much still tied to her apron strings as positively ensnared in them.
For the most part, it plays out like an Alan Bennett piece, all sharply observed but slightly comic dialogue, but when the truly horrible Mummy, played to perfection by Jacqueline King, discovered that not so young Phil has found some romance, you know things are going to take a turn for the worse. Now the magic of good audio drama is painting pictures with words and sounds, and the medium is used to brilliantly hideous effect in Spanish Ladies. It's pure horror dripping out the speakers!
Overall, it's fair to say that Hammer Chillers certainly hit the mark and the production company Bafflegab have excelled themselves. They've delivered some top notch radio horror here. And aside from the quality scripts and performances, where this series really excels is the fact that they use the medium of sound so well in the stories, truly and fully embracing the audio medium to deliver the chills. Speaking as some one whose listened to a lot of horror radio past and present, with these first three episodes Hammer Chillers are well on the way to establishing themselves as a modern classic of audio horror.
Posted by Mr. Jim Moon
The SFFaudio Podcast #210 – Jesse, Tamahome, and Jenny talk about audiobook NEW RELEASES and RECENT ARRIVALS.
Talked about on today's show:
Jenny's list of recent arrivals,
Into The Void: Star Wars Dawn of the Jedi by Tim Lebbon, Seak (Bryce L.) has reviewed Star Wars, Invincible (The Lost Fleet: Beyond the Frontier) by Jack Campbell, Steve Gibson likes it, Swarm (Star Force Series #1) and Extinction (Star Force Series #2) by B.V. Larson, maybe Terpkristin will do it, Nosferatu (Area 51) by Bob Mayer (or Robert Doherty?), World War Z: The Complete Edition, An Oral History of the Zombie War by Max Brooks, more diverse narrators, SFF Audio review of original edition in 2007, "We Are The World", Titanium Rain: Episode One by Josh Finney (graphic novel) and Kat Rocha (adaptation) – starring full cast (motion comic trailer), Fast Times at Fairmont High by Vernor Vinge, hey that's where Rainbows End came from, |OUR READALONG OF RAINBOWS END|, Island 731 by Jeremy Robinson, Jeremy's interview on Sfsignal, it's like Michael Crichton, The Far Time Incident by Neve Masklakovic, Mary Kowal blogs about it, we think it's first written in English, Finch (Ambergris #3) by Jeff Vandermeer, (I read a summary from Dan Schwent's review on Goodreads), ambergris is a solid waxy substance from sperm whales, (this video is why I said ambergris came from a whale's butt), Widow's Web (Elemental Assassin #7) by Jennifer Estep, spider-woman, Through the Door (The Thin Veil #1) by Jodi McIsaac, "this one's in the woods", a Freakonomics podcast about names, The Exiled Blade (The Assassini #3) by Jon Courtenay Grimwood, Da Vinci's Demons gets the animals wrong, What's a macaw?, Memories of Ice (Malazan Book of the Fallen #3) by Steven Erikson, it's a big one at 44 hours, The God Patent by Ransom Stephens is science fiction programmers, Neal Stephenson gets more fiction with science like he asked for, A Maze Of Death, gelatinous cube-shaped beings, Clans Of The Alphane Moon, "get me a young Jack Nicholson", Deus Irae (with Roger Zelazny), a play on "Dies Irae", Dr. Futurity, Galactic Pot-Healer |OUR READALONG|, and Our Friends From Frolix 8 by Philip K. Dick, giant aliens, outside sff, Cooked: A Natural History of Transformation by Michael Pollan (narrator too), Pollan on Colbert, kimchi is Korean fermented vegetables, Safe Journey: Prayers and Comfort for Frightened Flyers and Other Anxious Souls by Julia Cameron, books are Jesse's drug, she-crab soup, male vs female crab, Jenny's accent talent, Consequences (Stone Barrington #26!) by Stuart Woods, a male Jacqueline Suzanne, Bunker Hill: A City, A Siege, A Revolution by Nathaniel Philbrick is historical non-fiction, new Barry Malzberg audio, most known for Enemy Mine, hermaphrodite, Robert Aspirin, comic fantasies, The Drought (The Burning World) by J.G. Ballard, "what the hell?", readalong?, Crash book and movie, Midnight City by J. Barton Mitchell on Downpour, is YA usually first person?, Why We Read Fiction by Lisa Zunshine, Jenny has already read The Shining Girls by Lauren Beukes, I'm waiting for Joe Hill's Nos4a2, "do you know who I am??"
Posted by Tamahome
The SFFaudio Podcast #210 - NEW RELEASES/RECENT ARRIVALS
[ 1:16:25 | 0.01 MB ]
Play Now
|
Play in Popup
|
Download
The Improbable Adventures of Sherlock Holmes
Edited by John Joseph Adams; Read by Simon Vance and Anne Flosnik, John Joseph Adams (uncredited)
18 CDs – 22 hours [UNABRIDGED]
Publisher: Brilliance Audio
Published: 2010
ISBN: 1441839070
Themes: / Mystery / Crime / Alternate History / Science Fiction / Horror / 19th Century / London /
"When you have eliminated the impossible, whatever remains, however improbable, must be the truth." This famous Sherlock Holmes quote is the impetus which drives this intelligent, inventive, and at times irreverent compilation of Sherlock Holmes stories written in the last few decades. As John Joseph Adams explains in his introduction, his aim in compiling these stories is to explore the uneasy peace between the cold clear logic of the deerstalker-wearing, pipe-smoking detective and the unanswered, perhaps unanswerable mysteries which continue to thwart human investigation to this very day. While many of the stories miss the mark of this goal entirely, the collection as a whole succeeds in pushing Holmes in new directions while staying true to the spirit of Sir Arthur Conan Doyles's original work.
The stories in this collection fall into one of three categories. First, there are the traditional mysteries. These are stories that, with but slight alteration, might easily have found a home among Conan Doyle's own work. The best of these tales expand upon characters or cases mentioned in the original œuvre only in passing. Mrs. Hudson's Case by Laurie R. King, for instance, features Holmes's protégé Mary Russell as its protagonist and reveals the character of Holmes's long-suffering landlady. Edward D. Hoch's A Scandal In Montreal, meanwhile, reunites Sherlock Holmes with his sometime nemesis Irene Adler. As a whole, however, this category fits rather uneasily into the collection because, by and large, there is little in the way of "the improbable" in any of these stories. All are well-written and most are engaging; they simply miss the point.
The second category I would call historical, or pseudo-historical. In most respect these stories are similar to those of the first category, with one redeeming addition: Sherlock Holmes crosses paths with historical figures from the Victorian era. Stephen Baxter's The Adventure of the Inertial Adventure sees our detective join forces with author of scientific romances H.G. Wells, while Tony Pi's Dynamics Of A Hanging brings mathematician Charles Dodgson (better known as Lewis Carroll) into the Holmesian world. The highlight of this grouping, though, is The Adventure Of The Field Theorem by Vonda N. McIntyre, in which Sherlock Holmes investigates crop circles at the behest of none other than Arthur Conan Doyle.
The last category throws Sherlock Holmes–and let's not forget Doctor Watson, through whose eyes we see most of these tales unfold–into genres as wide-ranging as alternate history, horror, and science fiction. Subjectively, I liked these stories best because they fall into genres which I most commonly read. Objectively, these stories succeed because they deliver on the promise of "improbable adventures." The collection opens with a chilling tale by horror master Tim Lebbon, which unlike most Holmes stories is never intellectually resolved. The Singular Habits Of Wasps by Geoffrey A. Landis, perhaps my favorite story in the collection, puts a fascinating otherworldly spin on the mysterious murders of Jack the Ripper. Robert J. Sawyer's closing story, You See But You Do Not Observe, pits Holmes's intellect against the fermi paradox concerning extraterrestrial life. The collection is worth the price of admission for these entries alone.
Simon Vance carries the bulk of the narration, with Anne Flosnik reading only a few stories featuring female protagonists. Flosnik performs solidly in her few appearances. Simon Vance's portrayal of Holmes and Watson is spot-on; the former speaks with a whip-sharp voice, while the latter lumbers along in a more lugubrious manner. He falls short only when narrating the few "New World" characters who figure in the stories, but these cases are uncommon and Vance's accent isn't off by much. John Joseph Adams himself narrates the collection's introduction, as well as introductory passages to each story.
Whether you're a fan of mystery, history, or something further afield, chances are high you'll find something to sate your appetite in The Improbable Adventures of Sherlock Holmes. I'll venture out on a limb and say that visitors to this site will likely be most interested in the tales of speculative fiction. I assure you, in particular, that you'll not be disappointed.
Posted by Seth Wilson