Last Call
By Tim Powers; Read by Bronson Pinchot
16 CDs – Approx. 19.1 Hours [UNABRIDGED]
Publisher: Blackstone Audio
Published: December 2010
ISBN: 9781441757364
Themes: / Fantasy / Gambling / Immortality / Las Vegas / Poetry / Arthurian Legend / Greek Mythology / Egyptian Mythology
Scott Crane abandoned his career as a professional poker player twenty years ago and hasn't returned to Las Vegas, or held a hand of cards, in ten years. But troubling nightmares about a strange poker game he once attended on a houseboat on Lake Mead are drawing him back to the magical city. For the mythic game he believed he won did not end that night in 1969—and the price of his winnings was his soul. Now, a pot far more strange and perilous than he ever could imagine depends on the turning of a card. Enchantingly dark and compellingly real, this World Fantasy Award–winning novel is a masterpiece of magic realism set in the gritty, dazzling underworld known as Las Vegas.
Tim Powers' Last Call (1992 William Morrow and Co.; 2010 Blackstone Audio, Inc.) is studded with references to old myths, snatches of T.S. Eliot's "The Wasteland," the art of poker playing, and the unique culture and atmosphere of old and new Las Vegas. It contains numerous major and minor characters, overarching themes and subplots, and digressions into probability theory. In other words, it demands close reading and attention to detail. Listening to it in half-hour chunks as I did while driving to work was probably not the best idea, and may have affected my review of the book, but what follows is an honest appraisal.
There's a lot to like in Last Call, and I lot I liked. At its heart it's really about the vast, mysterious forces driving the universe and the ways in which they manifest in our lives. Why does tragedy pass over a criminal and take a good person instead? Why does a disease like cancer randomly strike a family man with a wife and children to support? Although life appears chaotic and meaningless, perhaps there are active, purposeful forces of fate at work as well, old gods that exist outside our typical suburban lives but can be sought out and appealed to, and even manipulated. In Last Call Powers breathes new life into ancient myths like the Arthurian Fisher King, the Greek god Dionysus, and the Egyptian goddess Isis, incorporating themes of resurrection and physical health tied to spiritual health. These ancient demigods reappear in the forms of unlikely modern-day characters, including broken-down ex-gambler Scott Crane and his estranged foster-sister Diana. Last Call also includes a cast of memorable bad guys, including a bloated fat hit man Trumbull who is convinced that eternal life can be had through the consumption of raw flesh, and the chief baddie Georges Leon, a mystic who achieves immortality through stealing and possessing the bodies of the living. Crane is the central figure in the story, a man who in 1969 played a portentous game of Assumption with a powerful set of tarot cards. Twenty years later Crane returns for a second game against Leon with nothing less than his soul on the line.
Last Call is ultimately a hopeful book, as it implies that there may be a purpose to our lives and a way to control one's destiny, if you can read the cards and master the archetypes of the Tarot. In Powers' hands playing cards are a metaphor for the mysteries of life and the skill and luck required to navigate its uncertain waters.
Neil Gaiman's American Gods employs a similar conceit of old gods reincarnated in the modern world but I must say I enjoyed Gaiman's take better. Powers is a talented writer and I enjoyed his descriptions of the seedy soul of Las Vegas, as well as some memorable set-pieces he creates, including an encounter with the ghost of the infamous gangster Bugsy Siegel beneath the waters of Lake Mead. But the slow pace of the narrative, the meandering plotline, the too-numerous characters and plotlines that drop in and out of the story without sufficient explanation and resolution (Crane's wife Susan, for example), and tedious descriptions of card game after card game make Last Call a difficult listen and at times an outright chore, despite the fine narration by Bronson Pinchot.
Perhaps my lukewarm reaction to Last Call has something to do with the fact that I I'm not a fan of card playing; Vegas is a cool place to visit and I've tried my hand at a few slot machines, but sitting down at a table in the company of hardcore gamblers has zero appeal for me. If you read Last Call watch closely for the signs, the subtle flush of cheek or restless eyes that the best card players know how to detect and interpret. As for casual readers: Beware.
Posted by Brian Murphy
The SFFaudio Podcast #129 – Jesse, Tamahome, Julie and Jenny discuss the Audible Frontiers audiobook of The Mote In God's Eye by Larry Niven and Jerry Pournelle.
Talked about on today's show:
Aliens, first contact, alien aliens, Theodore Sturgeon, Microcosmic God by Theodore Sturgeon, evil genius inventor, a society in a bottle, how do we figure out which information is true, L.J. Ganser, "Fyunch(click)", space empire, the Horse-Head Nebula, the depth of the alien alienness, who has free will in The Mote In God's Eye?, "there was little of free will in an engineer", "humans have free will – we know that", Ron Paul has gone Crazy Eddie, Outies, The Gripping Hand, Renner is an independent minded contrarian, the CoDominium Series, "an American eagle holding the hammer and sickle", MacArthur and Lenin, brownies, espionage, Sally never questioned her Fyunch(click), the characters are peripheral to the novel's power, Niven and Pournelle arguing with each other, perfunctory romance, The Sandkings by George R.R. Martin, Treehouse of Horror VII, god games, Populous, Sid Meier's Civilization, Master Of Orion, Science Fiction is not really about the future it's about the present (except for Niven/Pournelle books), Protector by Larry Niven (in which humans are infantilized aliens), "only bad girls take birth control", Footfall by Larry Niven and Jerry Pournelle, The Mote In God's Eye is a yellow peril story!, Philip K. Dick's The Man In The High Castle, gunboat diplomacy, "China has fake Apple stores", the exotic East, "I asked myself … would that be so bad?", "they're not evil, they're just our enemies", Declare by Tim Powers, Soviet goals, "every place should be communist", Russia vs. The USA, an unsustainable quarantine, this book is really about "the pill", overpopulation, Malthus, Moties are people too (at least most of them are), a non-ideological clash of species, what "sentient" means, Eric S. Rabkin, do they have souls?, is it "scientifically proven" that an untrained kitten can never hunt?, "I don't eat monkeys", "nuclear war is the continuation of evolution by other means", the long pig, is there an unused Chekov's Gun in this book?, ozone smells good, imitations and perma-smiles, anti-yellow peril blinders, John W. Campbell, "give me an alien that thinks as well as a man but not like a man", "if only the humans wee more human."
Posted by Jesse Willis
The SFFaudio Podcast #128 – Scott, Jesse, Tamahome and Luke Burrage talk about recently arrived audiobooks, new releases and more.
Talked about on today's show:
Germline by T.C. McCarthy, Russia vs. United States, Kazakhstan, Blackstone Audio, Hannah, Finland, unapologetic fairy tale imagery, Brothers Grimm, Tama is a sucker for girls who kick ass, Kick-Ass, Bourne Identity, Buffy The Vampire Slayer, Firefly, Full Cast Audio, Tunnel In The Sky by Robert A. Heinlein, interplanetary survival course, "Rod Walker, as Heinlein Intended", Ozzy in Pandora's Star by Peter F. Hamilton, Between Planets, Space Cadet, Perseus by Geraldine, Hercules, Odyssey, Magic Steps by Tamora Pierce, young adult books, The City And The Stars, abstracting the voices of the characters, Jesse enthuses about Full Cast Audio's format, Blackstone Audio, Downward To Earth by Robert Silveberg (it draws from Heart Of Darkness, The Secret Sharer by Robert Silverberg, The Secret Sharer by Joseph Conrad, "the heart of lightness", The Hidden by Jessica Verday, The Hidden (movie) with Kyle MacLachlan, The Hollow, The Haunted, supernatural/romance/YA, "maybe Jenny can take up the lance", Macmillan Audio, How Firm A Foundation by David Weber, On Basilisk Station, "Steve Gibson loves it", George R.R. Martin, the Writing Excuses podcast, I Am Not A Serial Killer by Dan Wells, "it's very tempting to kill everyone", Star Wars: Heir To The Empire by Timothy Zahn (20th Anniversary Edition), Mark Thompson, Splinter Of The Mind's Eye (Luke and Leia get married), the Han Solo novels, Michael A. Stackpole, Star Trek novelizations vs. Star Wars novelizations, Wookipedia, perhaps Lucas was lucky and not talented, Leigh Brackett, Lawrence Kasdan, Stories Of The Golden Age: The Tramp and Shadows From Boothill, Jenny is late, War Of The Worlds by H.G. Wells, The Time Machine by H.G. Wells, The Illustrated Man by Ray Bradbury, The Island Of Doctor Moreau by H.G. Wells, Moxyland by Lauren Beukes, Zoo City, South Africa, China Miéville audiobooks flood audible, Iain M. Banks, Audible Frontiers vs. Audible Ltd., Ready Player One sounds like nostalgia not SF, everybody who wears spandex and legwarmers likes Ready Player One, the Gweek podcast, virtual world, Daemon by Daniel Suarez, Blackstone Audio, The Ringworld Engineers, To Sail Beyond The Sunset by Robert A. Heinlein, Origin Of The Species by Charles Darwin, Recorded Books, Amnesia Moon by Jonathan Lethem, Lawrence Block audiobooks, Hard Case Crime, Getting Off by Jill Emerson (Lawrence Block), AudioGo, Such Men Are Dangerous by Lawrence Block, The Specialists, Coward's Kiss, You Could Call It Murder, Small Town, Paul Kavanagh, Michael Crichton, Eaters Of The Dead, Smoke by Donald E. Westlake, The Comedy Is Finished by Donald E. Westlake, Psycho by Robert Bloch, Stand On Zanzibar by John Brunner, Luke's novel Minding Tomorrow, does Stand On Zanzibar have a cylindrical structure?, long stuff tends to be crappy, Luke is on Audible's platinum plan, Spin by Robert Charles Wilson, Courtney Brown's Science Fiction And Politics podcast, Spellwright by Blake Charlton, spell errors?, "as you well know…", Flashforward by Robert J. Sawyer, The Swarm by Frank Schatzing, Beyond This Horizon by Robert A. Heinlein, tie-in novels, Dan Abnett's Warmhammer 40,000: Horus Heresy series, Black Library, "a fist the size of a baked ham", Jesse's meta review of Luke's meta review of Sword Of The Lichtor by Gene Wolfe, Halting State by Charles Stross, Luke's pick of the week: Monty Python's The Life Of Brian, Jesus' final words on the cross, Jesse's pick of the week: Invincible Ultimate Edition Volume 1 written by Robert Kirkman, Ed Brubaker, Gregg Rucka, Scott's pick of the week: Declare by Tim Powers, On Stranger Tides, is Declare idea fiction?, Kim Philby, Tamahome's pick of the week: The Mote In God's Eye by Larry Niven and Jerry Pournelle.
Posted by Jesse Willis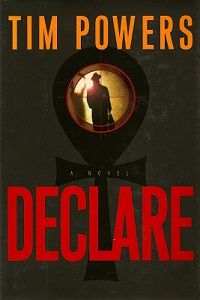 A Good Story is Hard to Find is on Episode 19! Julie and I talked about Declare by Tim Powers. I gave the book five stars over on Goodreads, because there are so many things about that book that are going to stay with me. As I said in the podcast, I'm going to read some more Powers as soon as I can. I've got two of his audiobooks in for SFFaudio – The Stress of Her Regard and Last Call. Last Call has been on my list for a long while, and I see that Jeff Miller, who recommended Declare for Good Story in the first place, said that The Stress of Her Regard is another of his favorite Powers novels. Looks like I've got a couple of excellent novels ahead of me.
Next up at Good Story is Shaun of the Dead, the zombie comedy movie. We're recording Wednesday morning so that we'll be back on schedule. And two weeks after that – Something Wicked This Way Comes by Ray Bradbury. I love October!
Posted by Scott D. Danielson
We all know that old idiom – "don't judge a book by its cover" – we all know it is a metaphor, that it isn't supposed to be literal. In fact, to take it literally is to actually misunderstand the point of it.
But books, the literary things that they are, ARE of course pre-judged based on their covers. We decide whether we want to buy, borrow or steal them, rightly or wrongly, because of their covers. Here's a great set of covers. I judge these covers as actually looking like really good reads based on their covers. The author names being clearly legible help me, the titles and font being legible and clever help me, but it is the images that are the most visceral component of helping me decide which book is to be picked up, and which is to be ignored.
Take this one. This is the kind of cover that makes you say: "That is fucking cool! Lemme see it for a second." Then you gaze at it for a while, flip it over, read the back and buy it.
Harvest Of Stars
By Poul Anderson; Read by Tom Weiner
15 CDs – Approx. 17.9 Hours [UNABRIDGED]
Publisher: Blackstone Audio
Published: August 1, 2011
ISBN: 9781441788986
Earth lies crushed in the grip of totalitarianism. To save her planet, Kyra Davis is sent on a mission to liberate the last bastion of freedom and to rescue its legendary leader. Her bold adventure will sweep her from Earth's rebel enclaves to the decadent court of an exotic lunar colony.
I like the cover on this one too. Its creepy and ethereal. The blood and the textual shadow make it look like a ghost or vampire story. Without actually telling me the story it still gives me a real sense of what the book might be like (whether that's accurate or not). This is an affective cover.
The Stress Of Her Regard
By Tim Powers; Read by Simon Vance
14 CDs – Approx. 16.7 Hours [UNABRIDGED]
Publisher: Blackstone Audio
Published: May 1, 2011
ISBN: 9781441757180
When Michael Crawford discovers his bride brutally murdered in their wedding bed, he is forced to flee not only to prove his innocence but to avoid the deadly embrace of a vampire who has claimed him as her true bridegroom. Joining forces with Byron, Keats, and Shelley in a desperate journey that crisscrosses Europe, Crawford desperately seeks his freedom from this vengeful lover who haunts his dreams and will not rest until she destroys all that he cherishes. Told in the guise of a secret history, this tale of passion and terror brilliantly evokes the nineteenth century. The chilling horror and adventure blend to create a riveting romantic fantasy.
Image and color and font work much better than color and font alone. We get the "shadow on the sun" of the title, along with an actual shadow on the sun (which is maybe a raven or a hawk). I'm not much for abstract, but the boughs in a fiery orange could be fire or leaves or both. It's much better than just color and font. This cover is both striking and mysterious.
Shadow On The Sun
By Richard Matheson; Read by Mark Bramhall
5 CDs – Approx. 5.6 Hours
Publisher: Blackstone Audio
Published: July 1, 2011
ISBN: 9781441739957
Southwest Arizona, a century ago — An uneasy truce exists between the remote frontier community of Picture City and the neighboring Apaches. That delicate peace is shredded when the bodies of two white men are found hideously mutilated. The angry townspeople are certain the "savages" have broken the treaty, but Billjohn Finley, the local Indian agent, fears that darker, more unholy forces may be at work. There's a tall, dark stranger in town, who rode in wearing the dead men's clothes. A stranger who may not be entirely human.
In this case the image is actually a visual allusion to the cover of The Great Gatsby (and other covers). The foreground framing invites us in, as through a doorway, to go down into the valley where lies that city, a mesa metropolis – and all the while the stars above are watching. The only criticism I have here is that while the font is good there is a repeat on the "E" (and the "S") – that's slightly distracting.
Steal Across The Sky
By Nancy Kress; Read by Kate Reading
9 CDs – Approx. 10.5 Hours [UNABRIDGED]
Publisher: Blackstone Audio
Published: July 1, 2011
ISBN: 9781441792402
The aliens appeared one day, built a base on the moon, and put an ad on the Internet: "We are an alien race you may call the Atoners. Ten thousand years ago we wronged humanity profoundly. We cannot undo what has been done, but we wish humanity to understand it. Therefore we request twenty-one volunteers to visit seven planets to Witness for us. We will convey each volunteer there and back in complete safety. Volunteers must speak English. Send requests for electronic applications to [email protected]" At first, everyone thought it was a joke. But it wasn't. This is the story of three of those volunteers and what they found on Kular A and Kular B.
This one feels like it was made quickly (by a skilled artist) mostly out of stock images. The pocket-watch and the radioactive hazard trefoil give you a couple of tips as to the plot (time travel and nuclear war), but there's also the Sam Browne belt equipped figure (with double braces) walking into what looks like an African Savannah – it all makes you want to open it up and see where that dude is going.
Farnham's Freehold
By Robert A. Heinlein; Read by Tom Weiner
8 CDs – Approx. 9.3 Hours [UNABRIDGED]
Publisher: Blackstone Audio
Published: June 5, 2011
ISBN: 9781441791702
Hugh Farnham is a practical, self-made man, and when he sees the clouds of nuclear war gathering, he builds a bomb shelter under his house, hoping for peace and preparing for war. But when the apocalypse comes, something happens that he did not expect. A thermonuclear blast tears apart the fabric of time and hurls his shelter into a world with no sign of other human beings. Farnham and his family have barely settled down to the backbreaking business of low-tech survival when they find that they are not alone after all. The same nuclear war that catapaulted Farnham two thousand years into the future has destroyed all civilization in the northern hemisphere, leaving Africans as the dominant surviving people. In the new world order, Farnham and his family, being members of the race that nearly destroyed the world, are fit only to be slaves. After surviving a nuclear war, Farnham has no intention of being anyone's slave, but the tyrannical power of the Chosen race reaches throughout the world. Even if he manages to escape, where can he run to?
Posted by Jesse Willis
The SFFaudio Podcast #119 – Scott, Jesse and Tamahome talk to author Paul Malmont about his novel The Astounding, The Amazing, And The Unknown.
Talked about on today's show:
The Chinatown Death Cloud Peril, Jack London In Paradise, Hawaii, The Iron Heel by Jack London, the rise of the oligarchy, The Washington Post review of The Astounding, The Amazing, And The Unknown, Robert A. Heinlein, Isaac Asimov, L. Ron Hubbard, the Philadelphia Experiment, the movie The Philadelphia Experiment, "a psuedo-historical event" vs. "a cultural phenomena", legend, John W. Campbell, Astounding Science Fiction, Unknown (magazine), Kamikaze pilots vs. the Kamikaze group, L. Sprague de Camp, chemistry, Orange Nehi, the Tunguska event, Nikola Tesla, the Wardenclyffe Tower, historical fiction, meta-science fiction, Walter B. Gibson, Lester Dent, H.P. Lovecraft, the "hero pulps" vs. science fiction pulps, The Shadow, Doc Savage, L. Ron Hubbard as a tragic hero, Dianetics, an atomic age religion, Virginia Heinlein, Janet Asimov, Gertrude Asimov, "The robot felt…", using social networks to promote a novel, Frank Herbert, Aleutian Islands, the Manhattan Project, Cleve Cartmill and the atomic bomb, The Green Hills Of Earth, Tim Powers, "twenty weird true things", Murdoch Mysteries, the AC DC wars, remixing modern historical fiction, Iain M. Banks, mash-ups, The Chinatown Death Cloud Peril has zombies, the TVO interview with Walter B. Gibson, magic, In Search Of….
Posted by Jesse Willis