The SFFaudio Podcast #128 – Scott, Jesse, Tamahome and Luke Burrage talk about recently arrived audiobooks, new releases and more.
Talked about on today's show:
Germline by T.C. McCarthy, Russia vs. United States, Kazakhstan, Blackstone Audio, Hannah, Finland, unapologetic fairy tale imagery, Brothers Grimm, Tama is a sucker for girls who kick ass, Kick-Ass, Bourne Identity, Buffy The Vampire Slayer, Firefly, Full Cast Audio, Tunnel In The Sky by Robert A. Heinlein, interplanetary survival course, "Rod Walker, as Heinlein Intended", Ozzy in Pandora's Star by Peter F. Hamilton, Between Planets, Space Cadet, Perseus by Geraldine, Hercules, Odyssey, Magic Steps by Tamora Pierce, young adult books, The City And The Stars, abstracting the voices of the characters, Jesse enthuses about Full Cast Audio's format, Blackstone Audio, Downward To Earth by Robert Silveberg (it draws from Heart Of Darkness, The Secret Sharer by Robert Silverberg, The Secret Sharer by Joseph Conrad, "the heart of lightness", The Hidden by Jessica Verday, The Hidden (movie) with Kyle MacLachlan, The Hollow, The Haunted, supernatural/romance/YA, "maybe Jenny can take up the lance", Macmillan Audio, How Firm A Foundation by David Weber, On Basilisk Station, "Steve Gibson loves it", George R.R. Martin, the Writing Excuses podcast, I Am Not A Serial Killer by Dan Wells, "it's very tempting to kill everyone", Star Wars: Heir To The Empire by Timothy Zahn (20th Anniversary Edition), Mark Thompson, Splinter Of The Mind's Eye (Luke and Leia get married), the Han Solo novels, Michael A. Stackpole, Star Trek novelizations vs. Star Wars novelizations, Wookipedia, perhaps Lucas was lucky and not talented, Leigh Brackett, Lawrence Kasdan, Stories Of The Golden Age: The Tramp and Shadows From Boothill, Jenny is late, War Of The Worlds by H.G. Wells, The Time Machine by H.G. Wells, The Illustrated Man by Ray Bradbury, The Island Of Doctor Moreau by H.G. Wells, Moxyland by Lauren Beukes, Zoo City, South Africa, China Miéville audiobooks flood audible, Iain M. Banks, Audible Frontiers vs. Audible Ltd., Ready Player One sounds like nostalgia not SF, everybody who wears spandex and legwarmers likes Ready Player One, the Gweek podcast, virtual world, Daemon by Daniel Suarez, Blackstone Audio, The Ringworld Engineers, To Sail Beyond The Sunset by Robert A. Heinlein, Origin Of The Species by Charles Darwin, Recorded Books, Amnesia Moon by Jonathan Lethem, Lawrence Block audiobooks, Hard Case Crime, Getting Off by Jill Emerson (Lawrence Block), AudioGo, Such Men Are Dangerous by Lawrence Block, The Specialists, Coward's Kiss, You Could Call It Murder, Small Town, Paul Kavanagh, Michael Crichton, Eaters Of The Dead, Smoke by Donald E. Westlake, The Comedy Is Finished by Donald E. Westlake, Psycho by Robert Bloch, Stand On Zanzibar by John Brunner, Luke's novel Minding Tomorrow, does Stand On Zanzibar have a cylindrical structure?, long stuff tends to be crappy, Luke is on Audible's platinum plan, Spin by Robert Charles Wilson, Courtney Brown's Science Fiction And Politics podcast, Spellwright by Blake Charlton, spell errors?, "as you well know…", Flashforward by Robert J. Sawyer, The Swarm by Frank Schatzing, Beyond This Horizon by Robert A. Heinlein, tie-in novels, Dan Abnett's Warmhammer 40,000: Horus Heresy series, Black Library, "a fist the size of a baked ham", Jesse's meta review of Luke's meta review of Sword Of The Lichtor by Gene Wolfe, Halting State by Charles Stross, Luke's pick of the week: Monty Python's The Life Of Brian, Jesus' final words on the cross, Jesse's pick of the week: Invincible Ultimate Edition Volume 1 written by Robert Kirkman, Ed Brubaker, Gregg Rucka, Scott's pick of the week: Declare by Tim Powers, On Stranger Tides, is Declare idea fiction?, Kim Philby, Tamahome's pick of the week: The Mote In God's Eye by Larry Niven and Jerry Pournelle.
Posted by Jesse Willis
The SFFaudio Podcast #128
[ 1:09:11 | 47.54 MB ]
Play Now
|
Play in Popup
|
Download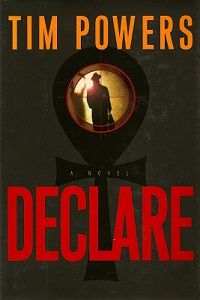 A Good Story is Hard to Find is on Episode 19! Julie and I talked about Declare by Tim Powers. I gave the book five stars over on Goodreads, because there are so many things about that book that are going to stay with me. As I said in the podcast, I'm going to read some more Powers as soon as I can. I've got two of his audiobooks in for SFFaudio – The Stress of Her Regard and Last Call. Last Call has been on my list for a long while, and I see that Jeff Miller, who recommended Declare for Good Story in the first place, said that The Stress of Her Regard is another of his favorite Powers novels. Looks like I've got a couple of excellent novels ahead of me.
Next up at Good Story is Shaun of the Dead, the zombie comedy movie. We're recording Wednesday morning so that we'll be back on schedule. And two weeks after that – Something Wicked This Way Comes by Ray Bradbury. I love October!
Posted by Scott D. Danielson
We all know that old idiom – "don't judge a book by its cover" – we all know it is a metaphor, that it isn't supposed to be literal. In fact, to take it literally is to actually misunderstand the point of it.
But books, the literary things that they are, ARE of course pre-judged based on their covers. We decide whether we want to buy, borrow or steal them, rightly or wrongly, because of their covers. Here's a great set of covers. I judge these covers as actually looking like really good reads based on their covers. The author names being clearly legible help me, the titles and font being legible and clever help me, but it is the images that are the most visceral component of helping me decide which book is to be picked up, and which is to be ignored.
Take this one. This is the kind of cover that makes you say: "That is fucking cool! Lemme see it for a second." Then you gaze at it for a while, flip it over, read the back and buy it.
Harvest Of Stars
By Poul Anderson; Read by Tom Weiner
15 CDs – Approx. 17.9 Hours [UNABRIDGED]
Publisher: Blackstone Audio
Published: August 1, 2011
ISBN: 9781441788986
Earth lies crushed in the grip of totalitarianism. To save her planet, Kyra Davis is sent on a mission to liberate the last bastion of freedom and to rescue its legendary leader. Her bold adventure will sweep her from Earth's rebel enclaves to the decadent court of an exotic lunar colony.
I like the cover on this one too. Its creepy and ethereal. The blood and the textual shadow make it look like a ghost or vampire story. Without actually telling me the story it still gives me a real sense of what the book might be like (whether that's accurate or not). This is an affective cover.
The Stress Of Her Regard
By Tim Powers; Read by Simon Vance
14 CDs – Approx. 16.7 Hours [UNABRIDGED]
Publisher: Blackstone Audio
Published: May 1, 2011
ISBN: 9781441757180
When Michael Crawford discovers his bride brutally murdered in their wedding bed, he is forced to flee not only to prove his innocence but to avoid the deadly embrace of a vampire who has claimed him as her true bridegroom. Joining forces with Byron, Keats, and Shelley in a desperate journey that crisscrosses Europe, Crawford desperately seeks his freedom from this vengeful lover who haunts his dreams and will not rest until she destroys all that he cherishes. Told in the guise of a secret history, this tale of passion and terror brilliantly evokes the nineteenth century. The chilling horror and adventure blend to create a riveting romantic fantasy.
Image and color and font work much better than color and font alone. We get the "shadow on the sun" of the title, along with an actual shadow on the sun (which is maybe a raven or a hawk). I'm not much for abstract, but the boughs in a fiery orange could be fire or leaves or both. It's much better than just color and font. This cover is both striking and mysterious.
Shadow On The Sun
By Richard Matheson; Read by Mark Bramhall
5 CDs – Approx. 5.6 Hours
Publisher: Blackstone Audio
Published: July 1, 2011
ISBN: 9781441739957
Southwest Arizona, a century ago — An uneasy truce exists between the remote frontier community of Picture City and the neighboring Apaches. That delicate peace is shredded when the bodies of two white men are found hideously mutilated. The angry townspeople are certain the "savages" have broken the treaty, but Billjohn Finley, the local Indian agent, fears that darker, more unholy forces may be at work. There's a tall, dark stranger in town, who rode in wearing the dead men's clothes. A stranger who may not be entirely human.
In this case the image is actually a visual allusion to the cover of The Great Gatsby (and other covers). The foreground framing invites us in, as through a doorway, to go down into the valley where lies that city, a mesa metropolis – and all the while the stars above are watching. The only criticism I have here is that while the font is good there is a repeat on the "E" (and the "S") – that's slightly distracting.
Steal Across The Sky
By Nancy Kress; Read by Kate Reading
9 CDs – Approx. 10.5 Hours [UNABRIDGED]
Publisher: Blackstone Audio
Published: July 1, 2011
ISBN: 9781441792402
The aliens appeared one day, built a base on the moon, and put an ad on the Internet: "We are an alien race you may call the Atoners. Ten thousand years ago we wronged humanity profoundly. We cannot undo what has been done, but we wish humanity to understand it. Therefore we request twenty-one volunteers to visit seven planets to Witness for us. We will convey each volunteer there and back in complete safety. Volunteers must speak English. Send requests for electronic applications to [email protected]" At first, everyone thought it was a joke. But it wasn't. This is the story of three of those volunteers and what they found on Kular A and Kular B.
This one feels like it was made quickly (by a skilled artist) mostly out of stock images. The pocket-watch and the radioactive hazard trefoil give you a couple of tips as to the plot (time travel and nuclear war), but there's also the Sam Browne belt equipped figure (with double braces) walking into what looks like an African Savannah – it all makes you want to open it up and see where that dude is going.
Farnham's Freehold
By Robert A. Heinlein; Read by Tom Weiner
8 CDs – Approx. 9.3 Hours [UNABRIDGED]
Publisher: Blackstone Audio
Published: June 5, 2011
ISBN: 9781441791702
Hugh Farnham is a practical, self-made man, and when he sees the clouds of nuclear war gathering, he builds a bomb shelter under his house, hoping for peace and preparing for war. But when the apocalypse comes, something happens that he did not expect. A thermonuclear blast tears apart the fabric of time and hurls his shelter into a world with no sign of other human beings. Farnham and his family have barely settled down to the backbreaking business of low-tech survival when they find that they are not alone after all. The same nuclear war that catapaulted Farnham two thousand years into the future has destroyed all civilization in the northern hemisphere, leaving Africans as the dominant surviving people. In the new world order, Farnham and his family, being members of the race that nearly destroyed the world, are fit only to be slaves. After surviving a nuclear war, Farnham has no intention of being anyone's slave, but the tyrannical power of the Chosen race reaches throughout the world. Even if he manages to escape, where can he run to?
Posted by Jesse Willis
The SFFaudio Podcast #119 – Scott, Jesse and Tamahome talk to author Paul Malmont about his novel The Astounding, The Amazing, And The Unknown.
Talked about on today's show:
The Chinatown Death Cloud Peril, Jack London In Paradise, Hawaii, The Iron Heel by Jack London, the rise of the oligarchy, The Washington Post review of The Astounding, The Amazing, And The Unknown, Robert A. Heinlein, Isaac Asimov, L. Ron Hubbard, the Philadelphia Experiment, the movie The Philadelphia Experiment, "a psuedo-historical event" vs. "a cultural phenomena", legend, John W. Campbell, Astounding Science Fiction, Unknown (magazine), Kamikaze pilots vs. the Kamikaze group, L. Sprague de Camp, chemistry, Orange Nehi, the Tunguska event, Nikola Tesla, the Wardenclyffe Tower, historical fiction, meta-science fiction, Walter B. Gibson, Lester Dent, H.P. Lovecraft, the "hero pulps" vs. science fiction pulps, The Shadow, Doc Savage, L. Ron Hubbard as a tragic hero, Dianetics, an atomic age religion, Virginia Heinlein, Janet Asimov, Gertrude Asimov, "The robot felt…", using social networks to promote a novel, Frank Herbert, Aleutian Islands, the Manhattan Project, Cleve Cartmill and the atomic bomb, The Green Hills Of Earth, Tim Powers, "twenty weird true things", Murdoch Mysteries, the AC DC wars, remixing modern historical fiction, Iain M. Banks, mash-ups, The Chinatown Death Cloud Peril has zombies, the TVO interview with Walter B. Gibson, magic, In Search Of….
Posted by Jesse Willis
The SFFaudio Podcast #119
[ 34:15 | 23.56 MB ]
Play Now
|
Play in Popup
|
Download
The SFFaudio Podcast #118 – Scott, Jesse and Tamahome talk about Philip K. Dick's wonderful novelette Upon The Dull Earth (available in Blackstone Audio's The Selected Stories Of Philip K. Dick Volume 2)
Talked about on today's show:
Beyond Fantasy Fiction, the prolific Philip K. Dick, Galaxy Magazine, H.L. Gold, is Upon The Dull Earth Fantasy or Science Fiction, suburban romance?, rural romance, Jesse loves the setting, cedars, angels, The Odyssey, On Stranger Tides by Tim Powers, Jesse's terrible Philip K. Dick impersonation, a wooden faucet?, a one way ladder to another plane, using your coffin as a cocoon, "Rick, I cut myself.", Rick is responsible for her death, is Rick in hell?, Silvia is a sick chick, shortly after Silvia's incineration, blood from a New Jersey abattoir, Upon The Dull Earth would be perfect for the A Good Story Is Hard To Find podcast, God has moved on up, HE is capitalized, she's Fantasy, he's Science Fiction, she's elf-like, he's machine-like, iron and spirits don't mix, ridding one's self of civilization, Inferno by Larry Niven and Jerry Pournelle |READ OUR REVIEW|, uisge beatha mean "the water of life" (or whisky), is Silvia depressed?, YA, valkyries, insects, The Hanging Man had insects too, witch vs. saint, remember Prometheus and the fire?, ripples from the event, kraals of white skinned young women, is this all going on in Rick's head, Rick picks up a hitchhiker to use him as a guinea pig, "you're crowding me man", going into the underworld to get back your dead girlfriend, when someone dies you mourn your loss, Plato (and Aristophanes') story about the mythological division of male from female (The Symposium), "we were meant to be together", "you complete me" and similar cliches, what happens at the end?, Fair Game by Philip K. Dick, Philip K. Dick stories often have a roadside cafe scene and a gas station scene, "like the doves in a John Woo movie", where does the title of Upon The Dull Earth come from?, she was merely playing at death, disturbed spirits thirsty for blood, the natural of order of things has been violated, William Shakespeare's The Two Gentlemen of Verona (Act 4, Scene 2, the character name Sylvia comes from the play, but sylvan means "of the wood", is she a fairy?, HBO's True Blood, Icarus, the Wikipedia entry for Upon The Dull Earth, the many mentions of clay, Wonder Woman came from clay, Batman: False Faces by Brian K. Vaughn, J. Michael Straczynski, the Golem, Ted Chiang's Seventy-Two Letters, The Adventures Of Cavalier And Clay by Michael Chabon, capricious (adj.) Given to sudden and unaccountable changes of mood or behavior, religion, Steven H Silver's review of Seventy-Two Letters (and Stories Of Your Life And Other Stories), FREE TED CHIANG!, Saint Bernadette, Philip K. Dick really cares about the way the story is told, we never see inside a character's mind, the authorial view, is Dick popular in for movies for this reason?, it's grotesque!, she filled the Silex, "We're all going to have wings!", "We won't be worms anymore", Silvia's looking for an abusive relationship, Blackstone Audio, the audiobook, Upon The Dull Earth is best read aloud, Tama didn't know how fantastical Dick was, The Twilight Zone, The Outer Limits, its a Noir Horror Science Fiction Fantasy story, anime, Berserk, Project A-Ko, Princess Mononoke, I only understand Japanese movies made by Akira Kurosawa, Rashomon, The Seven Samurai, "I can barely understand the people wearing a Storm Trooper costumes", Jesse needs some accessible anime, Spirited Away, what are the background assumptions in anime, Cowboy Beebop intro, Luke's review of Solaris on SFBRP, Erik S. Rabkin, Just Imagine is a crazy musical with plenty of background assumptions (like prohibition), Hey Want To Watch A Movie? podcast, is there an MST3K podcast?, Tam was thinking of the non-podcast Rifftrax.com, readalong vs. watchalong, The Thing, The Thing From Another World, The Thing (2011), Captain America: The First Avenger, The Amazing Spider-Man, comic books vs. Hollywood, The Avengers will be written and directed by Joss Whedon, swastikas are banned in Germany, it's a case of it's time to end the podcast.
Posted by Jesse Willis
The SFFaudio Podcast #118
[ 1:18:24 | 53.87 MB ]
Play Now
|
Play in Popup
|
Download
The SFFaudio Podcast #111 – Scott and Jesse talk with Luke Burrage and Tamahome about the latest releases.
Talked about on today's show:
name order??, James Powell's Last Laugh In Flugal Park, Greg Bear's Halo: Cryptum book, game tie-ins with popular authors, Tobias Buckell's The Cole Protocol (Halo, #6), Peter Watts Crysis: Legion, Larry Niven's Ringworld, Hull Zero Three, "in spaaace", Tim Powers's The Stress Of Her Regard, "short books", towel on Luke's head, George Alec Effinger's When Gravity Fails, no ebook to speak of, published in 198x?, the game Circuits Edge, Infocom, Beneath A Steel Sky, "comic book look", comic book artist Dave Gibbons (Watchmen), more game tie-ins, Terry (Monty Python) Jones's Douglas Adams's Starship Titanic, Jeff Vandermeer's Halo story Mona Lisa, from the Halo: Evolutions anthology, motion comic adaption, Arthur C. Clarke and Stephen Baxter's First Born (A Time Odyssey, #3), Civilization/Evolution, The Light Of Other Days, Bob Shaw, loss of privacy, "slow glass", spoiler alert!, Poul Anderson's Broken Sword, Yggrdsil (hear it pronounced), contemporary of J.R.R. Tolkien's The Fellowship Of The Ring, Isaac Marion's Warm Bodies, the audiobook cover, David Friedman on Luke's new podcast, "everything comes back to zombies", Alden Bell's The Reapers Are The Angels discussed on Scott and Julie's podcast, Luke's feedback, "email you when I'm dead", Daniel Suarez's Daemon, Mark Russinovich's Zero Day, Edward Wellen's Mind Slash Matter, |OUR REVIEW|, P.D. James's Children Of Men, |READ OUR REVIEW|, Fred Hoyle's The Black Cloud, "sciency", John Brunner's The Crucible Of Time, M.P. Shiel's The Purple Cloud, it's not about Prince, the Songbird audiodrama from the Radio Repertory Company of America, Harlan Ellison's The Voice From The Edge #4 & #5 on sale, includes this year's award winner How Interesting A Tiny Man, John Scalzi's Fuzzy Nation, H. Beam Piper's Little Fuzzy, a 2-fer, Old Man's War, which 1/3 do you like?, "I'm a sucker for new bodies", Albert Brooks's 2030: The Real Story Of What Happens To America, the film Defending Your Life, Will McIntosh's Soft Apocalypse, George R. Stewart's Earth Abides is also soft, Brent Weeks's short Perfect Shadow is on Graphicaudio too, Valley Of The Dead: The Truth Behind Dante's Inferno by Kim Paffenroth, Jerry Pournelle and Larry Niven's Inferno — sf writer tries to explain hell, the remix generation, Ex-Heroes by Peter Clines, "I Am Legend with superheroes", A. Lee Martinez's oeuvre, Sleeper: Season One the comic book, Mark Millar's Trouble, Edgar Rice Burroughs, "the estate works for their money", Luke talks to a comic book artist, SF Keyword Bingo
Posted by Tamahome
The SFFaudio Podcast #111
[ 1:03:51 | 43.89 MB ]
Play Now
|
Play in Popup
|
Download