Just crossed the border, literally (it came in the back of a Subaru), here's a Brilliance Audio audiobook collection that does almost everything right! First, check out the awesome cover art for Welcome To Bordertown:
Next, note the detailed track listings on the back:


So that's a look at the outside, inside the discs themselves don't detail their contents, which is bad, but not fatal (considering you've got the back of the audiobook to go by). As to the audio content itself, well I'm looking forward to picking up stories here and there as I research the authors more – that's usually how I listen to collections these days.
This is the official description:

Bordertown: a city on the Border between the human world and the elfin realm. A place where neither magic nor technology can be counted on, where elf and human kids run away to find themselves. The Way from our world to the Border has been blocked for thirteen long years. . . . Now the Way is open once again — and Bordertown welcomes a new set of seekers and dreamers, misfits and makers, to taste life on the Border.

Here are thirteen interconnected stories, one graphic story, and eight poems — all new work by some of today's best urban fantasy, fantasy, and slipstream writers
Now I've already checked out Neil Gaiman's entry, which is a poem entitled The Song Of The Song. And I listened to Holly Black reading her own introductory essay. In it she credits the original Bordertown books as 'creating the urban fantasy subgenre'. Ellen Kushner, Black's co-editor, reads Terri Windling's introductory essay, which details the background for the Bordertown series itself. It's is described as a "Thieves' World for teens." Windling also talks about the phenomenon of shared worlds. Also, and this is pretty cool, there's an additional editorial introduction written, and read, by Ellen Kushner (one that's not found in the paperbook edition at all).
The only thing missing from this great audiobook edition is the story named Fair Trade by Sara Ryan and Dylan Meconis. But that's probably because it's actually a comic and so it would have been very hard to translate into audio (there are two panels of it HERE). And finally, here's a promo video for the book:
Posted by Jesse Willis
The SFFaudio Podcast #106 – Jesse and Tamahome talk about audiobooks, books, comic books, movies and technology.
Talked about on today's show:
Scott is away, Warrior Race by Robert Sheckley, the guilt tactic, Robert Sheckley's The Victim From Space, M. Night Shamylan, Alfred Hitchcock Presents, Star Trek: The Next Generation, the limits of sympathy and empathy, Lethal Weapon, civil disobedience, Ghandi, Ahisma, Gregg Margarite, Lauren Bacall, the future of self-published ebooks and curation, SFsignal's anthology reviews, novels vs short stories, LibriVox, rating systems, Gil T. Wilson, SFSite, Avatar, Coraline, The Graveyard Book, Neil Gaiman's narration, William Gibson, Where is the Neuromancer audiobook?, The Matrix, What is noir in film or books?, Do Androids Dream of Electric Sheep?, Memento, a podcast about noir films (Noircast.net), Limitless aka (The Dark Fields) movie vs book, director Neil Berger, The Illusionist, The Prestige, Christopher Priest, Existenz, WWW: Wake, WWW: Wonder, Robert J. Sawyer, many spoilers in this podcast, Sawyer's next novel is Triggers, research then write, the Webmind, Jesse doesn't like series (usually), the 'talking Dinosaur' series (the Quintaglio Ascension series), is the WWW series YA?, Cory Doctorow, characters, Golden Fleece is a murder mystery in space, more dino, would anyone make the dinosaur series into a 3D animated film?, Robert J. Sawyer's Rollback was on CBC Radio One's Between The Covers podcast, Galileo's Dream, Red Mars, Michio Kaku, futurism, climate change, Pacific Edge by Kim Stanley Robinson, can a domestic story be thrilling?, Austin Powers, "one million dollars!", the trap of inflating the stakes, Tim Pratt on Dragon Page podcast (7½ minutes in), the 'speech thriller', what's in the suitcase?, Kiss Me Deadly, "make each sentence do two things", Midnight Riot (aka Rivers Of London), British lingo, "snog", series and trends at bookstores, Peter Watts's openness, Flashforward TV show, The Gong Show, bring back the hook, Crysis 2: Legion the novel and the game, the economics of hard covers vs ebooks, Kindle openness, the VLC app was removed from the iTunes App store, the Android OS, Embedded, ROM person, the Comics Code Authority repealed!, Mark Millar, Nemesis, The Ultimates, Ex Machina, Chronicles Of Wormwood, Garth Ennis, Howard The Duck, death of superheroes, Superman left America (Action Comics #900), "truth, justice, and the American way", Superman: Red Son, Battlefields, The Boys, The Punisher with the guy from Hung (Thomas Jane), Warren Ellis wrote a novel (Crooked Little Vein), can we make Peter Watts audiobooks?, synthesized voices on archive.org, Linux for all e-readers, Philip K. Dick, The Electric Ant comic, Tom Merritt, Sword and Laser, TWIT, Munchcast.
Posted by Tamahome
StarShipSofa Aural Delights No. 68 – Kim Newman |MP3|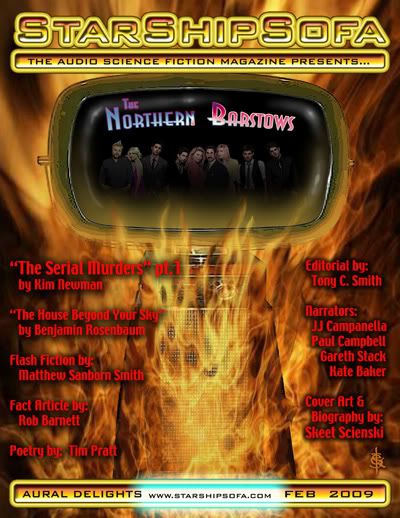 Aural Delights No. 68 Kim Newman
Editorial: "Kindle the Savior of Book Publishing" by Tony C. Smith 00:10
Poetry: "Angle Bites" by Tim Pratt 15:30
Flash Fiction: Brothers and Sisters by Matthew Sanborn Smith 18:00
Fact: Sofa Art Cover by Skeet 24:00
Fiction: The House Beyond Your Sky by Benjamin Rosenbaum 32:00
Fact: Movie Talk by Rob Barnett 01:03:00
Main Fiction Serial: The Serial Murders Kim Newman Part 1 of 4 01:12:00   
Fact: Fiction Crawler No. 5 Matthew Sanborn Smith 02:06:11
Narrators: Kate Baker, Gareth Stack, Paul W Campbell, JJ Campanella
Twitter #futuerjer http://tinyurl.com/futurejer
Links to Fiction Crawler No. 5:
At the Bottom of the Garden by Jo Walton

Non-Disclosure Agreement by Scott Westerfeld
The Support Technician Tango by Daniel Abraham
Big Man: a Fable by Joe R. Lansdale
The Shangri-La Affair By Lavie Tidhar
Posted by Tony C. Smith
Dragon Page: Cover To Cover has a new interview with T.A. Pratt (Dead Reign). 
Have a listen direct |MP3| or subscribe to their podcast:
http://www.dragonpage.com/podcastC2C.xml
Posted by Charles Tan
PodCastle, the fantasy fiction podcast, features some new fiction:
"Galatea" by Vylar Kaftan |MP3|
"Believe" by Katherine Sparrow |MP3|
"Cup and Table" by Tim Pratt |MP3|
You can subscribe to the feed at http://feeds.escapeartists.net/PodCastle_Main
Posted by Charles Tan
If You're Just Joining Us interviews Tim Pratt. |MP3|
You can subscribe to the feed at http://feeds.feedburner.com/IfYoureJustJoiningUs
Posted by Charles Tan