The SFFaudio Podcast #338 – Jesse, Tamahome, and Paul talk about new releases and recent arrivals (audiobooks, books, and comics).
Talked about on today's show:
Aftermath: Star Wars (Journey to Star Wars: The Force Awakens) by Chuck Wendig, read by Marc Thompson, not a curse fest, the crawl, grief, The Geeks Guide To The Galaxy, one star reviews, diversity up down left and sideways, a pink lightsaber, a rainbow lightsaber, Timothy Zahn, sounds like Star Wars names, Heirs Of Empire by Evan Currie, read by Deric McNish, Brilliance Audio, it sounds like a Stars Wars book (but isn't), a 47 North Novel, The Three Stigmata of Palmer Eldritch by Philip K. Dick, read by Luke Daniels, drugs!, sounds trippy, re-reading Philip K. Dick (for The SFFaudio Podcast), different assumptions, by the inventor of Science Fiction… In the Days of the Comet by H.G. Wells, read by Walter Covell, the salvation of the human race, cynical then preachy, The Star by H.G. Wells, The Poison Belt by Sir Arthur Conan Doyle, 1906, The World Set Free, The Sea Lady by H.G. Wells (a mermaid in Edwardian society), Stranger In A Strange Land by Robert A. Heinlein, a comedic bicycling novel, military SF, David Weber, The Child by Keith F. Goodnight, read by Nick Podehl, Tam's macho voice, Adam Christopher's The Burning Dark, Event Horizon, hyperspace as a Hellraiser universe, this all goes back to H.P. Lovecraft's From Beyond, drugs plus radar shadowing, a terrific adaptation The Banshee Chapter, the 1980s adaptation of From Beyond, fear of the dark in a lighted world, The Oncoming Storm by Christopher G. Nuttall, read by Lauren Ezzo, the youngest captain in naval (future) history, what is 47 North? it's Amazon's publishing house, synergy, PlayStation has it's own TV show (based on a comic book called Powers), an Honor Harrington novel with the serial numbers filed off, fantasy (non epic), Locke And Key by Joe Hill, adapted by Elaine Lee and Frederick Greenhalgh, audio drama, AudioComics, 13.5 hour audio drama, Gabriel Rodriguez, Paul needs to get Welcome To Lovecraft, horror, dark fantasy, hyper-imaginative, Joe Hill looks and writes like his dad (Stephen King), kids in a creepy situation, the manipulation of power, more fantasy elements, the origins of the keys at Key House, back stories, Fred Greenhalgh as a champion of field recorded audio drama, a film production unit without cameras, listening with headphones, this could be the star of something really amazing, the business model, word-of-mouth then the long tail?, Elaine Lee's Starstruck, William Dufris, epic fantasy, Twelve Kings In Sharakhai (Song of Shattered Sands #1) by Bradley P. Beaulieu, read by Sarah Coomes, Paul is a fan of Bradley P. Beaulieu's writing, "his best novel yet", it is impossible to promote books you aren't enthusiastic about, "the ones that sing to the song in your blood", Paul is a long term epic fantasy fan, true confessions, Robert Jordan, Brandon Sanderson, epic fantasy as a lifestyle choice, Kate Elliot, The Cinder Spires: The Aeronaut's Windlass by Jim Butcher; read by Euan Morton, Penguin Audio, urban fantasy, airships!, a new steampunk secondary world, beautiful endpapers and maps Priscilla Spencer, books in the middle of series: Darken the Stars (Kricket #3) by Amy A. Bartol, read by Kate Rudd, The Ciphers of Muirwood (Covenant of Muirwood #2) by Jeff Wheeler, read by Kate Rudd, Unholy War (The Moontide Quartet #3) by David Hair, read by Nick Podehl, Dryad-Born (Whispers from Mirrowen #2) by Jeff Wheeler, read by Sue Pitkin, Jenny's favourite section "dystopia, unrest, destruction, apocalypse", an interesting theory about zombies and dystopias, it fits in with the Christian end times, Revelations and rapture theology, the 1950s optimism, we're not in Star Trek times anymore, 2 Walking Dead TV series and Z Nation, zombies never die, The Heart Goes Last: A Novel by Margaret Atwood, read by Cassandra Campbell and Mark Deakins, an economic and social collapse, the "Positron Project", what is the point of the premise?, allegory not SF?, an Asimovian word, she doesn't really care about the consequences of science, people who are interested in science, Ted Chiang, what if…, doesn't that mean XYZ?, let her write her books, paranormal romance, Dark Ghost (Dark Saga #28) by Christine Feehan, read by Phil Gigante and Natalie Ross, a bounty hunter, a vampire slayer, a geologist, fairy tales, Two Years Eight Months and Twenty­-Eight Nights by Salman Rushdie, read by Robert G. Slade, history and folklore, "the time of the strangenesses", a djinn­­, 1,001 nights (two years, eight months, and twenty­-eight nights), a Nobel Prize for Literature, a print book, Joy To The Worlds: Mysterious Speculative Fiction For The Holidays, a mix of mystery and speculative fiction and Christmas, Maia Chance, Janine A. Southard, Raven Oak, G. Clemans, upcoming authors, Andy Weir, that's how the young people are reading, get of Tam's lawn, House Of M, Marvel Comics, why is Thor a girl now?, Scarlet Witch can re-write reality, annoying-off people(?), the $1 floppy deals, Free Comic Book Day, The Unbeatable Squirrel Girl is fun and fabulous, her squirrel sidekick, a silver age happy go lucky superhero in our cynical grim age, she's got squirrel blood!, writing comics for kids, Genosha, kids Squirrel Girl cosplaying looks fun, making your own costume, Princess Leia (Marvel Comics/Star Wars), there's something wrong with Princess Leia, Disney is making so much more product than Lucas, Alan Moore and Jacen Burrow's Providence (Avatar comics), Neonomicon, when will the first Providence trade come out, what Moore is doing and saying with Providence, an examination and meditation on H.P. Lovecraft stories, Providence doesn't seem to have a very important plot, Herbert West's equivalent, if you are deeply involved in Lovecraft…, if you don't know Lovecraft can you still enjoy Providence?, the turns!, not merely visually shocking, The Dunwich Horror, a trans-dimensional invisible character, Moore is wrestling with Lovecraft, Watchmen, Alan Moore and Gabriel Andrade's Crossed Plus One Hundred, "124C41+", "Return Of The King", "Glory Road", "A Canticle For Leibowitz", "Tyger, Tyger", "Foundation and Empire", the difference between crossed zombies and regular zombies, the Crossed series, Alan Moore is about thinking deeply about things, evolution, "the big surprise of 2008", bone piles, the change of language, AFAWK, Moore has reconstructed English in the way of A Clockwork Orange or Anathem, zombies as a fear of death, zombies as a fear of loss of individual volition and personality, a fear of Alzheimer's, we don't talk about death, The Walking Dead Volume 12 (hardcover), everybody's infected, no matter what happens you become a zombie, zombies as a non-scary version of momento mori, Brian K. Vaughn and Steve Skroce's We Stand On Guard, the invasion of Canada by the United States, the only time Canada has ever been invaded was by the United States, reading for writers not for artists, the Dark Adventure Radio Theatre series, The H.P. Lovecraft Historical Society, DART The Horror At Red Hook, a straight up adaptation of The Horror At Red Hook by H.P. Lovecraft, DART Dagon: War Of Worlds, Dagon by H.P. Lovecraft, imagine War Of The Worlds not from Space but from beneath, X-COM: UFO DEFENSE, X-COM: Terror From The Deep, aliens at the bottom of the ocean, the Orson Welles style War Of The Worlds, mapping out all of Lovecraft's squiddy watery fears, The Shadow Over Innsmouth, The Call Of Cthulhu, "I love that!", attention to detail, if it says it in the story they take it seriously, The Whisperer In Darkness, Infocom games included props, H.P. Lovecraft The Spirit Of Revision Lovecraft's Letters To Zealia Brown Reed Bishop, David Michelinie and Brett Blevins' The Bozz Chronicles, originally from Epic Comics, a 19th century Sherlock Holmes alien mashup, lots of nudity, The New Mutants artist, Dover Publications, a 200 page trade-paperback for $20, a feel of the new Doctor Who, Madame Vastra, what if Sherlock Holmes was not Sherlock Holmes, Fred Saberhagen's Bezerker story, Fred Saberhagen's Dracula novels, Conan Red Sonja, a lack of attention to details, 1980s sensibilities vs. 20teens sensibilities.
Posted by Jesse Willis
Vision of the Future: Star Wars (The Hand of Thrawn Book II)
By Timothy Zahn; Narrated by Marc Thompson
Publisher: Random House Audio
Publication Date: December 2013
[UNABRIDGED] – 26 hours, 22 minutes
Listen to an excerpt: | MP3 |
Themes:  / Star Wars / New Republic / Thrawn /
Publisher summary:
The Empire's master plan is under way. The New Republic is on the verge of civil war and the rumor that the legendary Admiral Thrawn has returned from the dead is rallying the Imperial forces. Now Luke Skywalker, Han Solo, Princess Leia, and their allies face the challenge of their lives. They must infiltrate a hidden fortress filled with Imperial fanatics, rendezvous with a double-dealing Imperial commander, and journey into enemy territory to learn the identity of those responsible for an act of unthinkable genocide. But most important of all is the truth about Thrawn.
Vision of the Future is 2nd book of The Hand of Thrawn duology. Zahn always does a great job with Star Wars and does not disappoint here. Is the New Republic going to enter a civil war over the atrocities some Bothans helped commit? How is the New Republic going to react to these rumors that Grand Admiral Thrawn is back from the dead? Will Luke manage to save Mara and discover the secrets behind these strange craft being spotted? What or who is The Hand of Thrawn?
So many questions to answer and it's no surprise that this book is kind of long for a Star Wars book. The book keeps up a steady pace and does manage to resolve all the different threads and plot points introduced in Specter of the Past. There are many different threads at work in this book but Zahn manages to juggle them well. At one point I got the feeling that more than half of the threads involved characters trying to recover a copy of the Caamas document in their own ways which felt like a lot. At least they were all good reasons to have some crazy adventures.
All in all I'd say that you can't go wrong with a Zahn Star Wars book but I would definitely start with his Thrawn trilogy (starting with Heir to the Empire) or Allegiance.
Marc Thompson does a great job with impressions of all our favorite characters and the special effects are great too. There was some great use of music during more sensitive moments that helped bring them to a nice crescendo. The pirate's voice sounded just like ones you'd find in the Caribbean – which was interesting, and the Caamas apparently have an island accent. There were a few times I found the sound effects a bit distracting but overall they are awesome.
Posted by Tom Schreck
Specter of the Past: Star Wars (The Hand of Thrawn)
By Timothy Zahn; Read by Marc Thompson
Publisher: Random House Audio
ISBN: 9780804128483
Publication Date: 17 September 2013
[UNABRIDGED] – 14 hours, 31 minutes
Excerpt: | MP3
Themes: / Star Wars / New Republic / Thrawn /
Publisher summary:
Hugo Award-winning author Timothy Zahn makes his triumphant return to the Star Wars universe in this first of an epic new two-volume series in which the New Republic must face its most dangerous enemy yet–a dead Imperial warlord.

The Empire stands at the brink of total collapse. But they have saved their most heinous plan for last. First a plot is hatched that could destroy the New Republic in a bloodbath of genocide and civil war. Then comes the shocking news that Grand Admiral Thrawn–the most cunning and ruthless warlord in history–has apparently returned from the dead to lead the Empire to a long-prophesied victory. Facing incredible odds, Han and Leia begin a desperate race against time to prevent the New Republic from unraveling in the face of two inexplicable threats–one from within and one from without. Meanwhile, Luke teams up with Mara Jade, using the Force to track down a mysterious pirate ship with a crew of clones. Yet, perhaps most dangerous of all, are those who lurk in the shadows, orchestrating a dark plan that will turn the New Republic and the Empire into their playthings.
No one does Star Wars quite like Timothy Zahn. He knows how to play the characters just right and make good use of the different factions in the Star Wars universe to make for an interesting story. Zahn has added the most significant and lasting characters to the series after the movies themselves and is the author who really got people excited about Star Wars novels after his trilogy that starts with Heir to the Empire. Specter of the Past is a great book if you like Star Wars or science fiction, although there is some back history from Zahn's previous trilogy that makes me recommend starting there first. If you've already read that trilogy, you will definitely enjoy this.
Specter of the Past is part of a two-book series from Timothy Zahn that takes place just before the books from the New Jedi Order series which takes place about 20 years after the events of Return of the Jedi. The Empire has pretty much been all but defeated by The New Republic and is only left with a considerably smaller portion of the galaxy to call home. Some in Imperial command are considering proposing a truce with the New Republic while others still want to find a way to regain the power they lost. Those other factions use a secret document from the Emperor's cache on Wayland to polarize parts of the New Republic while promoting a new rallying point for the Empire.
This is back from the more "golden age" of Star Wars before the prequels changed things, so it feels more like it belongs with the original trilogy. Zahn manages to weave an impressive array of factions in this book: The New Republic, The Empire, pirates, smugglers, gamblers, etc. The story keeps up a good pace throughout and keeps things interesting.
My only very minor gripe for this book is actually because it comes from the "golden age" of Star Wars books. There was less coordination between books back then so Zahn is clearly writing with reference to his previous trilogy that happened 10 years before. Characters seemed to just randomly make references in their heads to things from that trilogy or think back to events from those books even though there are something like 10+ books that happen between that trilogy and this novel. I wouldn't comment on it except that animals and event from Wayland and things that happened with Grand Admiral Thrawn seem to come up a lot.
Audio book: As usual, Marc Thompson did a great job with the impersonations of our favorite characters and kept things lively and energetic throughout the book. He was easy to understand and I look forward to Thompson doing more Star Wars books. The usual music and sound effects commonly found in Star Wars audio books were also in there and were as good as I've heard them.
Posted by Tom Schreck
Star Wars: Scoundrels
By Timothy Zahn, Read by Marc Thompson
Publisher: Random House Audio
ISBN: 0345511506
[UNABRIDGED] – 13 Discs, 13 Hours 54 Minutes
Themes: / Star Wars / Heist / Ocean's Eleven / Han Solo /
Publisher Summary:
To make his biggest score, Han's ready to take even bigger risks.

But even he can't do this job solo.

 Han Solo should be basking in his moment of glory. After all, the cocky smuggler and captain of the Millennium Falcon just played a key role in the daring raid that destroyed the Death Star and landed the first serious blow to the Empire in its war against the Rebel Alliance. But after losing the reward his heroics earned him, Han's got nothing to celebrate. Especially since he's deep in debt to the ruthless crime lord Jabba the Hutt. There's a bounty on Han's head—and if he can't cough up the credits, he'll surely pay with his hide. The only thing that can save him is a king's ransom. Or maybe a gangster's fortune? That's what a mysterious stranger is offering in exchange for Han's less-than-legal help with a riskier-than-usual caper. The payoff will be more than enough for Han to settle up with Jabba—and ensure he never has to haggle with the Hutts again.

All he has to do is infiltrate the ultra-fortified stronghold of a Black Sun crime syndicate underboss and crack the galaxy's most notoriously impregnable safe. It sounds like a job for miracle workers . . . or madmen. So Han assembles a gallery of rogues who are a little of both—including his indispensable sidekick Chewbacca and the cunning Lando Calrissian. If anyone can dodge, deceive, and defeat heavily armed thugs, killer droids, and Imperial agents alike—and pull off the heist of the century—it's Solo's scoundrels. But will their crime really pay, or will it cost them the ultimate price?
I have to start out being a bit misleading. Star Wars audiobooks are simply the best – they combine the intimacy of reading a book with the sound effects and music of the movies. Blasters, lightsabers, R2D2 squeals, and the same compositions as the movies! Then they get amazing voice actors who are pitch-perfect when it comes to the voices of the characters we love. That's a pretty big role to fill when books are based on movies since we already know how these people sound and anything different…just wouldn't work.
I have to say Marc Thompson does not let us down. His Lando Calrissian is spot-on even though his Han Solo borders on sounding like Patrick Warburton. You don't realize how close they actually are until you hear it.
There's one scene toward the beginning where Thompson voices 11 characters having a discussion and he doesn't miss a beat. I was astounded, although I had to go back and re-listen because I wasn't paying attention to what was actually being said, it was way too impressive! But I guess I'm getting ahead of myself.
Star Wars: Scoundrels takes us back (or forward since Old Republic is going on right now) to just after the first movie in the Star Wars franchise, episode IV, Star Wars: A New Hope. If you're confused now, it's best to just turn away.
I'm not the most well-read when it comes to Star Wars novels, in fact I've only "read" any of them through audio form. But, I do know that it can be a confusing timeline because there are A LOT of Star Wars books. Where do you even start? Luckily, they provide you with a nice timeline at the front of every book showing a listing of the books and the movies. In this case, Scoundrels can be read as long as you've watched the original movies.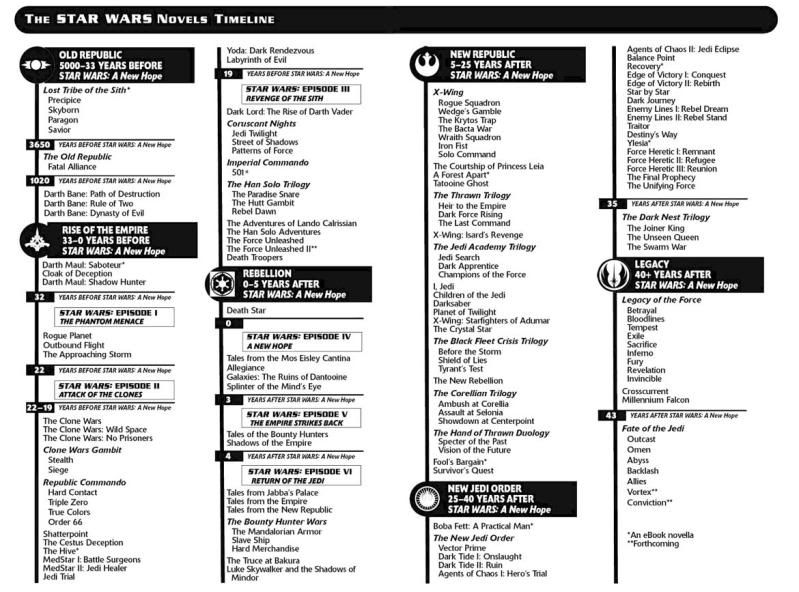 (It looks like this, but I couldn't find one with Scoundrels on it. You'll just have to trust me I guess.)
Another way to put this, if you're human, you can read Scoundrels at any point. It's just filler, taking place in between movies, it doesn't follow any other books, although I've heard it does contain characters from other Han Solo-involved books. Again, I show my lack of actual knowledge. Scoundrels is essentially Ocean's Eleven meets Star Wars. There are even 11 people! Han Solo lost all his reward money and still needs to pay off that darned Jabba the Hutt. He's approached, after a quick nod to the "who shot first" controversy, and gets a team together to get some money.
Of course, it's all but impossible because blah blah blah. The scene mentioned above with the 11-person discussion revolves around this in fact. Like I said, Ocean's Eleven inevitably springs to mind, you can't help it. This comparison's been thrown around a lot and while it's fitting, I think it's a huge detriment to this book. Here's why I said I was being misleading, I've been very positive about this book up to this point, but there was plenty I didn't like. You can't help but think of the comparison, but quickly you start thinking how much better Ocean's Eleven is. At least that was my experience. It really just wasn't that great of a heist. It wasn't terrible, but things just kept getting added on and suddenly the ball starts rolling and I really just didn't care.
Then there's just not a whole lot of Han Solo. He's the person this essentially revolves around, but he doesn't really play a huge part. On the other hand, Lando was really fun to follow for the first time outside of the movies. But he doesn't really do a whole lot in the movies either. This was cool to see his easy-under-pressure "gambler" side.
The final complaint I have, which really isn't a complaint, is that I've found I prefer lightsabers in my Star Wars. In fact, this was a new discovery during this read. Han Solo's great and all, but I really really like jedis and lightsabers I guess. I missed them here. I noted above that Star Wars books have lightsaber sounds, but there wasn't one sound in this audiobook.
Scoundrels is a fun read and the narrator is incredible even, but on the whole I didn't love this book. It was entertaining at times, boring at others, and just didn't live up to expectations. That's not always the book's fault, but it ran a line much too close to Ocean's Eleven that begged for the comparison and missed the mark.
3 out of 5 Stars (Recommended with Reservations)
Note: I have to say this is one of the best covers I've seen whether Star Wars or not. It puts a spell on you so you have to read the book just to hold longer.
Review by Bryce L.
The SFFaudio Podcast #193 – Jesse, Tamahome, and Jenny, talk about audiobooks, the RECENT ARRIVALS and the NEW RELEASES.
Talked about on today's show:
the last new releases episode was in October, Amazing Spider-Man #700 (final) is creepy, Spider-Man writer gets death threats, The World Until Yesterday by Jared Diamond is paleo, Jenny's research paper on music from birdsong and waterfalls, Jon Catler's microtonal Birdhouse album, Unnatural Acts by Kevin J. Anderson (Zombie P.I.), necro-maniac what's that?, the next one has Tam's name all over it, Chicks Kick Butt by Caine and Hughes, butt not ass?, Jenny is not Harriet Klausner, Jenny's term "speed dating books", The Merchant of Dreams by Anne Lyle, the 'skrayling' creature, Area 51 Nightstalkers by Bob Mayer, are we worried about Area 51?, Scoundrels: Star Wars by Timothy Zahn (author of the Star Wars Thrawn Trilogy), sounds like Oceans Eleven, "create suspense through problems not death", Fantastic Imaginings edited by Stefan Rudnicki |OUR POST|, from Guy de Maupassant to Arthur C. Clarke, (22 hours), Fritz Leiber writes science fiction?, and now New Releases, Audible's Rip-Off! project uses famous first lines from stories, which stories were the inspirations?, The Testament of Jessie Lamb by Jane Rogers, Jenny's review from her blog, "don't have sex or you'll die!", Uglies by Scott Westerfeld, Beautiful People by Charles Beaumont |PDF| (Number 12 Looks Just Like You on The Twilight Zone), Liking What You See by Ted Chiang, we are beauty experts, Bloodchild by Octavia Butler (dramatized on 2000X), Kindred by Octavia Butler (audiodrama links here), Jenny brings up The Cleansed apocalyptic audiodrama without our prompting |OUR DISCUSSION WITH THE CREATOR|, be a prepper, we explain Forgotten Realms to Jenny, kinder means children in German, Brilliance is Audible, R.A. Salvatore was a bouncer, The Wheel Of Time by Brandon Sanderson is the last book, A World Out Of Time by Larry Niven (we'll do a READLONG of it with Scott on 1/20/13), sounds like Spider-Man, Great North Road by Peter F. Hamilton, Toby Longworth blogs about narrating Great North Road, like the movie The Hidden, Tam asks for a new world federation of e-media, Neil Gaiman to give up book tours, Tim Ferriss doesn't book tour, there's a ton of new Mike Resnick, his Kirinyaga has African culture
Posted by Tamahome
The SFFaudio Podcast #128 – Scott, Jesse, Tamahome and Luke Burrage talk about recently arrived audiobooks, new releases and more.
Talked about on today's show:
Germline by T.C. McCarthy, Russia vs. United States, Kazakhstan, Blackstone Audio, Hannah, Finland, unapologetic fairy tale imagery, Brothers Grimm, Tama is a sucker for girls who kick ass, Kick-Ass, Bourne Identity, Buffy The Vampire Slayer, Firefly, Full Cast Audio, Tunnel In The Sky by Robert A. Heinlein, interplanetary survival course, "Rod Walker, as Heinlein Intended", Ozzy in Pandora's Star by Peter F. Hamilton, Between Planets, Space Cadet, Perseus by Geraldine, Hercules, Odyssey, Magic Steps by Tamora Pierce, young adult books, The City And The Stars, abstracting the voices of the characters, Jesse enthuses about Full Cast Audio's format, Blackstone Audio, Downward To Earth by Robert Silveberg (it draws from Heart Of Darkness, The Secret Sharer by Robert Silverberg, The Secret Sharer by Joseph Conrad, "the heart of lightness", The Hidden by Jessica Verday, The Hidden (movie) with Kyle MacLachlan, The Hollow, The Haunted, supernatural/romance/YA, "maybe Jenny can take up the lance", Macmillan Audio, How Firm A Foundation by David Weber, On Basilisk Station, "Steve Gibson loves it", George R.R. Martin, the Writing Excuses podcast, I Am Not A Serial Killer by Dan Wells, "it's very tempting to kill everyone", Star Wars: Heir To The Empire by Timothy Zahn (20th Anniversary Edition), Mark Thompson, Splinter Of The Mind's Eye (Luke and Leia get married), the Han Solo novels, Michael A. Stackpole, Star Trek novelizations vs. Star Wars novelizations, Wookipedia, perhaps Lucas was lucky and not talented, Leigh Brackett, Lawrence Kasdan, Stories Of The Golden Age: The Tramp and Shadows From Boothill, Jenny is late, War Of The Worlds by H.G. Wells, The Time Machine by H.G. Wells, The Illustrated Man by Ray Bradbury, The Island Of Doctor Moreau by H.G. Wells, Moxyland by Lauren Beukes, Zoo City, South Africa, China Miéville audiobooks flood audible, Iain M. Banks, Audible Frontiers vs. Audible Ltd., Ready Player One sounds like nostalgia not SF, everybody who wears spandex and legwarmers likes Ready Player One, the Gweek podcast, virtual world, Daemon by Daniel Suarez, Blackstone Audio, The Ringworld Engineers, To Sail Beyond The Sunset by Robert A. Heinlein, Origin Of The Species by Charles Darwin, Recorded Books, Amnesia Moon by Jonathan Lethem, Lawrence Block audiobooks, Hard Case Crime, Getting Off by Jill Emerson (Lawrence Block), AudioGo, Such Men Are Dangerous by Lawrence Block, The Specialists, Coward's Kiss, You Could Call It Murder, Small Town, Paul Kavanagh, Michael Crichton, Eaters Of The Dead, Smoke by Donald E. Westlake, The Comedy Is Finished by Donald E. Westlake, Psycho by Robert Bloch, Stand On Zanzibar by John Brunner, Luke's novel Minding Tomorrow, does Stand On Zanzibar have a cylindrical structure?, long stuff tends to be crappy, Luke is on Audible's platinum plan, Spin by Robert Charles Wilson, Courtney Brown's Science Fiction And Politics podcast, Spellwright by Blake Charlton, spell errors?, "as you well know…", Flashforward by Robert J. Sawyer, The Swarm by Frank Schatzing, Beyond This Horizon by Robert A. Heinlein, tie-in novels, Dan Abnett's Warmhammer 40,000: Horus Heresy series, Black Library, "a fist the size of a baked ham", Jesse's meta review of Luke's meta review of Sword Of The Lichtor by Gene Wolfe, Halting State by Charles Stross, Luke's pick of the week: Monty Python's The Life Of Brian, Jesus' final words on the cross, Jesse's pick of the week: Invincible Ultimate Edition Volume 1 written by Robert Kirkman, Ed Brubaker, Gregg Rucka, Scott's pick of the week: Declare by Tim Powers, On Stranger Tides, is Declare idea fiction?, Kim Philby, Tamahome's pick of the week: The Mote In God's Eye by Larry Niven and Jerry Pournelle.
Posted by Jesse Willis