World of Warcraft: War CrimesBy Christie Golden; Narrated by Scott Brick
Publisher: Simon & Schuster Audio
Publication Date: 6 May 2014
[UNABRIDGED] – 13 hours, 31 minutes
Themes: / fantasy / World of Warcraft /
Publisher summary:
The brutal siege of Orgrimmar is over.

Alliance and Horde forces have stripped Garrosh Hellscream, one of the most reviled figures on Azeroth, of his title as warchief. His thirst for conquest devastated cities, nearly tore the Horde apart, and destroyed countless lives throughout the World of Warcraft.

Now, on the legendary continent of Pandaria, he will stand trial for his transgressions.

Renowned leaders from across the world have gathered to witness this historic event. As the trial unfolds, agents of the bronze dragonflight present shocking visions of Garrosh's atrocities. For many of those in attendance, these glimpses into history force them to relive painful memories and even question their own innocence or guilt. For others, the chilling details stoke the flames of their hatred.

Unbeknownst to anyone, shadowy forces are at work on Azeroth, threatening not only the court's ability to mete out justice…but also the lives of everyone at the trial.
I'm a recovering World of Warcraft addict. I've been clean for about a year since my guild's raids fell apart. I played a good portion of Mists of Pandaria, but didn't finish the last tier or two of raiding. Warcraft has always been one of my favorites games because I loved the big name characters and the lore they've built up. It doesn't always make sense, but it's usually a whole lot of fun. I knew enough background to know all the major players and that Garrosh Hellscream was the expansion boss this go around. I didn't really know any of the details of how it all played out however. I can't speak to how much of this book is in the game.
This book is full of all the major players from both factions, and everyone is angry. I've probably played more Alliance than Horde over the years, but I still like Horde better.  Thrall is probably my favorite character of the series, and I was really annoyed when he stepped down as Warchief. However as an Alliance player, I enjoyed being able to work with him on quests in Cataclysm.
I found myself really not liking many of the Alliance characters in this book. In particular Tyrande Whisperwind. As my main character is a Night Elf, I was pretty disappointed with her. I found myself rooting for Baine Bloodhoof and missing my Tauren druid instead.
I liked the notion of a trial and the involvement of the Bronze Dragons to present key moments in Warcraft lore, not only for the current expansion but back events involving the history of the Orcs.
Overall, I found this book a lot more enjoyable than Vol'jin: Shadows of the Horde. I think this is one that Warcraft players will enjoy, but that probably won't offer much to everyone else.  If the goal of this book was to get the reader to want to play the game, they succeeded. I was already planning on picking up the next expansion and playing again for awhile, but now I'm itching to maybe try to do the raid that serves as background for this, so Mission Accomplished Blizzard.
Scott Brick is a fine narrator, and does accents for the trolls and a few other races.
Review by Rob Zak.
Vol'jin: Shadows of the Horde (World of Warcraft)By Michael A. Stackpole; Read by Scott Brick
Publisher: Simon and Schuster Audio
Publication Date: July 2013
[UNABRIDGED] – 11 hours, 42 minutes
Themes: / world of warcraft / trolls /
Publisher summary:
That night, visions mocked Vol'jin. He found himself in the midst of fighters, each of whom he recognized. He'd gathered them for that final assault on Zalazane, to end his madness and free the Echo Isles for the Darkspears. Each of the combatants took on aspects of a jihui cube, faced to be at their maximum power. Not a fireship among them, but this did not surprise Vol'jin.

He was the fireship, but not yet turned to display his maximum power. This was not a fight, though desperate, in which he would destroy himself. Aided by Bwonsamdi, they would slay Zalazane and reclaim the Echo Isles.

Who be you, this troll, who be having memories of a heroic effort? 
This is my first book by Michael A. Stackpole, who is probably best known for his Star Wars books. From the dedication at the beginning, it sounds like he is/was a WoW player at some point. This is book #12 in the World of Warcraft books. As far as I know/could tell it is unrelated to any of the others. I didn't find myself lost or confused.
As the title would indicate the protagonist of this book is Vol'jin, the Shadow Hunter, leader of the Dark Spears and high general in the Horde.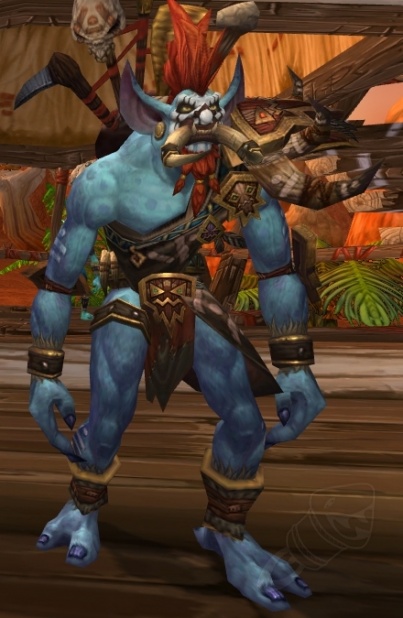 I would say having quested in Pandaria is almost a pre-requisite. The other main character of this book is Chen Stormstout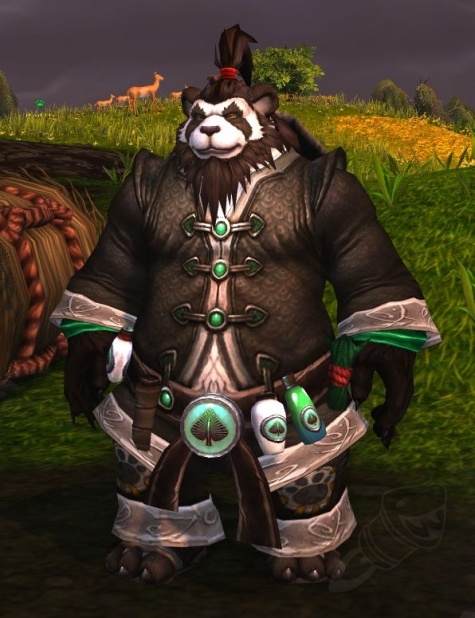 I really enjoyed his questline as I leveled this expansion, so it was nice to get more with him. His niece Li-Li also makes an appearance. I haven't played Horde in awhile, but there looks to be a quest related to this book. Chen finds Vol'jin nearly dead and takes him to the monastery of the Shadow Pan.
The first half of this book is really slow, which is bad considering it's only about 12 hours long. I was really hoping for more action. There is a lot of self-reflection as Vol'jin tries to heal. The second half of the book has a bit more action and was a slightly faster pace. I did end up listening a little longer than yesterday just to finish it up.
The book made me to want to start playing again, which is probably a large part of the point of these books.  However, I would say if it WASN'T about a world/characters I already really like, that it probably would have gotten an even lower rating.
This is the first book I've listened to by Scott Brick. Mr. Brick has a good clear voice. He also does a pretty good Cajun accent for the trolls. My big problem is apart from that everyone sounds the same. The Trolls (both male and female) sounded the same. I couldn't really tell apart the human character from the Panderan either. It could make some conversations very hard to follow unless it was between Vol'jin and a non-troll. That said, I'd probably listen to something read by Mr. Brick again.
My other gripe with the audiobook was my digital copy had music at the end of EVERY chapter. I'd have been fine with it if it was in-between chapters, but I hate when audiobooks have music while the Narrator is reading the book.
Overall this is just a so-so book, 3 stars.
Review by Rob Zak.