The SFFaudio Podcast #319 – Jesse, Julie Davis, Seth, and Maissa continue their journey through The Lord of the Rings by J.R.R. Tolkien with a discussion of Book III "The Treason of Isengard" (aka the first half of The Two Towers).
Talked about on today's show:
Lord of the Rings was published in three volumes instead of six volumes due to paper shortages; surprise, Jesse prefers shorter volumes; Ayn Rand's thick books, and thin books like Anthem; pocket editions of The Hobbit; small books make us feel like giant Alice in Wonder characters; The Two Towers is the shortest volume, though Return of the King is bulked up by appendices; as a first-time reader, Maissa appreciated the quick pacing; Anthony Boucher's review claims the volume makes "inordinate demands" on readers; overwhelming back history; the difference of reading review and reading for pleasure; reading at Shadowfax speed!; "hope is in speed"; the poetry of Tolkien's prose; Anglo-Saxon influence on alliteration in Rohan speech; the beauty of Tolkien's descriptions; Gimli's descriptions of the caves; the illegitimate heirs of Tolkien can't compete with Tolkien's command of language; the Orcs as comic relief; three factions of Orcs set against the three races of runners; Legolas and Gimli working through their differences; evil by definition does not make alliances; Saruman's cloak of many colors as a symbol of evil; the Orcs' lack of coöperation; who is the wandering old man in the hat?; the contrast between the Orc draught and Ent draught, similar to Gandalf's flask of Miruvor in Book II; the persistent symbolism of waters and drinking in this volume; similarities between Rohan and Anglo Saxon culture; linguistic parallels between the speech of the Rohirrim and Old English; "sister-daughter" and different familial relations in Rohan; the emerging importance of Éowyn; the underpopulation of Middle Earth; parallels between the Third Age of Middle Earth and Europe after the "fall" of Rome; Gondor = Rome to some Tolkien scholars; Dan Carlin's Blueprint for Armageddon on World War I; the influence of World War I on Tolkien's writing; flood and trench imagery of Orthanc recalls the devastation of World War I; Middle Earth (and the modern world) is in a time of transition; conversation with Éomer about the persistence of legends; "not we, but those who come after, will make the legends of our time"; people tend not to recognize they're in a time of transition; Jesse deftly defines "Flotsam and Jetsam" for us and ties them into the book's backward-looking and forward-looking symbolism; Tolkien's love of etymology; action like the Ents' storming of Isengard happens off-stage; Agatha Christie style foreshadowing with Longbottom Leaf; we don't really care about Helm's Deep; "Aragorn joined Éomer in the van"; horrible tree puns; Old Forest as the Fangorn of the West; we're pretty sure the Entwives are hanging out there; the Elves are less interesting than Ents because the Elves are too perfect; the Elves talked the Ents into wakefulness; Shadowfax's race of horses can understand the speech of men; the pre-speech age of human beings and Koko the gorilla; the Rangers are the detectives of Middle Earth; Voltaire's Zadie and Poe's C. Auguste Dupin from The Murders in the Rue Morgue; debate about existence of evidence for the Entwines–stay tuned to the next volume!; finding the Entwives = Mission Impossible (cue theme); the growth (in many ways) of Merry and Pippin; Gandalf's foresight in allowing them to join the Fellowship; "they are the pebbles that began the avalanche of the Ents' rising"; the three runners sped 220 kilometers in four days; it proved fortuitous that Pippin found the Palantir; the Palantir is FaceTime with Sauron; Merry and Pippin were key to Boromir's redemption; return of the black swans–and the eagle!; Ariel in The Tempest by Shakespeare does all the work for Prospero, just like the eagles; Gandalf actually performs magic in "The Voice of Saruman" chapter; the voice in Dune; Gandalf takes over the council of wizards; the blue wizards aren't present because they're too "swear-y"; the recurring importance of choice; Tolkien is always on the side of free will; Aragorn's decision not to follow Frodo; Palantir are the "seven stones" of Gondor's flag; the Palantir is neither good nor evil; Palantir symbolizes communication of superpowers between the world wars, and the iconic red phone; The Victorian Internet by Tom Standee: the telegraph is the best thing since sliced bread; the lazy visual shortcuts that the movie takes with the Palantir and with Saruman's influence on Théoden; The Man Who Never Was; meanwhile, Sam and Frodo are slogging through; the inevitable breaking of the Fellowship; the four elements in Gandalf's death and resurrection; more Lovecraftian weirdness in the bowels of Middle Earth; Gandalf has changed; Norse worm gnawing at the roots of the World Tree; Treebeard as shepherd of the trees; "boom, boom, dahrar!; Net names tell the whole story of things; Freebeard's bed isn't for sleeping; Shakespeare's disappointment at Shakespeare's sleight-of-hand with the trees of Birnam Wood not actually coming to life in Macbeth; "fear not, till Birnam wood do come to Dunsinane" almost perfectly echoed in The Two Towers; nobody does Elves better than Tolkien; the joy Tolkien must have had writing about trees.
"Aragorn and Legolas went now with Eomer in the van."
By Seth Wilson
Going Solo
By Roald Dahl; Narrated by Dan Stevens
Publisher: Penguin Audio
Publication Date: 26 September 2013
[UNABRIDGED] – 4 hours, 38 minutes
Themes: / memoir / World War II / RAF / colonialism / growing up / snakes /
Publisher summary:
Going Solo is the action-packed tale of Roald Dahl's exploits as a World War II pilot. Learn all about his encounters with the enemy, his worldwide travels, the life-threatening injuries he sustained in a plane accident, and the rest of his sometimes bizarre, often unnerving, and always colorful adventures. Told with the same irresistible appeal that has made Roald Dahl one of the world's best-loved writers, Going Solo brings you directly into the action and into the mind of this fascinating man.
Going Solo is the gripping autobiographical follow-up to Roald Dahl's Boy. Whereas Boy tells the story of Dahl's childhood, this speaks of his time in Africa before the war began, and relays his participation in the RAF. Whereas Boy was an odd concoction of heartwarming sadness that kept me smiling throughout its duration, Going Solo is less amusing and more riveting as we, through Dahl's eyes, witnessed death.
Dahl doesn't squander his words. He draws vivid images with powerful verbs and bright adjectives. His sparing prose paints these vignettes so true that we squint for the dust, smell the oily flames, and feel the wind pressing us back.
Dan Stevens narrates this wonderful production from Penguin Audio. Stevens, as he did in Boy, becomes the voice of Roald Dahl. Both this production and the reading of Dan Stevens are beyond improvement. Thank you Penguin Audio, and thank you Dan Stevens.
I'm left feeling a profound sense of wonder. I was constantly forced to remind myself "this is true," "this is not fiction." We really do see an African lion carry off the cook's wife. We really do see the illogical and stubborn face of war. I could go on and on. I could try to tell you how much this book deserves your attention. I could try and relate all the wondrous encounters with snakes or Dahl's solitary conversation with giraffes. But at this point, you have a good sense as to whether you will or won't read this. I hope you do. I hope you start with Boy and continue with Going Solo.
This may not be as incredible as Boy, but I don't believe it's meant to be. Our childhood is a time separated from adulthood, and should retain a special magic free of weighty responsibility. Oh! And you don't need me to point out the obvious metaphor in "Going Solo" as it pertains to both flight and life, right? Good, I knew you caught that.
Posted by Casey Hampton.
The SFFaudio Podcast #084 – Jesse talks recent arrivals and new releases with Paul W. Campbell, Luke Burrage, Rick Jackson and Gregg Margarite
WATCH OUT FOR THE FALSE ENDINGS (mostly attributable to Luke)
Talked about on today's show:
Role playing game names, "Tom And His Friends" Dungeons And Dragons comedy (aka Farador), SFFaudio Challenge #2, Rebels Of The Red Planet by Charles L. Fontenay, Mars, martian rebels, Podiobooks.com, Cossmass Productions, Mark Douglas Nelson, Dan Simmons' Hyperion, the least interesting vs. the least fitting, I'm Dreaming Of A Black Christmas by Lewis Black, Christmas = Fantasy?, The Daily Show with Jon Stewart, Suck It, Wonder Woman |READ OUR REVIEW|, Star Wars, what makes Star Wars Science Fiction is a sense-of-wonder?, Star Trek, METAtropolis: Cascadia, Star Trek The Next Generation narrators vs. Battlestar Galactica narrators, Wil Wheaton as a narrator, Dove Audio, Levar Burton as a narrator, liking Star Trek for all the wrong reasons, Theodore Sturgeon, Harlan Ellison, assimilation is a neat idea, "who the hell are the Borg?", The Unincorporated Man by Dani Kollin and Eytan Kollin |READ OUR REVIEW|, The Unincorporated War, "is there true Science Fiction to be found in sequels?", The Hunger Games by Suzanne Collins, Peter F. Hamilton's The Void Trilogy, Blackout by Connie Willis, The Doomsday Book by Connie Willis |READ OUR REVIEW|, Firewatch, dragging the story out, Whiteout by Connie Willis, World War II, Katherine Kellgren as a narrator, Jenny Sterlin as a narrator, Recorded Books, Brilliance Audio, Audible.com, Amazon.com, Earth Abides by George R. Stewart, Deep Six by Jack McDevitt, introductions to audiobooks, the introduction as an apology for the book, Slaughterhouse Five by Kurt Vonnegut Jr. |READ OUR REVIEW|, The Stainless Steel Rat by Harry Harrison, The Time Traders by Andre Norton, H.G. Wells, The First Men In The Moon, Around The Moon, Jules Verne, continuing characters rather than continuing series, Sherlock Holmes, Khyber Pass vs. Reichenbach Falls, Sir Arthur Conan Doyle, The Valley Of Fear, The Hound Of The Baskervilles, Lois McMaster Bujold's Miles Vorkosigan series, does reading a series defeat the hope of being surprised? Priest Kings Of Gor by John Norman, A Game Of Thrones by George R.R. Martin |READ OUR REVIEW|, fun vs. funny, crime and adventure vs. ideas, A Princess Of Mars by Edgar Rice Burroughs, Bill The Galactic Hero, Slippery Jim DiGriz, The Stainless Steel Rat's Revenge, This Immortal by Roger Zelazny, The Speed Of Dark by Elizabeth Moon, Books On Tape, Grover Gardner, Gregg has a grumbly voice, The Space Dog Podcast, The Science Fiction Oral History Association, Gordon Dickson, Isaac Asimov, Arthur C. Clarke, Cordwainer Smith, Scott Westerfeld, Ben Bova, Luke's next podcast project, NaNoWriMo, what podcast schedule should you have?, Robert Silverberg AUDIOBOOKS are coming from Wonder Audio, the old stuff vs. the new stuff, Jay Snyder as a narrator, a Science Fiction story that has little SF content, autism, Charly, Understand by Ted Chiang, Flowers For Algernon, interacting with the world, I Am Not A Serial Killer by Dan Wells, psychopathy, an unreliable first person narrator, young Dexter, Asperger syndrome, The Curious Incident Of The Dog In The Night-Time by Mark Haddon, a detached (but reliable) narrator, the two audiobook versions of The Curious Incident Of The Dog In The Night-Time, Quicksilver by Neal Stephenson, the Baroque Cycle, Anathem, John Allen Nelson as a narrator, Phat Fiction, The Way Of Kings by Brandon Sanderson, The Towers Of Midnight by Robert Jordan and Brandon Sanderson, walking around central park as a retired person as my new career, who listens to audiobooks?, working the unworked niche, they really like Gregg's voice!, no RSS-feed = soooo sad, Sam This Is You by Murray Leinster, Black Amazon Of Mars by Leigh Brackett, The World That Couldn't Be Clifford D. Simak, The Idiot by John Kendrick Bangs, The Hate Disease, Asteroid Of Fear, Industrial Revolution by Poul Anderson, A Horse's Tale by Mark Twain, anthropomorphic fiction, A Dog's Tale by Mark Twain, Gregg has bugles lying around, Jonathan Swift, Gulliver's Travels, Thought You Were Dead by Terry Griggs, Iambik Audio's upcoming Science Fiction audiobooks, LibriVox, working with small press publishers, Extract From Captain Stormfield's Visit To Heaven, Blackstone Audio, The Many Colored Land by Julian May, Bernadette Dunne as a narrator, time travel, The Pliocene Epoch, sequel and prequel fatigue, flooding the Mediterranean, Blake's 7: Zen : Escape Veloctiy is a Science Fictiony audio drama series, Firesign Theatre? (he means Seeing Ear Theatre), The Moon Moth based on the story by Jack Vance, Don't Crush That Dwarf, Hand Me The Pliers, Mistborn, Terminal World by Alastair Reynolds, Lord Of Light by Roger Zelazny, Finch by Jeff Vandermere, Flood by Stephen Baxter, thematic exploration vs. bad writing, GoodReads.com, Eifelheim by Michael Flynn |READ OUR REVIEW|, Luke's books should be audiobooks, The Fifth Annual SFFaudio Challenge, all the cool Science Fiction ideas in Luke's books, Gregg Margarite is a secret author with a secret pseudonym, Eric Arthur Blair, the publishing industry headache is intolerable to many, good writers + savvy marketers = sales success?, Redbelt, David Mamet, drowning in an ocean full of crap, the Jesse Willis bump?, catering to the listeners (or readers) desires vs. publishers desires, Pogoplug, Out Of The Dark by David Weber, artificial robots vs. natural robots, What Technology Wants by Kevin Kelly, art and techne, does evolution have goals?, the Cool Tools blog, eyes vs. I, natural selection, zero-point energy, the Cat in Red Dwarf was pulled to the fish dispensing vending machine, if you won't give me eyes at least give me bilateral symmetry, goals vs. patterns or positions, starfish vs. Inuit, technology is a function of evolution, Luke re-writes The War Of The Worlds in under 20 minutes, red weed and green mist, stomach-less martians, "the final final part" and the musical version, flipping over the narrative is fun, Ender's Game vs. Ender's Shadow, what do the martians have against doors?, keeping the martian cannon canon, The Dragon With The Girl Tattoo by Adam Roberts.
Posted by Jesse Willis
Slaughterhouse-Five
By Kurt Vonnegut; Read by Ethan Hawke
5 CDs – 6 hours – [UNABRIDGED]
Publisher: Blackstone Audio
Published: 2009
ISBN: 9781433269691
Themes: / Science Fiction (or maybe not) / World War II / Time Travel / War / Aliens / Mind /
And Lot's wife, of course, was told not to look back where all those people and their homes had been. But she did look back, and I love her for that, because it was so human.
So she was turned to a pillar of salt. So it goes.
—Kurt Vonnegut, Slaughterhouse Five
During World War II, author Kurt Vonnegut was taken prisoner by the Germans and held captive in the city of Dresden, which was later reduced to flaming rubble during a harrowing fire-bombing by American forces. According to Vonnegut, the city was a gorgeous center of art, architecture, and fine civilian life; its value as a military target was negligible. "What I've said about the firebombing of Dresden is that not one person got out of a concentration camp a microsecond earlier, not one German deserted his defensive position a microsecond earlier," Vonnegut said.
Somewhere between 25,000 and 120,000 civilians (the upper figure is an early estimate, which has since been revised downward to 25,000-40,000) were killed in the inferno of incendiary and high explosive bombs. As such, Dresden remains a controversial, dark chapter of America's involvement in the war.
Slaughterhouse-Five is Vonnegut's look back on this dreadful event. It's not a traditional biography, but a modified account of his own experiences as seen through the eyes of Billy Pilgrim, a tall, awkward, disconnected dreamer who is drafted into the army and thrust into combat. Pilgrim is a pathetic soul with the appearance of a "filthy flamingo," involved in tragic events beyond his control.
Captured during the Battle of the Bulge, Pilgrim and 100 other soldiers are shipped to Dresden to serve as prison-labor. At night they sleep in a storage-cave beneath a slaughterhouse amidst the butchered carcasses of animals, and it's this arrangement that allows them to survive the attack. After the firebombing, they emerge the next morning to find the once-beautiful Dresden so utterly destroyed that it resembles the surface of the moon.
A part of me feels guilty for reviewing Kurt Vonnegut's Slaughterhouse-Five on a science fiction/fantasy Web site. The connections of this classic anti-war novel to the science fiction genre are tenuous, but it attains this designation (in some circles) due to the presence of the Tralfamadorians, a race of aliens that capture Pilgrim and bring him back to their planet for examination. During his months on Tralfamadore, Pilgrim is placed in a sort of zoo, his body and mind laid bare to the curious aliens.
The Tralfamadorians may be simply the imagination of an unwell, traumatized mind. Pilgrim is emotionally unbalanced, suffers a head injury after the war, and reads voraciously of the novels of science fiction writer Kilgore Trout, one of whose novels concerns an alien abduction that sounds suspiciously like Pilgrim's own experiences on Trafalmadore. But the Tralfamadorians—real or not—allow Vonnegut to explore the concept of time and our place in it, which is the larger theme of the novel. The Tralfamadorians can see in four dimensions and have no concept of time; life just is, and human existence is a series of events and happenings with no beginnings and ends. Events simply occur; wars are fought, we are powerless to stop them and it's ridiculous to think we can. Free will is a farce.
Pilgrim's time among the Tralfamadorians allows him to experience his life in this fourth dimension, moving his mind back and forth to the past and future, seemingly at will. He is able to see his own death, and relive events from his childhood, his marriage, and his career as an optometrist. But Pilgrim's wandering, time-traveling mind returns again and again to the terrible events of Dresden, an experience so powerful that his mind is unable to make sense of it. It just is, and all he can do with the rest of life is to try and look upon the good times in his life, the moments of joy, and not linger too long over the blackened, shrunken bodies, or a fellow American and friend executed for salvaging a teapot from the ruins.
Actor Ethan Hawke (of Dead Poets Society and Hamlet fame) serves as the narrator and does a nice job reading with an understated, dispassionate voice that perfectly fits the tone of the novel. This Blackstone Audio production also includes an unexpected and enlightening 10-minute interview with Vonnegut on the final disc. Here Vonnegut reveals that Pilgrim's character was based on a real person, Edward Crone, an American who died in Dresden. "He just didn't understand the war at all, what was going on, and of course there was nothing to understand—he was right," Vonnegut says.
Posted by Brian Murphy
Fatherland
Full cast audio drama in five parts
Based on the novel by Robert Harris
Adapted by John Dryden
Monday, Dec. 15  through Friday, Dec. 19
9:30AM, 8:30PM & 1:30AM GMT
The year is 1964, and it's a week before Hitler's 75th birthday. Nazi Germany won the Second World War, Churchill is living in exile in Canada, Joseph Kennedy is President of the United States, and King Edward and Queen Wallis are puppet monarchs of the United Kingdom. In this dimension, history took a very different turn in 1942 to the one we are familiar with.

If you enjoy alternate histories be sure to check out this audio drama adaptation of Robert Harris's novel set in an imaginary post-war Germany. In the story, Berlin cop Xavier March begins to uncover a terrible secret at the heart of the totalitarian state. See, nazis…they really needed to lighten up a bit, but they didn't and they certainly don't in this chilling story. Fatherland stars Anton Lesser, Peter Ellis and Andrew Sachs, is very well produced and gets a solid recommendation from yours truly.
Remember that all BBC7 programs stay online for six days so if you miss one just check the schedule.
Posted by RC of Radio Tales of the Strange & Fantastic
Slipstream
Full cast audio drama
Written by Simon Bovey
Directed by Marc Beeby
5 episodes
Begins on Monday, November 24
Episodes air daily at 6PM and 12AM GMT
March 1945 and the Allies' victory in Europe is a forgone conclusion. But then over a hundred RAF bombers are shot down in one night by a shimmering aircraft. Is this a new terror weapon? One that could turn the tide of war back in the Germans' favour?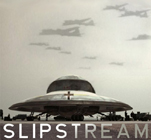 I enjoyed Slipstream. I've read other perhaps more original war themed science fiction stories, yet this one, in this case a cleverly conceived audio play, still sticks with me. Probably because it manages to elevate a fairly stock "secret weapons of the Luftwaffe" idea a step or two further with…sheer oomph. Slipstream is ballsy, it takes chances and the performances are good, particularly "Barton", the mission team leader, the kind of character that you "love to hate". Really nice production as well, rounding Slipstream out to a solid three out of four stars for me. Maybe three and a half if I'm feeling generous. See what you think.
Out of the Silent Planet
Written by C. S. Lewis
Read by Alex Jennings
Unabridged – 12 episodes
Begins on Monday, November 24
Episodes air daily at 6:30PM and 12:30AM GMT
Out of the Silent Planet is the first novel of C. S. Lewis' highly regarded "Space Trilogy" (followed by a hands down classic, Perelandra, and the concluding book of the series, That Hideous Strength). It's basically an old fashioned adventure story that becomes a strange kind of interplanetary epic. One thing to note to first timers, this isn't rockets, robots and ray guns material. These novels are much weirder, more allegorical, more spiritual and bizarrely alien, revealing the real history and truth behind what we humans think we know about the history of the solar system (and of the workings of the cosmos at large).  Good gooey stuff, and Out of the Silent Planet whets the appetite…for goo.
Remember that all BBC7 programs stay online for six days after they air. To catch up on the 7th Dimension selections, just keep an eye on the schedule here.
Posted by RC of RTSF