The SFFaudio Podcast #322 – Jesse and Jenny talk about new audiobook releases and recent audiobook arrivals.
Talked about on today's show:
many sins, paperbooks, The Architect Of Aeons by John C. Wright, Tor Books, The Voyage Of The Basilisk by Marie Brennan, beautiful illustrations and blue text, cover art, a bias against bad art, the way kids talk about book covers, fonts and graphic design, stock photos, don't mix serif'd fonts, use classic art in the public domain, don't muddy it up, Graysun Press Class M Exile by Raven Oak, Star Trek, Self Made Hero, I.N.J. Culbard, The Shadow Out Of Time, The Case Of Charles Dexter Ward, The Dream Quest Of Unknown Kadath, the difficulty of promotion for small press publishers, Horror!, The Scarlet Gospels by Clive Barker, John Lee, Macmillan Audio, Pinhead, Hellraiser, random bloody body horror, The Midnight Meat Train, Bradley Cooper, the way Clive Barker's stuff works, Audio Realms, Limbus, Inc. Book 2, a shared world anthology by Jonathan Maberry, Joe R. Lansdale, Gary A. Braunbeck, Joe McKinney, Harry Shannon edited by Brett J. Talley, space for creativity, David Stifel's narration of The Monster Men by Edgar Rice Burroughs, The Island Of Doctor Moreau meets Frankenstein done Burroughs style, The Man Without A Soul, David Stifel knows everything about Edgar Rice Burroughs, Jurassic Park by Michael Crichton, read by Scott Brick, Mad Max: Fury Road, 3D is a gimmick, Vampire Horror! by M.R. James, John Polidori, F. Marion Crawford, Anthony Head, M.R. James is the country churchyard ghost story guy, John Polidori was Byron's Doctor, Mary Shelley won the contest, The Vampyre by John Polidori, Lord Ruthven is kind of based on Lord Byron, an autobiographical fantasy horror, music!, all the good D words, Survivors by Terry Nation, Doctor Who, Blake's 7, who wrote House, M.D.?, writing credit in the UK, a familiar premise, the original TV series and the remake, The Walking Dead, all the fun stuff we like about post-apocalyptic storytelling, simultaneous existence, The Death Of Grass by John Christopher, A History Of The World In Six Glasses by Tom Standage, our dependence on grasses, The Road, canned food isn't a long term plan, Station Eleven by Emily St. John Mandel, deer in the woods, the high price put on poaching, the other solution is cannibalism (also not very sustainable), The Water Knife by Paolo Bacigalupi, cutting water, this is already how things are, the atomic bomb scenarios are played out, the water problem, the new dust bowl, North Carolina and South Carolina, Seattle and Vancouver, Dr. Bloodmoney by Philip K. Dick, read by Phil Gigante, a comic version of Doctor Strangelove, Marissa Vu, Paul Weimer, The Gold Coast by Kim Stanley Robinson, Pacific Edge by Kim Stanley Robinson, Luke Burrage's reviews of the Orange County books, Find Me by Laura van den Berg, silver blisters?, Guy de Maupassant style, The End Has Come edited by Hugh Howey and John Joseph Adams, Carrie Vaughn, Megan Arkenberg, Will McIntosh, Scott Sigler, Sarah Langan, Chris Avellone, Seanan McGuire, Leife Shallcross, Ben H. Winters, David Wellington, Annie Bellet, Tananarive Due, Robin Wasserman, Jamie Ford, Elizabeth Bear, Jonathan Maberry, Charlie Jane Anders, Jake Kerr, Ken Liu, Mira Grant, Hugh Howey, Nancy Kress, Margaret Atwood's serial, Science Fiction in Space and the Desert, Seveneves by Neal Stephenson, read by Mary Robinette Kowal and Will Damron, very sciencey, too many Jesses, Rob's commute, Nova by Margaret Fortune, read by Jorjeana Marie, a human bomb, Imposter by Philip K. Dick, The Fold by Peter Clines, read by Ray Porter, another Philip K. Dick story called Prominent Author, a joke story, 14 by Peter Clines, Expanded Universe, Vol. 1 by Robert A. Heinlein, read by Bronson Pinchot, Blackstone Audio, Robert A. Heinlein is a weird idea man, Nemesis Games by James S.A. Corey, Hachette Audio, Sword & Laser, The Darkling Child (The Defenders of Shannara) by Terry Brooks, read by Simon Vance, Casino Royale by Ian Fleming, larger than life voices, The Red Room by H.G. Wells, the accents, BBC audio dramas of James Bond books, the David Niven Casino Royale, The Brenda & Effie Mysteries: Brenda Has Risen From the Grave! (4), Bafflegab, Darwin's Watch: The Science of Discworld III: A Novel by Terry Pratchett, Ian Stewart and Jack Cohen, read by Michael Fenton Stevens and Stephen Briggs, Uprooted by Naomi Novik, read by Julia Emelin, The Invasion of the Tearling by Erika Johansen, read by Davina Porter, Sarah Monette's The Goblin Emperor, coming of age in a fantasy world, librarians recommend!
Posted by Jesse Willis
Dangerous Women: Stories
Edited by George R. R. Martin and Gardner Dozois
Narrated by Scott Brick, Jonathan Frakes, Janis Ian, Stana Katic, Lee Meriwether, Emily Rankin, Harriet Walter, Jake Weber
Publisher: Random House Audio
Publication Date: 3 December 2013[UNABRIDGED] – 32 hours, 49 minutes
Listen to an excerpt: | MP3 |
Themes: / short stories / fantasy / women /
Publisher summary:
All new and original to this volume, the 21 stories in Dangerous Women include work by twelve New York Times bestsellers, and seven stories set in the authors' bestselling continuities—including a new "Outlander" story by Diana Gabaldon, a  tale of Harry Dresden's world by Jim Butcher, a story from Lev Grossman set in the world of The Magicians, and a 35,000-word novella by George R. R. Martin about the Dance of the Dragons, the vast civil war that tore Westeros apart nearly two centuries before the events of A Game of Thrones.

Also included are original stories of dangerous women–heroines and villains alike–by Brandon Sanderson, Joe Abercrombie, Sherilynn Kenyon, Lawrence Block, Carrie Vaughn,  S. M. Stirling, Sharon Kay Penman, and many others.
 
Writes Gardner Dozois in his Introduction, "Here you'll find no hapless victims who stand by whimpering in dread while the male hero fights the monster or clashes swords with the villain, and if you want to tie these women to the railroad tracks, you'll find you have a real fight on your hands.  Instead, you will find sword-wielding women warriors, intrepid women fighter pilots and far-ranging spacewomen, deadly female serial killers, formidable female superheroes, sly and seductive femmes fatale, female wizards, hard-living Bad Girls, female bandits and rebels, embattled survivors in Post-Apocalyptic futures, female Private Investigators, stern female hanging judges, haughty queens who rule nations and whose jealousies and ambitions send thousands to grisly deaths, daring dragonriders, and many more."

Stories and Narrators (in order of appearance):
"Some Desperado" by Joe Abercrombie; Read by Stana Katic
"My Heart Is Either Broken" by Megan Abbott; Read by Jake Weber
"Nora's Song" by Cecelia Holland; Read by Harriet Walter
"The Hands That Are Not There" by Melinda Snodgrass; Read by Jonathan Frakes
"Bombshells" by Jim Butcher; Read by Emily Rankin
"Raisa Stepanova" by Carrie Vaughn; Read by Inna Korobkina
"Wrestling Jesus" by Joe R. Lansdale; Read by Scott Brick
"Neighbors" by Megan Lindholm; Read by Lee Meriwether
"I Know How to Pick 'Em" by Lawrence Block; Read by Jake Weber
"Shadows for Silence in the Forests of Hell" by Brandon Sanderson; Read by Claudia Black
"A Queen in Exile" by Sharon Kay Penman; Read by Harriet Walter
"The Girl in the Mirror" by Lev Grossman; Read by Sophie Turner
"Second Arabesque, Very Slowly" by Nancy Kress; Read by Janis Ian
"City Lazarus" by Diana Rowland; Read by Scott Brick
"Virgins" by Diana Gabaldon; Read by Allan Scott-Douglas
"Pronouncing Doom" by S.M. Stirling; Read by Stana Katic
"Name the Beast" by Sam Sykes; Read by Claudia Black
"Caregivers" by Pat Cadigan; Read by Janis Ian
"Lies My Mother Told Me" by Caroline Spector; Read by Maggi-Meg Reed
"Hell Hath No Fury" by Sherilynn Kenyon; Read by Jenna Lamia
"The Princess and the Queen" by George R. R. Martin; Read by Iain Glen
It took me a really long time to make it through this book, even with skipping stories, and that was a big sign that it wasn't working for me. I love and read a lot of anthologies, and Dangerous Women was odd in that it only paid lip service to the theme. Most of these stories had nothing to do with women, dangerous or otherwise, instead focusing on men talking about women. Overall, while I was disappointed in this anthology, and would not recommend it, here are my spoiler thoughts on some of the best and worst individual stories (scroll to the end for a link to more!):
"The Hands That Are Not There" by Melinda Snodgrass
Jonathan Frakes from Star Trek: the Next Generation is the narrator!!! Fortune 500? Strip club? OK, I'm missing the dangerous women portion of this story at the beginning, and am a little confused overall. The main character doesn't seem to have a great opinion of women in general. Suppose that's not surprising considering this takes place during a bachelor party. "Sassy little buttocks"? I giggled when he shouted "blackout'. Genetic manipulation? What am I listening to?
Holy. Hell.
Aside from the novelty of the narrator, this was just bad. The characterization of women left a bad taste in my mouth. The prose was an unfortunate shade of purple. The plot twist was silly. So. Bad.
"Bombshells" by Jim Butcher – A Harry Dresden story
I've never read any of the Dresden books, although I'm vaguely familiar with the story, and this was a sorely needed palette cleanser after the last story. Except for the leg-shaving bit. Wut? That came across as trying a bit too hard. Bit more telling than showing than is to my taste. And hearing the phrase 'soul gaze' spoken out loud just pointed out how silly it is. Holy infodump on how magic works, but overall both the narrator and writing was A+.
"Raisa Stepanova" by Carrie Vaughn
Eeeeeee! Night witches! I love female pilots!
The writing is concise and easy to follow, but full of effective details that really conveyed the feeling of a fire fight. The plot was just heartbreaking. And a lovely relationship between siblings is the focus, rather than a romantic one. Such a nice change! This was an excellent portrayal of female non-competitive friendship. So good. One of the highlights of the anthology.
Narrator had a distinctive, lovely voice.
"I Know How to Pick 'Em" by Lawrence Block
Noir up the wazoo! This was a man's man kind of a story, I guess. Wow. I had to skip this after he started fantasizing about beating the woman he was with. He had so much hate for women. I felt a little sick just listening.
Narrator has great, gritty voice.
"Shadows For Silence in the Forests of Hell" by Brandon Sanderson
This was a great story. Silence was amazing, and the world had just enough detail for you to believe and fill in the rest of the blanks. Her background as a bounty hunter was inventive, and I loved seeing the people people who crossed her get their eventual comeuppance.
Narrator had just enough weariness in her voice to be pleasing and appropriate to the story.
"The Girl in the Mirror" by Lev Grossman – A Magicians story
Fabulous characterization of mischievous girls at a magical school. Their talk is real, and the details are well delineated. Think Harry Potter but darker and meaner. Adorable short story. Just lovely.
As an added bonus, Sophie Turner, who plays Sansa Stark on Games of Thrones, was the narrator. She hit the perfect tone, and I would definitely listen to her narration again.
"Second Arabesque, Very Slowly" by Nancy Kress
This was a very quiet, intense, and bleak story. The women are essentially kept for breeding in a post-apocalyptic setting, but during a young girl's 'budding' ceremony, one woman voices her desire to be more. The narrator is the nurse, in charge of the health of the other women. There's an undertone of packs and the urban forest in this story, like I was waiting for them to turn into werewolves. Women have dressed codes to avoid tempting men, but are somewhat in charge of deciding who they have sex with. The group finds a TV and get it to work. They watch a ballet. Now one of the beta males wants to learn how to dance to entertain the pack. They find a moment of beauty, but lose it just as quickly.
The narrator has an understated style that worked really well for this.
"Pronouncing Doom" by S.M. Stirling – An Emberverse story
This was the most unpleasant part of this whole experience.
At first I was interested, as there was a main character traveling with a baby and some practical discussion of how life with children after the apocalypse works. There were disabled characters, and the women seemed to have some autonomy in the society.
However, the story then turned into a rape trial. The victim recounts escalating abuse from one man, and how the other women blamed her for his actions. Then she describes his violent sexual assault of her, and I turned it off. I had no motivation to finish this story.
The narrator was very pleasant, and her deadpan accounting of the assault was chilling.
"Caretakers" by Pat Cadigan
It starts out with an innocent question about female serial killers. These two sisters live together and while one is obsessed with Red Dawn (Go Wolverines!) the other loves to watch shows about serial killers. There was a lot of realistic characterization driving the story, and rising tension as you begin to wonder exactly how much the sister likes serial killers.
Narrator did a fantastic job, fading back to let the story stand on its strengths.
"Lies My Mother Told Me" by Caroline Spector – A Wild Cards story
I felt a little behind by the abrupt entrance of the first scene, but loved the discussion of prettiness in relation to society. Parades and zombies and consumerism. Mothers and daughters and self-esteem. Fat and bubbles as defense. The villain was such a dick, and such a stereotype of gamer dudes. Overall amazing!
Fantastic narrator.
"The Princess and the Queen" by George R.R. Martin – A Song of Ice and Fire story
Finally. this is the whole reason I was interested in the first place. I've read a couple of the ASOIAF books, so I was interested in what Martin would do with two super-powerful women. Not much, it turns out.
Sooooo – everyone in Westeros has always been terrible and power-hungry? OK then. First Night rites? Really? Ahhhh I am so bored. Never has anything with dragons in it bored me as much as this has. It's about queens, yes, but it's still the men who do almost everything.
Good narrator, though.
Sarah reviewed each and every story, which you can see on her GoodReads review.
Posted by Sarah R.
The SFFaudio Podcast #058 – Jesse and Scott talk with John DeNardo from SFSignal.com about Science Fiction books, audiobooks, TV, movies and comics.
Talked about on today's show:
SFSignal.com, Charles Tan (of the Bibliophile Stalker), books vs. movies, Blade Runner, SFSignal reviews audiobooks, the Warhammer 40K series, Infinivox, Aliens Rule edited by Allan Kaster, James Swallow, the Blake's 7 audio dramas, Black Library, Dresden Files, Jim Butcher, WWW: Wake by Robert J. Sawyer |READ OUR REVIEW|, Mike Resnick's Starship series, Orson Scott Card, Theodore Sturgeon, Alastair Reynolds, Hard SF, Pandora's Star and Judas Unchained by Peter F. Hamilton, Consider Phlebas by Iain M. Banks, The Space Opera Renaissance edited by David G. Hartwell and Kathryn Cramer, The New Space Opera 2 edited by Gardner Dozois and Jonathan Strahan, Isaac Asimov, Martin H. Greenberg, The Science Fiction Hall Of Fame – Volume One, Terminal World by Alastair Reynolds, Tantor Media, steampunk, airships, Deep Navigation by Alastair Reynolds, NESFA Press, Subterranean Press, Phases Of The Moon by Robert Silverberg, "Book Cover Smackdown," Ender's Game by Orson Scott Card, Gentlemen Of The Road by Michael Chabon, interior magazine art, The Lifecycle Of Software Objects by Ted Chiang, The Merchant And The Alchemist's Gate by Ted Chiang, The Story Of Your Life by Ted Chiang, reviewing Science Fiction books, PC Gamer, the philosophy of reviewing, The Turn Of The Screw by Henry James, Star Trek, Doctor Who, deus ex machina, social Science Fiction, Fringe, Eureka, Paul Bishop, Bish's Beat, Flashforward, Robert J. Sawyer's episode, Luke Burrage, iO9: Good Character Development Includes The All-Important "F*@% Yeah" Moment, Terry Pratchett Explains Why Doctor Who Is Ludicrous, Frequency, CERN, HBO, True Blood, Dead Until Dark by Charlaine Harris |READ OUR REVIEW|, A Game Of Thrones, Ringworld as an audio drama or a miniseries, V, Shogun, "In the interest of full disclosure", books received vs. books reviewed, the ethics of reviewing free books, Karen Burnham, Spiral Galaxy Reviewing Laboratory, paranormal romance, Lisa Paitz Spindler, Danger Gal, recent arrivals, The Unincorporated War by Dani Kollin and Eytan Kollin, Brilliance Audio, Cory Doctorow, For The Win, Little Brother, Jesse's Pick Of The Week: Logicomix: An Epic Search For Truth by Apostolos Doxiadis and Christos Papadimitriou, Bertrand Russell, Ludwig Wittgenstein, Watchmen, Zeus: King Of The Gods by George O'Connor, Scott's Pick Of The Week: The Polysyllabic Spree by Nick Hornby, About A Boy, Fever Pitch, John's Pick Of The Week: Terminal World by Alastair Reynolds, We, Robots edited by Allan Kaster, The Complete Drive-In by Joe R. Lansdale.
Posted by Jesse Willis
Jeff Rutherford's Reading And Writing podcast has an exclusive interview with Fantasy/Horror writer Joe R. Lansdale! Lansdale talks about the book industry, what and who he reads (The Postman Always Rings Twice), and mentions a few of his upcoming works including a script for a cool sounding Jonah Hex animated short! |MP3|.
Subscribe to the podcast:
http://feeds2.feedburner.com/ReadingAndWritingPodcast
Posted by Jesse Willis
StarShipSofa Aural Delights No. 68 – Kim Newman |MP3|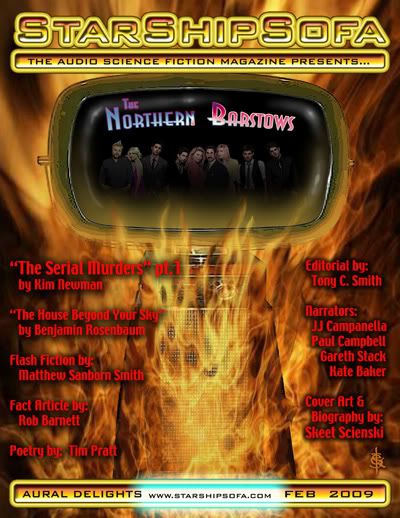 Aural Delights No. 68 Kim Newman
Editorial: "Kindle the Savior of Book Publishing" by Tony C. Smith 00:10
Poetry: "Angle Bites" by Tim Pratt 15:30
Flash Fiction: Brothers and Sisters by Matthew Sanborn Smith 18:00
Fact: Sofa Art Cover by Skeet 24:00
Fiction: The House Beyond Your Sky by Benjamin Rosenbaum 32:00
Fact: Movie Talk by Rob Barnett 01:03:00
Main Fiction Serial: The Serial Murders Kim Newman Part 1 of 4 01:12:00   
Fact: Fiction Crawler No. 5 Matthew Sanborn Smith 02:06:11
Narrators: Kate Baker, Gareth Stack, Paul W Campbell, JJ Campanella
Twitter #futuerjer http://tinyurl.com/futurejer
Links to Fiction Crawler No. 5:
At the Bottom of the Garden by Jo Walton

Non-Disclosure Agreement by Scott Westerfeld
The Support Technician Tango by Daniel Abraham
Big Man: a Fable by Joe R. Lansdale
The Shangri-La Affair By Lavie Tidhar
Posted by Tony C. Smith
The Agony Column has a couple of new recordings from the recent SF in SF:
Richard Bottoms interview |MP3|
Joe R. Lansdale interview |MP3|
Joe R. Lansdale reading |MP3|
Rudy Rucker reading |MP3|
Barry N. Malzberg reading |MP3|
Cecilia Holland reading |MP3|
You can subscribe to the feed at this URL:
http://trashotron.com/agony/indexes/tac_podcast.xml
Posted by Charles Tan