After talking about it on the last SFFaudio Podcast NEW RELEASES/RECENT ARRIVALS episode, I decided we really needed to know exactly which classic stories were being ripped-off in the new Audible Frontiers collection entitled Rip-Off!.
You're welcome!
I've also made a note of the narrator for each story. And, while I'm at it I should tell you that nearly every story is an hour long. Every story with the exception of James Patrick Kelly's (which runs about 90 minutes) and Tad Williams' (which runs just over 26 minutes).
Rip-Off!
Edited by Gardner Dozois; Read by various readers
Audible Download – Approx. 12 Hours [UNABRIDGED]
Publisher: Audible Frontiers
Published: December 18, 2012
In Rip-Off!, 13 of today's best and most honored writers of speculative fiction face a challenge even they would be hard-pressed to conceive: Pick your favorite opening line from a classic piece of fiction (or even non-fiction) – then use it as the first sentence of an entirely original short story. In the world of Rip-Off!, Call me Ishmael introduces a tough-as-nails private eye – who carries a harpoon; The Wonderful Wizard Of Oz inspires the tale of an aging female astronaut who's being treated by a doctor named Dorothy Gale; and Huckleberry Finn leads to a wild ride with a foul-mouthed riverboat captain who plies the waters of Hell. Once you listen to Rip-Off! you'll agree: If Shakespeare or Dickens were alive today, they'd be ripping off the authors in this great collection. As a bonus, the authors introduce their stories, explaining what they ripped-off – and why. Rip-Off! was produced in partnership with SFWA – Science Fiction & Fantasy Writers of America. Gardner Dozois served as project editor.
Annotated table of contents:
Introduction by John Scalzi, read by Scalzi
Fireborn by Robert Charles Wilson – Introduction by Wilson, inspired by a "Rootabaga" story by Carl Sandburg – Read by Khristine Hvam
The Evening Line by Mike Resnick – Introduction by Resnick, inspired by Pride And Prejudice by – Read by L.J. Ganser
No Decent Patrimony by Elizabeth Bear – Introduction by Bear, inspired by Edward II by Christopher Marlowe – Read by Scott Brick
The Big Whale by Allen M. Steele – Introduction by Steele, inspired by Moby Dick by Herman Melville – Read by Christian Rummell
Begone by Daryl Gregory – Introduction by Gregory, inspired by David Copperfield by Charles Dickens – Read by Jonathan Davis
The Red Menace by Lavie Tidhar – Introduction by Tidhar, inspired by The Communist Manifesto by Karl Marx – Read by Stefan Rudnicki
Muse Of Fire by John Scalzi – Introduction by Scalzi, inspired by Henry V by William Shakespeare – Read by Wil Wheaton
Writer's Block by Nancy Kress – Introduction by Kress, inspired by Paul Clifford by Edward Bulwer-Lytton – Read by David Marantz
Highland Reel by Jack Campbell – Introduction by Campbell, inspired by Macbeth by William Shakespeare – Read by Nicola Barber
'Karin Coxswain' Or 'Death As She Is Truly Lived' by Paul Di Filippo – Introduction by Di Filippo, inspired by Huckleberry Finn by Mark Twain – Read by Dina Pearlman
The Lady Astronaut of Mars by Mary Robinette Kowal – Introduction by Kowal, inspired by The Wizard Of Oz by L. Frank Baum – Read by Allyson Johnson
Every Fuzzy Beast of the Earth, Every Pink Fowl of the Air by Tad Williams – Introduction by Williams, inspired by the Book of Genesis by anonymous – Read by Marc Vietor
Declaration by James Patrick Kelly – Introduction by Kelly, inspired by The Declaration Of Independence by Thomas Jefferson – Read by Ilyana Kadushin
Posted by Jesse Willis
I'm writing about what I listen to, what it makes me think about and what you might find interesting. Let me know if you think there's something important I'm missing and if there's a SFF related podcast you listened to during the week (no matter when it was published) that I should spotlight here.
---
I'm still catching up on the SF Squeecast. This week I listened to Episode Two: Dystopia A-Go-Go!. It's a stretch to wrap the label of dystopia around the particular squeeables, much less the places the discussion wanders, however they cover some fun stuff. I like their coverage of David Louis Edleman's Jump 255 series. I read and loved Infoquake. I really should go back and read the rest. I love how passionate and detailed reviews of music (even music I may not care for) can be. In this case, our panel of designated squeers really bring David Bowie's Outside to life. I'll definitely be giving this concept album a listen. The post-apocalyptic novel The Chrysalids by John Wyndham and an episode of the cartoon Phineas and Ferb round out the discussion. |MP3|
I listened to two Beneath Ceasless Skies stories this week. Both dealt with ways in which magic users are oppressed. The magic in Gone Sleeping by Heather Clitheroe |MP3| had horrific cascading consequences. It's interesting how we assume a naive child narrator to be unreliable, but she's been told stories and been given warnings… The Magick by Kristina C. Mottla |MP3| involves slavery. It's a slavery built on fear of the other, but much like in Gone Sleeping it is magic users that are feared. The magic is more controlled in this story, but obviously there are two meanings for control in this case. These are both decent fantasy stories, but they're even stronger side by side.
I'm not sure if the Angry Robot Podcast, hosted by Mur Lafferty, is still a going concern. It's definitely not playing nice with Google Listen and the last episode was released in July. Huffduffer may have to come to the rescue. I listened to episode #11, an interview with Lavie Tidhar. I've really enjoyed Lavie's short fiction and he gives a great interview. Definitely need to read one of his novels. The interview focused on Camera Obscura, sequel to The Bookman (both from Angry Robot), but also discusses HebrewPunk, other books, and Lavie's status as an international man of mystery. |MP3|
Two from Drabblecast:
Episode 217 is Followed by Will McIntosh. It uses zombies as an allegory for externalized human cost. This is the type of story that'll drive mad anyone too set in their mind about what zombie fiction is supposed to be, but it's a great story. It drives home a difficult moral point. |MP3|
Episode 219 is The Big Splash by George R. Galuschak. The oceans have risen and a lone alien smokes out on the beach observing humanity. Splash is as light as Followed is heavy, in spite of the shark attack and dying dog. |MP3|
SFBRP #138 is a review of Gene Wolfe's The Sword of the Lictor, 3rd in The Book of the New Sun. This is the first episode of this podcast I've listened to. While I was listening, I thought possibly that the podcaster, Luke Burrage, might me insane. I hoped that he was playing around with the unreliable narrator concept that's one of the important components of this series. It turns out the latter was the case. For the record, Gene Wolfe is a master at this technique – Luke Burrage: not so much, but it was an amusing review. |MP3|
The Coode Street Podcast always provides a spectacular reading list. Gary and Johnathan mention scores and scores of books in a podcast, most of which they make me want to read. The same thing happens when they interview someone. In the case of episode #72 that would be Ian McDonald. His latest is the first in a young adult multiverse adventure called Planesrunner. This has been mentioned before on the podcast and sounds like a ton of fun. The discussion was pure gold for those of us that are fascinated by the publishing aspects of genre fiction. McDonald's River of Gods, which was followed by the acclaimed progressively nearer future novels: Brazyl and The Dervish House, was published in the US by Pyr and marketed 100% as science fiction. However in the UK it was marketed as mainstream fiction by Simon & Schuster. Even if the mechanics of publishing bore you, McDonald has a very cool Bibliography and you'll come out of this podcast wanting to read all of it. |MP3|
Writing Excuses 6.21 was hilariously awesome. All 4 brainstormed the kernel of a story from the same collection of random elements. Each of their processes are different and unique voices come through. Great stuff/Small package as always. |MP3|
There's not much story in Joe Haldeman's Never Blood Enough (Starship Sofa 208). The world building is pretty intriguing and the main character is as well developed as space allows, however, the story is murder mystery. What could the murderer be on a planet of dangerous lifeforms? Possibly a dangerous lifeform… As a subplot in a larger work, this might have more meat. There's more than just one story in an episode of Starship Sofa. I'm quite surprised how much I enjoy the Poetry Planet feature. It was good to hear that Tobias Buckell's Kickstarter program worked and he'll be writing the rest of his space opera series. I quite enjoyed all 3 of the previous novels Crystal Rain, Ragamuffin and Sly Mongoose. Be sure to check out the sneak peak of Apocalypse Ocean he gave us in Placa del Fuego. |MP3|
Sometimes, listening to two new voices on a podcast it's difficult to tell them apart. Andy Duncan and Jeff Ford (Locus Roundtable Podcast) have VERY distinct accents so this wasn't even vaguely a problem. I'd just read Ford's Bright Morning that was mentioned near the end of the podcast, so it was quit interesting to hear the discussion of writers inserting themselves into their stories. The discussion was heavily weighted in the direction of "what can be done with fiction" vs "how does it happen." I'm realizing more and more that that's an important distinction. The more I write about discussion podcasts the more I want a better vocabulary for what TYPE of discussion podcast it is. I'll explore this in a dedicated post. |MP3|
PodCastle Miniature 66: The Witch's Second Daughter by Marissa K. Lingen: A vague yet elegantly described magic system explored to a logical conclusion. |MP3|
And the final podcast for the week, SFFaudio #97. I listened to this as the sun set while literally parked on the 405 (I was about 100 yards away from a motorcycle vs big-rig accident that had shut down the freeway), so I probably payed a bit more attention to it than I otherwise would have. They discussed Jose Luis Borges' The Garden of Forking Paths and Fair Game by Philip K. Dick. I was introduced to the Borges story by my academic adviser during a quantum mechanics class he was teaching and I was not groking. Interestingly I was introduced to Borges for the first time during a mathematics seminar by a visiting professor who specialized in the math underlying String theory. Borges' writing is fractal. The deeper you dig into it the more you find and the more it makes sense (or the more confused you get – most often both if you really understand the issues he's wrestling with.) Grab a collection of Borges Collected Fictions. And keep it close at hand for when you need some mental exercise. Fair Game sounds neat too. |MP3|
Posted by Steven Klotz
Iambik Audiobooks has just released its first Science Fiction & Fantasy Collection! Individual books are $6.99, and you can get the whole collection of nine titles for $43.99.
Use the code "sff-audio-25" and get a 25% discount on your order.
Number one on my to listen list is this classic David Gerrold novel…
The Man Who Folded Himself
By David Gerrold; Read by Charles Bice
MP3 or M4B Download – Approx. 4 Hours 28 Minutes [UNABRIDGED]
Publisher: iambik audio
Published: May 2011
ISBN: 9781926673400
The Man Who Folded Himself, written in 1973 (and reissued by BenBella in 2003) is a classic science fiction novel by award-winning author David Gerrold. This work was nominated for both Hugo and Nebula awards and is considered by some critics to be the finest time travel novel ever written.
An Occupation Of Angels
By Lavie Tidhar; Read by Elizabeth Klett
MP3 or M4B Download – Approx. 3 Hours 23 Minutes [UNABRIDGED]
Publisher: iambik audio
Published: May 2011
After Archangels materialise over the bloodbaths of WWII, they take up residence in most of the world's major cities. But what would happen if, more than quarter of a century later, something somehow managed to kill these supreme beings? Killarney knows and, as an agent working for the Bureau, a British agency that's so secret it doesn't officially exist, she finds herself embroiled in the consequences as, one by one, the Archangels die. Assigned to trace a missing cryptographer thought to have information on the murders, she travels from England, through France, heading for the frozen wastes of the USSR. But there's an unknown third party intent on stopping her, and there's God, who also has an agenda. Not knowing who is friend and who is foe, and with only a brief glimpse of a swastika on angel wings as solid information, Killarney struggles to remain alive long enough to glean sufficient information to put together the pieces of the puzzle and complete what is, without them, an impossible mission.
Ben And The Book Of Prophesies
By Kirsty Riddiford; Read by Ruth Golding
MP3 or M4B Download – Approx. 9 Hours 25 Minutes [UNABRIDGED]
Publisher: iambik audio
Published: May 2011
ISBN: 9781926673431
Ben and the Book of Prophecies is the first book of the Prophecies of Ballitor. Ben is the youngest and most successful thief in the royal city of Quadrivium, but an unexpected encounter with Bella, the queen's mother, changes his life forever. In return for a substantial reward Ben agrees to track down the Book of Prophecies which disappeared from the palace library many years before. It is believed that the Book contains a prophecy which will save the kingdom from an impending war with the rebels. Yet Bella also has an ulterior motive, to find her son who went missing whilst searching for the same book. Ben finds himself catapulted into an unfamiliar world of magic and intrigue where talking eagles and mythical creatures help him on his quest. During his travels he unearths dark secrets as lives are put in peril and an unforeseen reunion surfaces. But not everyone wants the book to be found
Open Your Eyes
By Paul Jessup; Read by Tadgh Hynes
MP3 or M4B Download – Approx. 3 Hours 23 Minutes [UNABRIDGED]
Publisher: iambik audio
Published: May 2011
ISBN: 9781926673196
Her lover was a supernova who took worlds with him when he died, and as a new world grows within Ekhi, savage lives rage and love on a small ship in the outer reaches of space. A ship with an agenda of its own. Critically acclaimed author of weird fiction Paul Jessup sends puppets to speak and fight for their masters while a linguistic virus eats through the minds of a group of scavengers in Open Your Eyes, a surrealist space opera of haunting beauty and infinite darkness.
Fall From Earth
By Matthew Johnson; Read by Emma Newman
MP3 or M4B Download – Approx. 9 Hours 3 Minutes [UNABRIDGED]
Publisher: iambik audio
Published: May 2011
ISBN: 9781926673332
Shi Jin is a rebel, the latest in a long line of those who have challenged the Borderless Empire and failed. Dropped with a crew of convicts on an uninhabited planet, Shi Jin – and mankind- encounter alien life forms for the first time. She discovers that she is part of a much bigger game…one that will force her to decide between her desire to defeat the Empire and the future of humanity.
In The Shadow Of Swords
By Val Gunn; Read by Clive Catterall
MP3 or M4B Download – Approx. 10 Hours 15 Minutes [UNABRIDGED]
Publisher: iambik audio
Published: May 2011
ISBN: 9781926673424
When the assassin Ciris Sarn, murders Hiril Altaïr, he unwittingly leaves behind the legendary Books of Promise. They come into the hands of Hiril's vengeful widow, Marin, and she becomes a target even as she hunts for her husband's murderer. Meanwhile, Fajeer Dassai, a brutal kingmaker, plots to retrieve the fabled treasure to make himself wealthy beyond imagination. His only obstacle is Pavanan Munif, a capable, but drug-addicted tracker. Soon assassins, sheikhs, spies, and viziers are all embroiled in a potentially world-shattering conspiracy racing to an inevitable showdown where violence and murder is the only path to true redemption.
Space Captain Smith
By Toby Frost; Read by Clive Catterall (Myrmidon)
MP3 or M4B Download – Approx. 7 Hours 6 Minutes [UNABRIDGED]
Publisher: iambik audio
Published: May 2011
ISBN: 9781926673417
Space Captain Smith is the first book of the Chronicles of Isambard Smith. It's the 25th Century and the British Space Empire faces the gathering menace of the evil ant-soldiers of the Ghast hive, hell bent on galactic domination and the extermination of all humanoid life forms. Captain Isambard Smith is the square-jawed, courageous and somewhat asinine new commander of the clapped out freighter John Pym, destined to take on the alien threat because nobody else is available. Together with his bold crew- a skull-collecting alien lunatic, an android pilot who is actually a fugitive sex toy and a hamster called Gerald- he must collect new-age herbalist Rhianna Mitchell from the New Francisco orbiter and bring her back to the Empire in safety. Straightforward enough – except the Ghasts want her too and, in addition to a whole fleet of Ghast warships, Smith has to confront void sharks, a universe-weary android assassin and John Gilead, psychopathic naval officer from the fanatically religious Republic of Eden before facing his greatest enemy: a ruthless alien warlord with a very large behind…
The Golden Casket And The Specters Of Light
By Katie Paterson; Read by Karen Savage
MP3 or M4B Download – Approx. 8 Hours 44 Minutes Minutes [UNABRIDGED]
Publisher: iambik audio
Published: May 2011
ISBN: 9781926673448
The Golden Casket And The Specters Of Light is the second book of the Chronicles of Valonia. Three years after Rachel and Gareth's lives had returned to normal, they are forced to revisit Valonia, after receiving an unsettling phone call. The Golden Casket And The Specters Of Light pursue them back into the heart of danger, this time to face an even greater threat, as they attempt to unravel a mysterious disappearance. The twins find themselves in a race against time beside a trio of evil sorcery.
The Jewels Of Valonia
By Katie Paterson; Read by Karen Savage
MP3 or M4B Download – Approx. 7 Hours 43 Minutes [UNABRIDGED]
Publisher: iambik audio
Published: May 2011
ISBN: 9781926673394
The Jewels Of Valonia is the first book of the Chronicles of Valonia. It follows 12-year-old twins, Gareth and Rachel, as they embark on a mystical adventure after travelling to the remote village of Valonia, where everything is far from what it seems. An encounter with a stranger leads them into a world of sorcery and danger. As they pass through the realms of time, the twins realise that their destiny lies within powers that they have yet to understand and control.
Complete Science-Fiction & Fantasy Collection 1
By various; Read by various
MP3 or M4B Download – Approx. 62 Hours 53 Minutes [UNABRIDGED]
Publisher: iambik audio
Published: May 2011
This collection includes all the titles in Iambik's first release of Science-Fiction and Fantasy books.
Titles in the collection:
– Ben And The Book Of Prophecies by Kirsty Riddiford
– Fall From Earth by Matthew Johnson
– In The Shadow Of Swords by Val Gunn
– The Man Who Folded Himself by David Gerrold
– An Occupation Of Angels by Lavie Tidhar
– Open Your Eyes by Paul Jessup
– Space Captain Smith by Craig Smith
– The Jewels of Valonia by Katie Paterson
– The Golden Casket And The Spectres Of Light by Katie Paterson
Posted by Jesse Willis
StarShipSofa Aural Delights No. 68 – Kim Newman |MP3|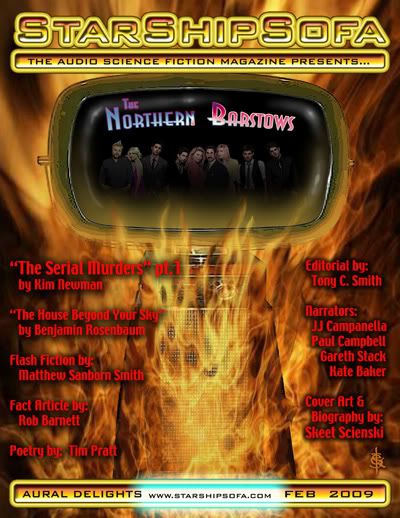 Aural Delights No. 68 Kim Newman
Editorial: "Kindle the Savior of Book Publishing" by Tony C. Smith 00:10
Poetry: "Angle Bites" by Tim Pratt 15:30
Flash Fiction: Brothers and Sisters by Matthew Sanborn Smith 18:00
Fact: Sofa Art Cover by Skeet 24:00
Fiction: The House Beyond Your Sky by Benjamin Rosenbaum 32:00
Fact: Movie Talk by Rob Barnett 01:03:00
Main Fiction Serial: The Serial Murders Kim Newman Part 1 of 4 01:12:00   
Fact: Fiction Crawler No. 5 Matthew Sanborn Smith 02:06:11
Narrators: Kate Baker, Gareth Stack, Paul W Campbell, JJ Campanella
Twitter #futuerjer http://tinyurl.com/futurejer
Links to Fiction Crawler No. 5:
At the Bottom of the Garden by Jo Walton

Non-Disclosure Agreement by Scott Westerfeld
The Support Technician Tango by Daniel Abraham
Big Man: a Fable by Joe R. Lansdale
The Shangri-La Affair By Lavie Tidhar
Posted by Tony C. Smith