Vol'jin: Shadows of the Horde (World of Warcraft)By Michael A. Stackpole; Read by Scott Brick
Publisher: Simon and Schuster Audio
Publication Date: July 2013
[UNABRIDGED] – 11 hours, 42 minutes
Themes: / world of warcraft / trolls /
Publisher summary:
That night, visions mocked Vol'jin. He found himself in the midst of fighters, each of whom he recognized. He'd gathered them for that final assault on Zalazane, to end his madness and free the Echo Isles for the Darkspears. Each of the combatants took on aspects of a jihui cube, faced to be at their maximum power. Not a fireship among them, but this did not surprise Vol'jin.

He was the fireship, but not yet turned to display his maximum power. This was not a fight, though desperate, in which he would destroy himself. Aided by Bwonsamdi, they would slay Zalazane and reclaim the Echo Isles.

Who be you, this troll, who be having memories of a heroic effort? 
This is my first book by Michael A. Stackpole, who is probably best known for his Star Wars books. From the dedication at the beginning, it sounds like he is/was a WoW player at some point. This is book #12 in the World of Warcraft books. As far as I know/could tell it is unrelated to any of the others. I didn't find myself lost or confused.
As the title would indicate the protagonist of this book is Vol'jin, the Shadow Hunter, leader of the Dark Spears and high general in the Horde.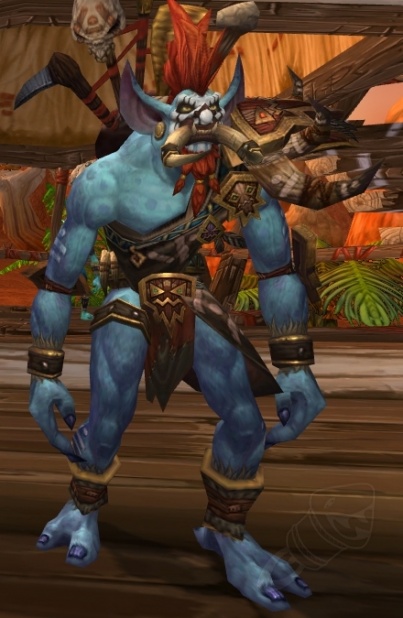 I would say having quested in Pandaria is almost a pre-requisite. The other main character of this book is Chen Stormstout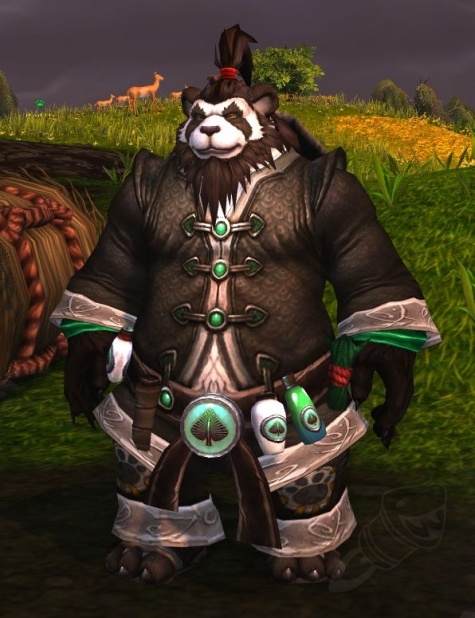 I really enjoyed his questline as I leveled this expansion, so it was nice to get more with him. His niece Li-Li also makes an appearance. I haven't played Horde in awhile, but there looks to be a quest related to this book. Chen finds Vol'jin nearly dead and takes him to the monastery of the Shadow Pan.
The first half of this book is really slow, which is bad considering it's only about 12 hours long. I was really hoping for more action. There is a lot of self-reflection as Vol'jin tries to heal. The second half of the book has a bit more action and was a slightly faster pace. I did end up listening a little longer than yesterday just to finish it up.
The book made me to want to start playing again, which is probably a large part of the point of these books.  However, I would say if it WASN'T about a world/characters I already really like, that it probably would have gotten an even lower rating.
This is the first book I've listened to by Scott Brick. Mr. Brick has a good clear voice. He also does a pretty good Cajun accent for the trolls. My big problem is apart from that everyone sounds the same. The Trolls (both male and female) sounded the same. I couldn't really tell apart the human character from the Panderan either. It could make some conversations very hard to follow unless it was between Vol'jin and a non-troll. That said, I'd probably listen to something read by Mr. Brick again.
My other gripe with the audiobook was my digital copy had music at the end of EVERY chapter. I'd have been fine with it if it was in-between chapters, but I hate when audiobooks have music while the Narrator is reading the book.
Overall this is just a so-so book, 3 stars.
Review by Rob Zak.
The SFFaudio Podcast #012 – Our sickest show yet. How sick? Well, I'd like Stanley Kubrick to direct the next Conan movie. We also talk about the SFFaudio Challenge #3, which is not as bad as Red Sonja (1985).
Talked about on today's show:
Fallout 3 has a built-in radio drama (The Adventures Of Daring Dashwood), The Little Book, Selden Edwards, time travel, The Book Of Lies, Brad Meltzer, Nelson DeMille, The Border, The Third SFFaudio Challenge, Muureen O'Brien, Maria Lectrix Podcast, The Risk Profession, Donald E. Westlake, Spider Robinson, John D. MacDonald, Travis McGee, John Varley, The Persistence Of Vision, Scott Brick, Aural Noir, The Case Of The Dancing Sandwiches, Frederic Brown, The Fabulous Clipjoint, H. Beam Piper, Murder In The Gunroom, Galaxy Press, Elantris, Brandon Sanderson, Dennis Stocks, LibriVox, Masters Of Space, E.E. "Doc" Smith, E. Everett Evans, R.J. Davis, BSAP's Queen Of The Black Coast, Robert E. Howard, Bill Hollweg, Stevie Farnaby, Brian Murphy, The Silver Key, Brett Ratner's new Conan movie, HBO's new A Song Of Ice And Fire show.
Posted by Jesse Willis
Scott Brick is offering a limited time $5-off coupon good for any Brick By Brick Audiobooks product! Here's the skinny:
I'm offering anyone who wants it a coupon for $5 off the purchase price of each volume in the Thomas Covenant saga thus far from my website, said coupon code valid for a week after the close of the event. When you click through to the purchase page from scottbrickpresents.com, plug in the code "dragoncon2008," all one word and lowercase, and you'll see your purchase price discounted. Just my way of saying thank you for the constant support I've received from my brethren in science fiction/fantasy fandom. Hope you all enjoy it.
The coupon should be live now!
And what are you going to use it on? Well, the first two audiobooks from Scott's own audiobook company are available now: LORD FOUL'S BANE and FATAL REVENANT, are the first and latest books in Stephen R. Donaldson's acclaimed fantasy series Thomas Covenant the Unbeliever. Get them HERE.
Posted by Jesse Willis
Fatal Revenant, the latest "Thomas Covenant" novel from Stephen R. Donaldson, is now on sale as an EXCLUSIVE AUDIOBOOK at ScottBrickPresents.com!
Scott Brick sez:
The wait is over! I am ecstatic to announce that Scott Brick's latest audiobook, Stephen R. Donaldson's FATAL REVENANT, is now on sale EXCLUSIVELY at ScottBrickPresents.com!
LORD FOUL'S BANE (the first in the series) is also for sale. Now who's excited?
Posted by Jesse Willis
The latest Time Traveler Show podcast is a MUST LISTEN.
The whole show is a tribute to the late Sir Arthur C. Clarke. This is a podcast to beat all podcasts, with the prime attraction being an unabridged reading of "The Hammer of God" by Arthur C. Clarke!
This story appeared in the Audio Literature collection The Collected Stories of Arthur C. Clarke. On top of that there's an interview with the narrator, Scott Brick, who has also written the screenplay for the upcoming Rendezvous with Rama movie. Likewise interviewed is Dean McCreary, the production designer for the film. Also on board, audiobook narrator and producer, Stefan Rudnicki, Vernor Vinge and a rare recording of the man himself! Sir Arthur C. Clarke's 1965 Hugo ceremonies speech entitles "How I Learned to Stop Worrying and Learned to Love Stanley Kubrick."
The Hammer Of God
By Arthur C. Clarke; Read by Scott Brick and Gabrielle de Cuir
1 |MP3| – [UNABRIDGED]
Podcaster: The Time Traveler show
Podcast: April 25th 2008
Kali is the asteroid that will hit earth. Captain Robert Singh is commanding Goliath, the spaceship that will be fitted to Kali to deflect it from earth impact course.
Subscribe to the podcast via this feed:
http://www.timetravelershow.com/shows/feed.xml
Posted by Jesse Willis