Star Wars: Dawn of the Jedi: Into the Void
ISBN: 978-0804148153
[UNABRIDGED] 10 hours 18 minutes
Themes: / star wars / space / jedi / force /
Publisher summary:
On the planet Tython, the ancient Je'daii order was founded. And at the feet of its wise Masters, Lanoree Brock learned the mysteries and methods of the Force—and found her calling as one of its most powerful disciples. But as strongly as the Force flowed within Lanoree and her parents, it remained absent in her brother, who grew to despise and shun the Je'daii, and whose training in its ancient ways ended in tragedy.
 
Now, from her solitary life as a Ranger keeping order across the galaxy, Lanoree has been summoned by the Je'daii Council on a matter of utmost urgency. The leader of a fanatical cult, obsessed with traveling beyond the reaches of known space, is bent on opening a cosmic gateway using dreaded dark matter as the key—risking a cataclysmic reaction that will consume the entire star system. But more shocking to Lanoree than even the prospect of total galactic annihilation, is the decision of her Je'daii Masters to task her with the mission of preventing it. Until a staggering revelation makes clear why she was chosen: The brilliant, dangerous madman she must track down and stop at any cost is the brother whose death she has long grieved—and whose life she must now fear.
The "Dawn of the Jedi" series was first produces in comic form and of course the logical progression is novelization. It takes Star Wars back to its roots. As the title says, it's the origin story to the Jedi, the beginning of our favorite protectors of the universe, users of the force (and lightsabers!), and purveyors of piety.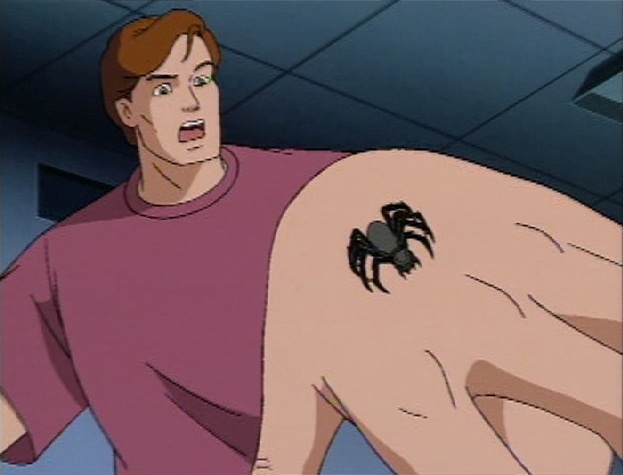 (It was radioactive spiders that created the Jedi!)
And you'll never believe how they began. In fact, if I gave you infinite guesses, you'd never get it. And it's not for the reason you think.
The "Je'daii" have a mysterious society that does its own thing, which tends to be for the betterment of the universe, saying "may the force go with you."
Yeah, you'd never be able to guess because you'd be going for something new. Also, they use the force and swords and have masters and apprentices. So it's definitely an origin story and not just an exact replication of the jedi we know and love.
Okay, so if you're reading Star Wars books, you really can't go into it expecting a whole lot. And sadly, any of the newer books have the added reputation of being bloated series with little plot.
However, what you can expect is lots of action and lots of fun. Into the Void delivers on both counts. While I make fun of the "origin story" it's still an entertaining and interesting look at the beginnings of the Jedi. These Je'daii go through an interesting training period on an incredibly dangerous planet.
Into the Void follows Lanoree Brock, a Je'daii Ranger, who spends most of her time on her own in solitary missions ranging around the galaxy. She's called in for a special mission that could result in the salvation or destruction of the galaxy as they know it, and it's all because of her brother Dal, once thought dead.
The narrative switches between the present where Lanoree is in pursuit of her brother in her current mission and her past training where she and her brother participated together. It's a great way to introduce Dal and find out what his motivations are for his dark pursuits later in his life.
Lebbon does a great job with these characters and his narrative structure works well to set things up for an exciting ending while providing plenty of excitement throughout the training on this dangerous planet. I'm interested to try out Lebbon's other works because he obviously knows what he's doing.
Like other Star Wars audiobooks, Into the Void is filled with suspenseful music and every type of sound effect they can possibly fit in. Like a movie in your head, I can't recommend Star Wars audiobooks enough. And January LaVoy does an excellent job bringing Lanoree and every other character to life.
But what I really can't wait for the origin of the origin story. That's where the money is.
3.5 out of 5 Stars (recommended)
Posted by Bryce L.