The SFFaudio Podcast #459 – Jesse, Paul Weimer, Bryan Alexander, and Julie Davis talk about The Man Who Was Thursday by G.K. Chesterton
Talked about on today's show:
1908, subverting expectations, thriller philosophical novel adventure fantasy, a book about anarchists (not really), hot topic, pre-WWI, bring down the system, everybody is a dynamiter, Michael Collins, if you don't seem to be hiding nobody hunted you out, anarchy against anarchy, the Orson Welles adaption, easier to understand, one female character in the book and she shows up on the last page, Mercury Theater, Welles as Sunday, evil or good?, wine commercials, this old fat guy talking about wine, large people refracted through later media, Gilbert in The Sandman is G.K. Chesterton, confession, Famous Fantastic Mysteries, because it has detectives in it?, sudden reveals, that person is not an anarchist either, the same trick over and over, the Professor, the Marquis, the Father Brown mysteries, Miss Marpole, Reading Short and Deep, The Angry Street: A Bad Dream by G.K. Chesterton, like Scrooge, a very interesting guy, a very rare bird, a conservative intellectual, explaining a lot of what's going on, The Tremendous Adventures Of Major Brown, The Game (1997), sympathetic to anarchism, the ISIS of its day, submitting to ISIS, its not a critique of anarchism at all, a caricature of anarchists as terrorists, non-violent anarchism, a classic problem, non-terroristic anarchism, fantastic turns of phrase, lampshaded, lighting a lamp against the darkness, a fun romp, the reality of police going after subversive groups, it's about God, and your relationship to Him and yourself on Earth, Chesterton's fence, an axiom, a principle, completely reasonable, why conservationism should be the default, he's so persuasive and witty, these are the kinds of conservatives Jesse is afraid of, the Catholic in Julie, the wisdom of the ages, a noble ideal, Terry Pratchett, Mark Twain, Neil Gaiman, "a man who really knew what was going on", he dresses kind of goth-y, carrying a sword-cane, the people he admired carried sword-canes, Alexander Pope, The Dunciad, a dog named Bounce, Dante's Inferno, a great age of satire, turning things upside down, laughing, I love lists, a poet who loves lists, arch-humour, that young man, wild white hat, a cause of philosophy in others, a preview of the ending, Scott couldn't stand this book, Julie was enchanted by it, its unfixed, there's no grounding, the duel scene, removing parts of his body, he's a robot, he's disassembling himself, a little too far?, Scott is a writer, writers reviewing fiction books, how it was constructed, the subtitle: "A Nightmare", this is a fantasy, this is a fantastic village, this isn't real, Dante's Paradisio, this is just allegorical, that's hilarious, Scott was raised Catholic, Julie (like Chesterton) was a convert, going all the way, a different kind of reader, the cosmos had turned upside down, looking at everything from the back, where the book's theme is made manifest, this is what I mean, The Everlasting Man, H.G. Wells, proof, a little dig on evolution, shaking the reader, you have no firm fixed ground, wherever you land you'll find God, "They said my very walk was respectable, and that seen from behind I looked like the British Constitution", ridiculous, the conservative view, not a poet who is a poet, the common working man, no peasant wants anarchy, every millionaire is at heart an anarchist, plutocrats as anarchists, WTO protests, agent provocateurs, during the Black Panther era, policeman in disguise: let's blow stuff up, energetic FBI contributions, kind of Philip K. Dickian, a completely different reveal, A Scanner Darkly, Bob Arctor, Robert Downey, Jr., did Philip K. Dick read this book?, Do Androids Dream Of Electric Sheep?'s fake police station, is Sunday Jesus Christ?, Sunday is God, dressed in the disguise that reveal them as who they really are, pantheists, when men wake up, beautiful nature, a garden, the unmasking, the garden may be Gethsemane, 33 pieces of paper of no value, the question of betrayal, of all days of the week, Rosamund, at the end of time, Heaven is somewhere in Normandy, the marchers, what's going on?, they all admit they have one hope, the man in the Black Chamber, such a conservative fantasy, secret policeman, the trailer for the 2016 movie adaptation, Nazis and fascists, how could you do a straight up adaptation of this?, Kim Newman's Anno Dracula: 1895: Seven Days In Mayhem, Dracula marries Queen Victoria, anarchists against Dracula and the vampire elite, a concentration camp holding Sherlock Holmes, Gilbert and Sullivan, a weird detective story about soap operas, the way Sunday is depicted, some of the ways that Sunday is described, he swooned, Sunday is both the Devil and God, looking at him from his hind-parts, kinda weird, the pure good thing, many out loud laughs, "He came of a family of cranks, in which all the oldest people had all the newest notions. One of his uncles always walked about without a hat, and another had made an unsuccessful attempt to walk about with a hat and nothing else.", his turns of phrase, why Chesterton is loved by Gaiman and Pratchett, the same kind of wry comedians, easy to get along with, shall we go out and have dinner together now?, isolation, twice two is 2,000 times one, George Bernard Shaw, 'too see you'd think Britian was in a famine – to see you you'd think we'd know why', fun and dangerous, WWI, a white feather, The Four Feathers, wearing their white feathers proudly, making another joke about being fat, "anarchists!", what does that have to do with… Bryan?, Gavrilo Princip was not an anarchists (he was a Nationalist) but he was called one, anticipation of WWI, a glimpse of the desire for violence, Teddy Roosevelt, the older detective, detecting pessimists, discovering a crime in a book of sonnets, really funny, Charles Stross' laundry series, surveillance and data analysis for pre-crime, chilling, why he's a dangerous guy, defending the indefensible, he spells it out so clearly, do we all know what's going on here, the book starts with a poem, looking at it in sentences,
"A cloud was on the mind of men
And wailing went the weather,
Yea, a sick cloud upon the soul
When we were boys together.
Science announced nonentity
And art admired decay;
The world was old and ended:
But you and I were gay;
he's conflating nihilism and decadence and decay with anarchism, The Decline Of The West, The War Of The Worlds, a grim vitality, "what do you want? martyrs!", written as a cure for melancholy, An Anatomy Of Melancholy, reading melancholic writers, lassitude, making you thoughtful, flashy, so light in its stated topic, if this was written today…, Britain's who travel to the Middle East to join ISIS, a pacifist book, pro-life, imagining the bomb going off, the value of each human life, Isaac Asimov, violence as the last refuge of the incompetent, chances, who is the man in the black room?, he's the Alpha and the Omega, in Syria the war is winding down, a 90% decrease in violence, why did the Vietnam War happen, big agents doing things, why does this anarchist council exist?, I can't believe that any common man would support, a certain class of people thought it would be honourable or profitable, a different subject for the book, a secret agent style version of this book, Moriarty, Fu Manchu, the daughter of the Dragon, a boogeyman, Fu Manchu is trying to overthrow the British occupation of China, a sympathy argument for Fu Manchu, Pan-Asia, Genghis Khan, turnabout is fairplay, pot kettle black, Alan Moore's The League Of Extraordinary Gentleman, Captain Nemo, his mother was a hardcore Stalinist, she was convinced Stalin the great hero of the 20th century, Dorothy Day, attacking organized religion, Marx, neither god nor master, a coherent argument to make, James Dean or Marlon Brando, Kryten in Red Dwarf, mere willingness is the final test, a lengthy lecture on the history of anarchism, Mary Woolstencraft's husband, Things As They Are; Or, The Adventures of Caleb Williams, Parents And Children aka Fathers And Sons, what's more useful a painting or a pair of shoes, a near contemporary, an active Russian thing, Dan Schwent, really different, almost not a novel, it is a dream, nightmare, The Thirty-Nine Steps by John Buchan, that moment, that vertiginous moment, deciding to go another way, setting up these moments, as participators or adaptors, a bunch of people who are wrong about everything, a council, there's no predominant day of the week, I have to do a podcast on Sunday, it needs to be scheduled, the Club Of Queer Trades stories, how does the schedule happen?, Neverwhere by Neil Gaiman was inspired by G.K. Chesterton's The Napoleon Of Notting Hill,
"a novel written by G. K. Chesterton in 1904, set in a nearly unchanged London in 1984.

Although the novel is set in the future, it is, in effect, set in an alternative reality of Chesterton's own period, with no advances in technology or changes in the class system or attitudes. It postulates an impersonal government, not described in any detail, but apparently content to operate through a figurehead king, randomly chosen."
not really science fiction, radical!, not a fan of revolutions, loving Americans, one conservative to think about, The French Revolution, The Russian Revolution, The American Revolution, Queen Elizabeth II is on my money, Tories fled to Canada, Oliver Wiswell by Kenneth Roberts, the Tories (political party), Canada's history as a defense against American radicalism, a distorted perspective, Jesse ruined it, not the first nor the last time, Pierre Elliott Trudeau, prime ministers are not that important, the Premier of British Columbia is John Horgan.
Posted by Jesse Willis
The SFFaudio Podcast #277 – Dracula's Guest by Bram Stoker; read by Robert White (of LibriVox). This is an unabridged reading of the story (30 minutes) followed by a discussion of it. Participants in the discussion include Jesse and John Feaster.
Today's podcast is sponsored by Downcast, a wonderful podcast app for iPhone and iPad.
Talked about on today's show:
1914, Dracula's Guest And Other Weird Stories by Bram Stoker, our SPONSOR: Downcast, an app for iPhone and iPad, a super-customizable podcast app, Mark Maron's WTF, Comedy Bang! Bang!, The H.P. Lovecraft Literary Podcast and the premium feed, swapping out of the Music app (aka the old iPod app), an incredibly intuitive app with deep features, download on the go, and lock episodes, awesome, is the narrator Jonathan Harker?, if Dracula wasn't in the title…, Leslie S. Klinger, a sore throat, having Dracula in the background, Countess Dolingen of Gratz, Carmilla by Sheridan Le Fanu, Styria, Austria, shout-outs used to be called homages or allusions, striking images, "the dead travel fast", the wolf itself, the spike or stake, knives, fully formed vampire features, Varney The Vampire, the soldiers, the figure on the road, what is Dracula's motivation?, is he learning how to be English?, Walpurgisnacht, the "Borgo pass", adaptations, enigmatic reactions and situations, rescue, Dracula is the puppet master behind virtually everything in the story, Dracula's colonial mission, why is Dracula going to England?, a veneer of normalcy in Castle Dracula, They Thirst by Robert R. McCammon, Lifeforce, Salem's Lot by Stephen King, Lovecraft's description of the plot of Dracula, The War Of The Worlds by H.G. Wells, getting inside, "precious bodily fluids", a threat from the East, The Case Of Charles Dexter Ward by H.P. Lovecraft, a threat from a more ancient time, out of fairy tales, a desperate victory, omnipresent, the weather, vampires can control the weather, the white shroud of the snowstorm, non-epistolary approach to Dracula, evocative and visceral, explaining cheesecake, was there a Countess Dolingen?, The Games Of Countess Dolingen (1981), chilling stories, the women, a "he" being rescued, sexuality, the caress of the weather, bier, a whole set-piece, is the tomb scene a glamour?, a seduction, Anno Dracula by Kim Newman, counts and countesses, working class vampires, Eric S. Rabkin on vampirism and lycanthropy, the sailors are Dracula's Big Mac, the Demeter, Walpurgis Night, are Dracula's powers expanded on Walpurgisnacht?, superpowers added on the fly, the villagers are always right, The Dreams In The Witch-House, The Haunter Of The Dark, The Lurker In The Crypt, "The Thing In My Coffin", shared tradition, tradition as superstition, the ancient extinction of the mega-fauna may have engendered a hunting ethos in the native North Americans, The Woman In Black by Susan Hill, Harker is sent by his boss to Transylvania, at the crossroads with the inarticulate driver, thousands of tiny eyes watching Jonathan Harker, is Countess Dolingen aware of Dracula's plan?, "the dead travel fast", Russian, a warning from a previous vampire slayer?, a left-handed compliment, the rod, unanswered questions, the lack of clarity makes it evocative, effective accidents, August Derleth-style, what do we really know about Socrates?, water elemental?, meaning was not the point but rather he intended effect, such a good story, a delicious bon-bon sitting on a silk pillow, "interminable", Dracula's Guest ought to always precede Dracula itself, had Dracula's Guest been released as the first chapter of a novel today…
Posted by Jesse Willis
Looking for more Sherlock Holmes pastiche? Indeed, so are we! In that vein, look what a set of beautiful gems I found over on RadioArchive.cc…
Poking around the internet I also turned up one viable "RealAudio" link from 1995 – using this, and some elementary HTML skill, I managed to reconstruct the links to the remainder of the files. I shall, perhaps, write a brief monograph on this process one day. If you're looking for MP3 versions I suggest you visit RadioArchive.cc and do a search.
1.

The Spy's Retirement
By Jon Courtenay Grimwood; Read by Andrew Sachs
1 Broadcast – Approx. 28 Minutes [UNABRIDGED?]
Broadcaster: BBC Radio 7
Broadcast: 2005
How did Holmes and Watson meet?
|REALAUDIO|


2.

The Lady Downstairs
By Christopher Fowler; Read by Hannah Gordon
1 Broadcast – Approx. 30 Minutes [UNABRIDGED?]
Broadcaster: BBC Radio 7
Broadcast: 2005
Holmes' landlady has picked up a few tricks over the years.
|REALAUDIO|


3.

The Deer Stalker
By Paul Cornell; Read by Andrew Sachs
1 Broadcast – Approx. 30 Minutes [UNABRIDGED?]
Broadcaster: BBC Radio 7
Broadcast: 2005
Holmes finds a most unusual weapon.
|REALAUDIO|


4.

A Shambles In Belgravia
By Kim Newman; Read by Andrew Sachs
1 Broadcast – Approx. 30 Minutes [UNABRIDGED?]
Broadcaster: BBC Radio 7
Broadcast: 2005
Professor Moriarty helps out a lady.
|REALAUDIO|


5.

The Adventure of the Lost World
By Dominic Green; Read by Andrew Sachs
1 Broadcast – Approx. 30 Minutes [UNABRIDGED?]
Broadcaster: BBC Radio 7
Broadcast: 2005
Holmes investigates a series of gruesome trombonist murders.
|REALAUDIO|
Posted by Jesse Willis
Aural Delights No 69 Kim Newman Part 2 of 4 [mp3]

Click Here To Subscribe To All Shows
Editorial: Friendship: How It Evolves by Tony C Smith 03:10
Fact: Movie Talk Special Watchmen by Rob Barnett 10:40
Poetry: Time Trapped  by Ann K Schwader 17:30
Fact: Movie Talk Special Watchmen by Jeremiah Talbot 19:30
Flash Fiction: xXXxplores by Morgan Sterling 28:30
Fact: Emile Flygare-Caren by Amy H Sturgis 36:45
Main Fiction Serial: Serial Murders Kim Newman Part 2 of 4 53:22
Fact: Movie Talk Special Watchmen by Matthew Sanborn Smith 01:50:00
New Titles: Asimovs, Mr Piggy-Wig, Seeds of Earth 01:55:00
Fact: Movie Talk Special Watchmen by Scott Grandison 02:12:00
Narrators: Gareth Stack, Morgan Sterling, Diane Severson

Posted by Tony C. Smith
StarShipSofa Aural Delights No. 68 – Kim Newman |MP3|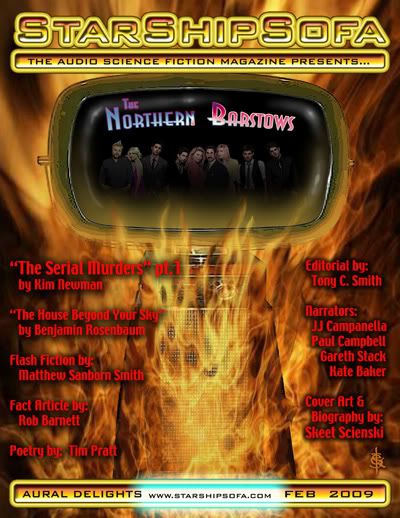 Aural Delights No. 68 Kim Newman
Editorial: "Kindle the Savior of Book Publishing" by Tony C. Smith 00:10
Poetry: "Angle Bites" by Tim Pratt 15:30
Flash Fiction: Brothers and Sisters by Matthew Sanborn Smith 18:00
Fact: Sofa Art Cover by Skeet 24:00
Fiction: The House Beyond Your Sky by Benjamin Rosenbaum 32:00
Fact: Movie Talk by Rob Barnett 01:03:00
Main Fiction Serial: The Serial Murders Kim Newman Part 1 of 4 01:12:00   
Fact: Fiction Crawler No. 5 Matthew Sanborn Smith 02:06:11
Narrators: Kate Baker, Gareth Stack, Paul W Campbell, JJ Campanella
Twitter #futuerjer http://tinyurl.com/futurejer
Links to Fiction Crawler No. 5:
At the Bottom of the Garden by Jo Walton

Non-Disclosure Agreement by Scott Westerfeld
The Support Technician Tango by Daniel Abraham
Big Man: a Fable by Joe R. Lansdale
The Shangri-La Affair By Lavie Tidhar
Posted by Tony C. Smith