Star Wars: Bloodline (New Republic)
By Claudia Gray; Narrated by January LaVoy
Publisher: Random House Audio
Publication Date: 3 May 2016
[UNABRIDGED] – 12 hours, 14 minutes
Themes: / Star Wars / New Republic /
Publisher summary:
WITNESS THE BIRTH OF THE RESISTANCE
 
When the Rebellion defeated the Empire in the skies above Endor, Leia Organa believed it was the beginning to a lasting peace. But after decades of vicious infighting and partisan gridlock in the New Republic Senate, that hope seems like a distant memory.
 
Now a respected senator, Leia must grapple with the dangers that threaten to cripple the fledgling democracy—from both within and without. Underworld kingpins, treacherous politicians, and Imperial loyalists are sowing chaos in the galaxy. Desperate to take action, senators are calling for the election of a First Senator. It is their hope that this influential post will bring strong leadership to a divided galaxy.
 
As the daughter of Darth Vader, Leia faces with distrust the prospect of any one person holding such a powerful position—even when supporters suggest Leia herself for the job. But a new enemy may make this path Leia's only option. For at the edges of the galaxy, a mysterious threat is growing. . . .
Review:
To start I will say that I was about to give up on Star Wars books because I haven't been enjoying them lately, but now I'm telling my friends that do like Star Wars book to go read this one because we might be turning a corner here.
What starts out as a slow, politics-laden story became a fun Star Wars book that actually had meaningful events. The recent flow of Star Wars novels have felt like filler more than content so it's about time a story actually starting to really fill in some of the events between Episodes 6 and 7. The book isn't perfect by any means but I enjoyed it well enough and it gives me hope that more good novels could still happen. Did you miss all the politics that didn't happen in Episode 7? Well you are going to love the beginning of this book. Glad there weren't politics in Episode 7? Be patient with the beginning of the book and you'll be rewarded with some redeeming adventure afterwards!
The story begins with tension in the senate between Democrats and Republicans in the senate….err I mean Centrists and Populists. Really the whole two party system felt like an allegory for the current political climate in many ways. If you're sick of all the primaries and partisan stuff going on, you'll be able to relate to the nonsense going on here. Both sides of the New Republic government see each other a villains or weak and their bickering means nothing gets accomplished (see what I mean about it being just like our government???). Enter a real threat and everyone is too busy arguing to pay any head so lets send a bipartisan contingent to investigate! Leia (populist) volunteers to go on a mission to investigate this criminal organization and an annoying, pompous centrist volunteers to go with her.
Enter Ransolm Casterfo. This guy starts out pretty annoying but I actually came to really like him after the first little foray of adventure. He has more depth to him than many other Star Wars characters and is given many nuanced decisions to make throughout the book while dealing with the fact that he becomes friends with his political enemy. He has a big role to play in this story and does not disappoint. There are a couple of other interesting characters that are introduced in this novel and they are also often more than they seem…but Ransolm Casterfo is the best of them.
Speaking of adventure, the action has a bit of a rocky start but gets to be more interesting as the story progresses. There were some moments early on when I got pretty tired of Leia being some kind of expert of the criminal world and acting pretty reckless, but a lot of that pulpy behavior faded out as the story continued. Star Wars is still the kind of world where you don't send special forces or spies to investigate criminal organizations, you send some of your most important leaders (Like how Star Trek always seems to have the top ranking officers of the ship on dangerous away missions).
As for the audio side of things Star Wars continues with its great formula of great narration, music, sound effects, and atmospheric sounds. January LaVoy does a great job with the narration even though her range of distinct voices isn't as varied as some. The music and special effects were great as usual with some odd music choices for some scenes but some very poignant choices for others. Most of the atmospheric sounds were good but some scenes go on a while and I felt like the background noise was on a bit of a loop – a problem I haven't heard from a Star Wars audiobook since Star Wars: Kenobi (thank goodness it wasn't very distracting).
Posted by Tom Schreck
William Shakespeare's The Jedi Doth Return
By Ian Doescher; Narrated by Marc Thompson, Jonathan Davis, Daniel Davis, Jeff Gurner, January Lavoy, and Ian Doescher
Publisher: Random House Audio
Publication Date: 1 July 2014
[UNABRIDGED] – 3 hours, 35 minutes
Listen to excerpt: | MP3 |
Themes: / Shakespeare / iambic pentameter / full cast / Star Wars /
Publisher summary:
Return to the star-crossed galaxy far, far away as the brooding young hero, a power-mad emperor, and their jesting droids match wits, struggle for power, and soliloquize in elegant and impeccable iambic pentameter. Illustrated with beautiful black-and-white Elizabethan-style artwork, these two plays offer essential reading for all ages. Something Wookiee this way comes!
The jedi doth return indeed. The final book of the Shakespearean Star Wars trilogy keeps pace with the first two books with regard to author Ian Doescher's ability to come up with interesting rules for his writing. I enjoyed this book as much as the first and highly suggest experiencing the full performance of the audio book as it works quite well in the form of a radio play.
If you really want to follow all that's going on, listen to the author's note after the story first. Doescher explains all of the rules he came up with in previous books and the ones he added for himself in this play. Some rules are more obvious like writing in iambic pentameter and Boba Fett's prose but others are more interesting. For your assistance and enjoyment, here is a list of those I can remember:
Most lines are written in iambic pentameter (including the last two lines of a scene rhyming).
Han and Leia speak to each other in rhyming couplets when alone.
Boba Fett speaks in prose.
Yoda speaks in haiku.
Ewoks speak in a mix of Ewok and broken English
Doescher adds a decent amount of literary mechanisms like foreshadowing, aside, foils, and soliloquy to really give this play the Shakespeare feeling. I could go on more about this but a cool benefit these gave is that he's able to get into character's heads to show what they're thinking at times I've never thought about while watching the movie. For instance, what is Han thinking when he's woken up from his carbonite sleep? What is Leia thinking when Luke breaks the news of his family tree? I really like how this was used to highlight the inner struggles that Luke and Darth Vader have during their final confrontation.
The audio book performance is great. All the character voices are done superbly, the sound effects are all there, and the music is well used. The use of a cast definitely lends well to the presentation of this as a play. There are even a few…musical surprises. The note on the audio version is that the lines are read for performance and not to emphasize the iambic pentameter…so Doescher's efforts in keeping the pattern aren't really noticeable (you remember from English class right? da-DA-da-DA-da-DA-da-DA). This isn't a detractor since most would prefer this to be acted but just noting it.
Posted by Tom Schreck
William Shakespeare's The Empire Striketh Back
By Ian Doescher; Performed by a full cast (Daniel Davis, Jonathan Davis, Ian Doescher, Jeff Gurner, January LaVoy, Marc Thompson)
Publisher: Random House Audio
Publication Date: 18 March 2014
[UNABRIDGED] – 3 hours, 25 minutes
Themes: / Star Wars / Shakespeare / iambic pentameter / haiku /
Publisher summary:
Hot on the heels of the New York Times bestseller William Shakespeare's Star Wars comes the next two installments of the original trilogy: William Shakespeare's The Empire Striketh Back and William Shakespeare's The Jed Doth Return. Return to the star-crossed galaxy far, far away as the brooding young hero, a power-mad emperor, and their jesting droids match wits, struggle for power, and soliloquize in elegant and impeccable iambic pentameter. These two plays offer essential listening for all ages. Something Wookiee this way comes!
Ian Doescher is back with more Shakespearian Star Wars as he progresses through the original trilogy. The Empire Striketh Back is very similar to Shakespeare's Star Wars with some minor differences. As before, if you like Star Wars and Shakespeare you will probably enjoy this book…especially if you liked the first one. I think this book comes across a bit more silly than the first which is unfortunate because The Empire Strikes Back is the darkest part of the trilogy and some of that emotion is lost due to the silliness. That said, Doescher once again does a fantastic job putting everything into iambic pentameter and even mixes things up with some prose and even haiku with different characters.
The Shakespeare/literary side of this book is really well done, almost to the point that I would say this book would be a great device for teaching disinterested kids about Shakespeare without them reading Shakespeare. Doescher is more varied in his use of literary tools and explains a few of the differences in this book from the first in an afterward. I really wish that was at the beginning so I could be on the lookout for Boba Fett's use of prose (I noticed that), Yoda speaking in haiku (I didn't notice that), and his relying less on the chorus to explain scenes (I noticed this a bit since the characters explained more of what's happening). The fact that he was able to do the whole book in iambic pentameter (complete with rhyming couplets) and also integrated some haiku is an impressive feat of work. Doescher also makes really good use of soliloquy and aside to explain character motivation for things like the budding relationship between Han and Leia, Lando's motives, and what R2D2 is thinking at times. This allows him to flesh out things left to physical acting in the movies or description/narration in the novels.
While the book is technically impressive, the writing is approached like Renaissance faire Shakespeare and has a bit of a silliness aspect to it. This works great normally but definitely takes away from the emotion of things happening, especially later in the story (in Cloud City). The main silly aspect that got me was the singing. Shakespeare did have songs in many of his plays but singing ugnaughts and a song from Leia and Chewbacca come across as silly (at least they definitely did in the audiobook). The ugnaughts (picture the pig faced short guys working the incinerator room and carbon freezing chamber of Cloud City) came across like Oompa Loompa's from the Charlie and the Chocolate Factory movie. The Leia and Chewbacca song also comes at a time of great loss and just feels out of place. There is other silliness that works well (a discussion of why places like the Death Star and Cloud City need to have large open spaces adjacent to walkways is one) so just consider me overly sensitive with my Empire Strikes Back. ;-)
I really enjoyed this as an audiobook and think it's the preferred way to experience this telling of the story. The cast does a great job with all impressions and the music and sound effects are some of the best you'll find in a Star Wars book. I mainly say that because all the sound effects and especially the music have a place that goes along with what's happening in the story (I'm big into soundtracks and this was a huge factor for me). I have to admit that I was a little sad that it was over so soon because the performance was very enjoyable. I'm definitely looking forward to the conclusion of this Shakespearian trilogy.
Posted by Tom Schreck
William Shakespeare's Star Wars
By Ian Doescher; Read by Daniel Davis, Jonathan Davis, January LaVoy, and Marc Thompson
Publisher: Random House Audio
Publication Date: 1 October 2013
ISBN: 9780804191791
[UNABRIDGED] – 3 hours, 31 minutes
Download excerpt: | MP3 |
Themes: / Star Wars / Shakespeare / poetry / saga / iambic pentameter /
Publisher summary:
Return once more to a galaxy far, far away with this sublime retelling of George Lucas's epic Star Wars in the style of the immortal Bard of Avon. The saga of a wise (Jedi) knight and an evil (Sith) lord, of a beautiful princess held captive and a young hero coming of age, Star Wars abounds with all the valor and villainy of Shakespeare's greatest plays. 'Tis a tale told by fretful droids, full of faithful Wookiees and fearsome Stormtroopers, signifying…pretty much everything.

Reimagined in glorious iambic pentameter, William Shakespeare's Star Wars will astound and edify Rebels and Imperials alike. Zounds! This is the audiobook you're looking for.
What if you went to your local Renaissance Fair expecting to watch a Shakespearean play that ended up being Star Wars: A New Hope? Shakespeare's Star Wars is pretty much what you'd get. If you're looking for a fun, lighthearted take on Star Wars that's fun to listen to but can also come off a bit silly, you might enjoy this book. Don't be intimidated by the Shakespeare part, it isn't difficult to follow. We're talking Renaissance Fair level of difficulty in understanding what's going on.
This book follows the events of the first movie (Episode IV) and was more enjoyable than I thought it would be. Some fan service is paid out to small things like whether Han Shot first and Luke's whining while on the farm. Too much fan service can be bad but I thought this was handled well and not overdone too much. It was just enough that it made me smile or laugh as the story progressed.
As for the Shakespearean side of things, Doescher does a great job of incorporating many of the more well known phrases and devices known from the more well known plays. I have to give him due credit for writing the whole thing in iambic pentameter and making fantastic use of asides (when characters speak to the audience). The asides are really great to show what characters are thinking and I especially like how they are used for R2D2 (and how he "plays the fool"). Doescher makes prolific use of many well known phrases from Shakespeare that work in most places but can be a little too jarring in others when too much of the quote is used ("we few, we happy few…").
Audiobook: As for the audio performance, I couldn't have been happier. I expected the Shakespearean dialogue to be difficult to follow but since it's more like "Renaissance Fair" Shakespeare, it was no problem to understand. The cast did a great job with all the voices and I genuinely laughed after the first couple of R2D2 lines. I should note that I didn't really like January LaVoy's performance so much in Razor's Edge but I thought she did great in this book. All the normal sound effects and music were also present and enjoyable as usual.
Posted by Tom Schreck
Razor's Edge: Star Wars (Empire and Rebellion)
By Martha Wells; Read by January LaVoy
Publisher: Random House Audio
Publication Date: 24 September 2013
ISBN: 9780804148269
[UNABRIDGED] – 9 hours, 57 minutes
Themes: / Star Wars / rebels /
Publisher summary:
Times are desperate for the Rebel Alliance. Harassment by the Empire and a shortage of vital supplies are hindering completion of a new secret base on the ice planet Hoth. So when Mid Rim merchants offer much-needed materials for sale, Princess Leia Organa and Han Solo lead an Alliance delegation to negotiate a deal.But when treachery forces the rebel ship to flee into territory controlled by pirates, Leia makes a shocking discovery: the fierce marauders come from Leia's homeworld of Alderaan, recently destroyed by the Death Star. These refugees have turned to pillaging and plundering to survive—and they are in debt to a pirate armada, which will gladly ransom the princess to the vengeful Empire . . . if they find out her true identity.

Struggling with intense feelings of guilt, loyalty, and betrayal, Leia is determined to help her wayward kinspeople, even as Imperial forces are closing in on her own crippled ship. Trapped between lethal cutthroats and brutal oppressors, Leia and Han, along with Luke, Chewbacca, and a battle-ready crew, must defy death—or embrace it—to keep the rebellion alive. 
Razor's Edge
takes place between Episodes IV and V and involves Leia trying to acquire funding for the new rebel base on the planet Hoth. It's part of a new trilogy taking place during that time period that has each book focusing on all of our three favorite main characters: Leia, Luke, and Han. I was excited about the idea of another book during this time period because
Allegiance
was so good. I'm sad to say that the book didn't completely live up to my expectations.
Considering that the Empire is the major force in the galaxy during this time period, I was surprised that they only play a minor part in this story. The Empire is there, but the majority of the story involves a group of pirates. The result is that you have lots of new characters to get to know during a time period when you'd potentially expect to be on more familiar ground. There are so many new characters that when they're all finally together, Wells has to list all of them to describe who is doing what when the group splits up (this happens a few times and is kind of awkwardly worded). Don't get me wrong, the book was full of the action and adventure you'd expect from a Star Wars book, it just didn't really feel like a Star Wars book to me.
There were times in the book that it felt like I was being reminded that this was a Star Wars book – such as random lists of Star Wars races when a group passes by (2 Bith, a Rodian, and an Ithorian…or something like that happened a few times) or describing a messy office as looking like it was hit by an ion cannon (wouldn't that just short circuit all their electronics? What would that actually look like?). The thing that really got me was that Han suddenly has a satchel he keeps having to grab or secure…is that supposed to be like Indiana Jones constantly having to grab his hat?
So why do they get roped in with these pirates? Now that is a good question. Leia is still coping with the loss of Alderaan and makes some rash/irrational/impulsive decisions based on those feelings. That would be fine except this is the same Leia that stared down Darth Vader and Grand Moff Tarkin and lied to their faces while facing torture…I just didn't buy that she would irrationally put the hopes of the Rebel Alliance on the line because of the actions of some people from Alderaan.
Overall, I'd say that this book is good for die hard Star Wars fans but not really the casual reader. I'd give a much stronger recommendation for Allegiance by Timothy Zahn since that was a much better ride that fit really well in the same time period.
As for the audio performance, I can't say I'd give much of a higher recommendation on that part. I'm sure January LaVoy does a great job on other books, but she just didn't fit this book very well. Every other Star Wars book I've listened to did a great job with impersonations of characters we all know but they weren't very noticeable here. Most of the male characters sounded pretty similar to each other and the female characters' voices sounded pretty similar to the narration voice.
Star Wars books are also normally known for their effects and music. The production was decent, but there were moments where some sound effects sounded more like a game of Galaga than Star Wars.
Posted by Tom Schreck
Star Wars: Dawn of the Jedi: Into the Void
ISBN: 978-0804148153
[UNABRIDGED] 10 hours 18 minutes
Themes: / star wars / space / jedi / force /
Publisher summary:
On the planet Tython, the ancient Je'daii order was founded. And at the feet of its wise Masters, Lanoree Brock learned the mysteries and methods of the Force—and found her calling as one of its most powerful disciples. But as strongly as the Force flowed within Lanoree and her parents, it remained absent in her brother, who grew to despise and shun the Je'daii, and whose training in its ancient ways ended in tragedy.
 
Now, from her solitary life as a Ranger keeping order across the galaxy, Lanoree has been summoned by the Je'daii Council on a matter of utmost urgency. The leader of a fanatical cult, obsessed with traveling beyond the reaches of known space, is bent on opening a cosmic gateway using dreaded dark matter as the key—risking a cataclysmic reaction that will consume the entire star system. But more shocking to Lanoree than even the prospect of total galactic annihilation, is the decision of her Je'daii Masters to task her with the mission of preventing it. Until a staggering revelation makes clear why she was chosen: The brilliant, dangerous madman she must track down and stop at any cost is the brother whose death she has long grieved—and whose life she must now fear.
The "Dawn of the Jedi" series was first produces in comic form and of course the logical progression is novelization. It takes Star Wars back to its roots. As the title says, it's the origin story to the Jedi, the beginning of our favorite protectors of the universe, users of the force (and lightsabers!), and purveyors of piety.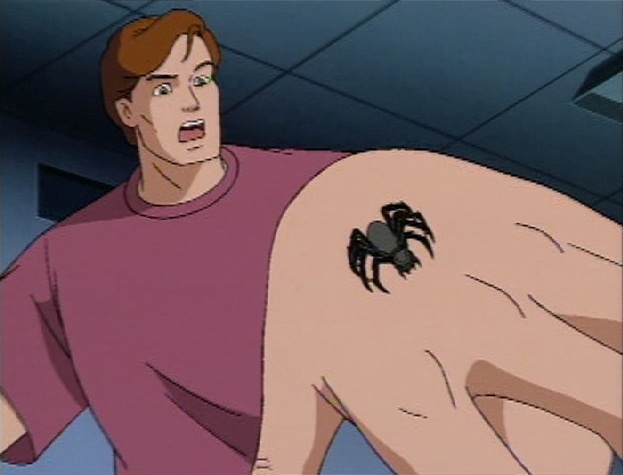 (It was radioactive spiders that created the Jedi!)
And you'll never believe how they began. In fact, if I gave you infinite guesses, you'd never get it. And it's not for the reason you think.
The "Je'daii" have a mysterious society that does its own thing, which tends to be for the betterment of the universe, saying "may the force go with you."
Yeah, you'd never be able to guess because you'd be going for something new. Also, they use the force and swords and have masters and apprentices. So it's definitely an origin story and not just an exact replication of the jedi we know and love.
Okay, so if you're reading Star Wars books, you really can't go into it expecting a whole lot. And sadly, any of the newer books have the added reputation of being bloated series with little plot.
However, what you can expect is lots of action and lots of fun. Into the Void delivers on both counts. While I make fun of the "origin story" it's still an entertaining and interesting look at the beginnings of the Jedi. These Je'daii go through an interesting training period on an incredibly dangerous planet.
Into the Void follows Lanoree Brock, a Je'daii Ranger, who spends most of her time on her own in solitary missions ranging around the galaxy. She's called in for a special mission that could result in the salvation or destruction of the galaxy as they know it, and it's all because of her brother Dal, once thought dead.
The narrative switches between the present where Lanoree is in pursuit of her brother in her current mission and her past training where she and her brother participated together. It's a great way to introduce Dal and find out what his motivations are for his dark pursuits later in his life.
Lebbon does a great job with these characters and his narrative structure works well to set things up for an exciting ending while providing plenty of excitement throughout the training on this dangerous planet. I'm interested to try out Lebbon's other works because he obviously knows what he's doing.
Like other Star Wars audiobooks, Into the Void is filled with suspenseful music and every type of sound effect they can possibly fit in. Like a movie in your head, I can't recommend Star Wars audiobooks enough. And January LaVoy does an excellent job bringing Lanoree and every other character to life.
But what I really can't wait for the origin of the origin story. That's where the money is.
3.5 out of 5 Stars (recommended)
Posted by Bryce L.