Doctor Who: Dead London
Full cast audio drama
Airs on consecutive Sundays beginning on Sunday, October 19*
6PM and 12AM GMT
Written by Pat Mills
Produced by Big Finish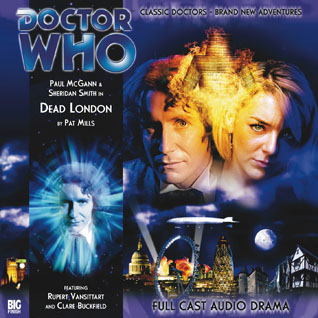 Tomorrow, BBC7's The 7th Dimension presents another popular Big Finish Doctor Who audio drama. This time it's Dead London starring Paul McGann (reprising his 8th doctor role) and Sheridan Smith. Here's the word from the Big Finish website:
Someone's playing with us. Manipulating time and space for their own ends.
The TARDIS lands in London. But which one? The Doctor and Lucie find themselves trapped in a maze of interlocking Londons from Roman times to the present day.
But they are not alone in this labyrinth: a killer is on their trail.
Sounds like dependable ol' Doctor Who fun-o-tainment, and Big Finish always manages a superb production, so check it out. You can also listen to any BBC7 program for 6 days after it airs, so you never have to miss a show.
* Note: BBC7 has revamped their website. The 7th Dimension webpage no longer exists, and show descriptions no longer mention the number of episodes a series may contain, so watch the schedule page closely.
Posted by RC of RTSF