The Scarifyers: For King and Country
Full cast audio drama
Written by Simon Barnard and Paul Morris
Directed by Simon Barnard
Music by Edwin Sykes
Produced by Cosmic Hobo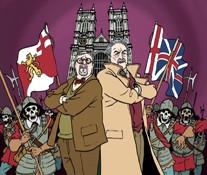 Part one of series three of The Scarifyers, For King and Country, will be aired on February 22 at 6PM and 12AM GMT on BBC 7, continuing on consecutive Sundays in four parts. Each episode is available for six days after broadcast. Stars Terry Molloy and Nicholas Courtney.
'Sir' Harry Price, self-proclaimed ghost detective, has built a machine. His previous experiment – to turn a goat into a man – may have ended ignominiously, but now Harry plans to capture the spirits of the dead with his Price Ghost Captivator™. If he can make it work, that is.
Meanwhile, Londoners are being killed, in especially gruesome fashion, with their own electrical appliances. But most puzzling of all is the Faraday Murderer's habit of leaving cryptic messages in 17th century English at the scene – cryptic messages that mention a certain Harry Price…
Age-old forces are stirring… The dead will rise… The Crown will fall. Can Lionheart and Dunning save King and Country? 
UPDATE: Okay, it's up and streaming. Listen to part one of For King and Country here –right now!
Posted by RC of Radio Tales of the Strange & Fantastic