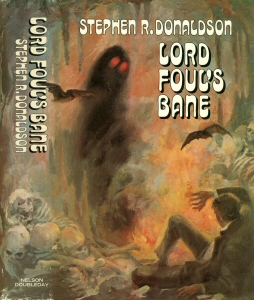 One of the hottest audiobook narrators in the business is Scott Brick. Brick has recently installed a home studio and has been recording some of his favorite titles – which means there's goin g to be some very interesting news for Fantasy fans shortly. Brick's first release, coming soon, is…
The Chronicles of Thomas Covenant
By Stephen R. Donaldson
The Chronicles of Thomas Covenant, the Unbeliever is a trilogy of fantasy novels by Stephen R. Donaldson. It was followed by The Second Chronicles of Thomas Covenant, also a trilogy, and The Last Chronicles of Thomas Covenant, a planned quartet. The main character is Thomas Covenant, a cynical writer afflicted with leprosy, shunned and despised by society, who is destined to become the heroic saviour of an alternate world – or, perhaps, only of his own sanity. Throughout six novels published between 1977 and 1983, Covenant struggles against the evil Lord Foul – "The Despiser" – who intends to break the physical universe to escape its bondage and wreak revenge upon his arch-enemy "The Creator". Many elements of the story correspond to those of Richard Wagner's epic "Ring Cycle", but with inverted values.
-from Wikipedia
As to why these books, Brick had this to say:
"I'm actually putting out The Chronicles of Thomas Covenant myself, and it should be in all the usual places: audible, iTunes, eMusic, Overdrive and Net Library, as well as iAmplify and a few others. It'll also be available on my own site, ScottBrickPresents.com. I will likely be partnering with a major publisher for [hard copy] distribution, but this is essentially self-published. I just saw that no-one was recording it and thought what a shame it would be for people to miss this series. I literally sacrificed my final grades my freshman year at UCLA because I couldn't put this series down. Awesome, awesome books."
UPDATE:
Scott Brick has asked I point out that the first title he will be releasing is actually Fatal Revenant, the most recent book in the series. If all goes swimmingly with it he plans on releasing the earlier titles afterwards. I've got my fingers crossed!
Posted by Jesse Willis