The SFFaudio Podcast #498 – Jesse, Scott Danielson, Paul Weimer, and Marissa VU talk about The Magic Goes Away by Larry Niven
Talked about on today's show:
novella sorta, Odyssey, thinking back, telling about the books, the interesting things in the books, hard Fantasy, mana, the problems of depletion, the wheel spell, a skull, so fun, the whole spoiler phenomenon, spoiler people get uptight as they age, kids are little scientists, tell me more, they walk on clouds, unicorns were a thing, the explanation, in different cultures, is spoiler sensitivity cultural, the joy of getting there, Snotgirl, Jesse's worst sin this year, treasuring the experience of discovery, extra jalapenos, "surprise me!", in the early days of Paul's life, Not Long Before The End, What Good Is A Glass Dagger?, The Wishing Game, The Burning City, The Burning Tower, same universe, ancient Los Angeles, the political messaging gets really ham-handed, the IRS is bad, later books are co-authored, the ideas vs. the execution, Scott's view, so smart, preppin' for a podcast, the magazine version, the art is so good, it felt like trying to extened a really good story premise, the similarities to Ringworld, a big dumb object in the sky (the Moon), we're going to need a god, before they get to the god, the denouement, poor Wavyhill, immortality, screaming for thirty years, Protector, how idea heavy his stuff is, the little consequences, a cultural legacy, some people still believe in magic, he's retconned our magic-free universe with a universe full of magic, he sees like other people do, true for all humanity, kinda sexist, the Moon is magic, when we achieve that as a species, worldsnake, amoeba used to be huge monsters, the Grey Ooze, the gelatinous cube, where Gary Gygax got the idea, the goo, vacuoles, translucent, holding the goo, one of the first words we all say as babies, a giant tardigrade, The First Fossil Hunters by Adrienne Mayor, a protoceratops fossil, gryphons, why we dig them up today, page 46, the size of houses, there that's what I'm talking about, the children of the first god, the Crawling Chaos, fire vs. magic, so much work, good additions, fire is technology, elves are all gone because they are powered by magic and fire, Avengers: Infinity War, mixing in Doctor Strange, created at the point of creation of the universe, The Key To Time, a purpose, characters with different skills, the fire and the magic, a god in the form of Thor, different skill sets, a real issue, a dying earth story, we live in the dead Earth, the setup and the premises, Warlock vs. Wavyhill, a wolfwere, please tell me more, a wolf that's really a man, magic dead zones, a snail dragon, some hidden stuff, Neuromancer, a ROM, Dixie Flatline, a book about hackers, hackers can do magic, cyberpunk role-playing game scene, the Magic: The Gathering cards, Larry Niven backwards, a Niven disc, the NetRunner collectible card game, very clever, he's systematized magic where everything is possible, using limited resources, peak oil problem, what a big idea, The Magic May Return, Fred Saberhagen, Poul Anderson, Mildred Downey Broxon, Roger Zelazny, meteor bombardment, this is cute, emphasize the right words, page 8, chapter 2, an Asian infestation of vampires, "gone mythical", the crater is old, Fistfall, at this point in the book, a mountain, a village, the moon, it's not two wizards, we've got three…, the Three Magi!, what he was going for, that kind of retelling, happening in the background, the kind of book that will reward careful reading, I need to see a wizard, the opening with the raft and the collapse of Atlantis, why Atlantis sunk, I can solve that, tectonically unstable, the payoff, the centaur can't survive without the magic, the image, climate change, images in the news, too real, Trail Of Lightning by Rebecca Roanhorse, a post apocalyptic landscape where the magic has returned, the sixth world, Lucifer's Hammer, Fist Of God, Inferno, Dante's Inferno, the structure, he's old, Planet Stories, The Dancers by Margaret St. Clair, Blue Hours Suspense audio drama series adaptation, waiting for the dawn, a new Eden, the premise, the belief of the dancers, the last uncontacted tribe was shown the error of their ways, who knows what hold the Moon up?, philosophy of science, uniformity, six weekends on the Moon, explanations for why our explanations don't work, I've solved everything in hard Science Fiction, but you haven't solved unicorns, Svetz, time travel stories, Moby-Dick, running into fantasy, into a fantastical past, a collection of short stories, Rainbow Mars, a seed from Yggdrasil, A Wolf In My Time Machine, manna in fantasy, manna's from heaven, Maori culture, as a unit of magic, magic as sustenance, a shout out to Australia and New Zealand, emigrate to Australia, super-yummy, "try the moa, it's great!", the aborigines, the Dreamtime, this fits in with my explanation, Master Of The Maze by Avram Davidson, been not from, Maori cultural practices, reciprocal obligations, Jesse explains the potlatch, depleting your production, you have power, an economic cultural mixer, what commerce can do, nobody would be productive if they didn't have money, the communication of debt, honor, they owe you and you own them, Washington State, banned, spiritual power, gods and spirits, the UBC Museum of Anthropology, that is magical in a certain sense, motivating without money, economics as debt not as currency, a theme in a lot of Niven's work, solving ideas, 13,000 B.C., geography, Doggerland is still above the waves, exploring the changes, the unstated name is Robert E. Howard, his Hyborian age, Acheron, King Kull was an Atlantean, a philosopher king in a magic heavy universe, Kull The Conqueror (1997) movie is fairly faithful, Kevin Sorbo, The Good Place, funny dialogue, a good sense of humour, the relationship he has with women, typical, the right Niven characters together, Louis, Speaker, and Nessus, damn hard SF, character low, having motivation, the baddie, the worlds first necromancer, is Wayvhill the badguy?, a heist that goes wrong, very Joseph Campbell-y, dealing with the epic, The Broken Sword by Poul Anderson, Elric of Melniboné by Michael Moorcock, Orolandes said, the skulls, "I wish…", what was Clubfoot wishing for?, the last great sorcerer, a diminishment and a sadness, wishes don't come true anymore, now I'm sad, thanks Paul, Antarctica, you wish upon a star, he's not spelling it all out but he's pointing to it, that's the joy, Merlin, he ages backwards, they have these spells, Mirandees hair colour, from black to white, the vampire spell, good stuff, a very nice exercise, throwing Larry Niven into Hell, totally worthwhile, the original short was withdrawn for consideration for a Hugo, fantastic, Marissa is going mythical.
Posted by Jesse Willis
Star Wars: Scoundrels
By Timothy Zahn, Read by Marc Thompson
Publisher: Random House Audio
ISBN: 0345511506
[UNABRIDGED] – 13 Discs, 13 Hours 54 Minutes
Themes: / Star Wars / Heist / Ocean's Eleven / Han Solo /
Publisher Summary:
To make his biggest score, Han's ready to take even bigger risks.

But even he can't do this job solo.

 Han Solo should be basking in his moment of glory. After all, the cocky smuggler and captain of the Millennium Falcon just played a key role in the daring raid that destroyed the Death Star and landed the first serious blow to the Empire in its war against the Rebel Alliance. But after losing the reward his heroics earned him, Han's got nothing to celebrate. Especially since he's deep in debt to the ruthless crime lord Jabba the Hutt. There's a bounty on Han's head—and if he can't cough up the credits, he'll surely pay with his hide. The only thing that can save him is a king's ransom. Or maybe a gangster's fortune? That's what a mysterious stranger is offering in exchange for Han's less-than-legal help with a riskier-than-usual caper. The payoff will be more than enough for Han to settle up with Jabba—and ensure he never has to haggle with the Hutts again.

All he has to do is infiltrate the ultra-fortified stronghold of a Black Sun crime syndicate underboss and crack the galaxy's most notoriously impregnable safe. It sounds like a job for miracle workers . . . or madmen. So Han assembles a gallery of rogues who are a little of both—including his indispensable sidekick Chewbacca and the cunning Lando Calrissian. If anyone can dodge, deceive, and defeat heavily armed thugs, killer droids, and Imperial agents alike—and pull off the heist of the century—it's Solo's scoundrels. But will their crime really pay, or will it cost them the ultimate price?
I have to start out being a bit misleading. Star Wars audiobooks are simply the best – they combine the intimacy of reading a book with the sound effects and music of the movies. Blasters, lightsabers, R2D2 squeals, and the same compositions as the movies! Then they get amazing voice actors who are pitch-perfect when it comes to the voices of the characters we love. That's a pretty big role to fill when books are based on movies since we already know how these people sound and anything different…just wouldn't work.
I have to say Marc Thompson does not let us down. His Lando Calrissian is spot-on even though his Han Solo borders on sounding like Patrick Warburton. You don't realize how close they actually are until you hear it.
There's one scene toward the beginning where Thompson voices 11 characters having a discussion and he doesn't miss a beat. I was astounded, although I had to go back and re-listen because I wasn't paying attention to what was actually being said, it was way too impressive! But I guess I'm getting ahead of myself.
Star Wars: Scoundrels takes us back (or forward since Old Republic is going on right now) to just after the first movie in the Star Wars franchise, episode IV, Star Wars: A New Hope. If you're confused now, it's best to just turn away.
I'm not the most well-read when it comes to Star Wars novels, in fact I've only "read" any of them through audio form. But, I do know that it can be a confusing timeline because there are A LOT of Star Wars books. Where do you even start? Luckily, they provide you with a nice timeline at the front of every book showing a listing of the books and the movies. In this case, Scoundrels can be read as long as you've watched the original movies.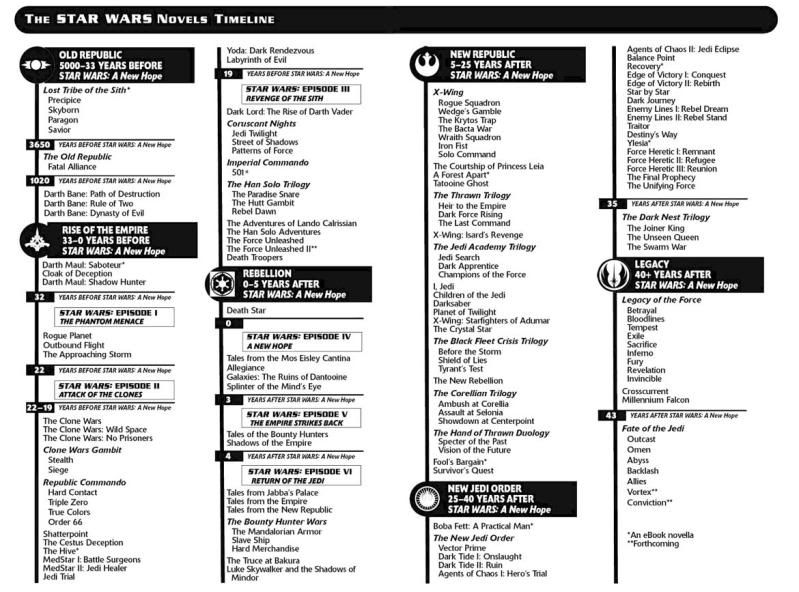 (It looks like this, but I couldn't find one with Scoundrels on it. You'll just have to trust me I guess.)
Another way to put this, if you're human, you can read Scoundrels at any point. It's just filler, taking place in between movies, it doesn't follow any other books, although I've heard it does contain characters from other Han Solo-involved books. Again, I show my lack of actual knowledge. Scoundrels is essentially Ocean's Eleven meets Star Wars. There are even 11 people! Han Solo lost all his reward money and still needs to pay off that darned Jabba the Hutt. He's approached, after a quick nod to the "who shot first" controversy, and gets a team together to get some money.
Of course, it's all but impossible because blah blah blah. The scene mentioned above with the 11-person discussion revolves around this in fact. Like I said, Ocean's Eleven inevitably springs to mind, you can't help it. This comparison's been thrown around a lot and while it's fitting, I think it's a huge detriment to this book. Here's why I said I was being misleading, I've been very positive about this book up to this point, but there was plenty I didn't like. You can't help but think of the comparison, but quickly you start thinking how much better Ocean's Eleven is. At least that was my experience. It really just wasn't that great of a heist. It wasn't terrible, but things just kept getting added on and suddenly the ball starts rolling and I really just didn't care.
Then there's just not a whole lot of Han Solo. He's the person this essentially revolves around, but he doesn't really play a huge part. On the other hand, Lando was really fun to follow for the first time outside of the movies. But he doesn't really do a whole lot in the movies either. This was cool to see his easy-under-pressure "gambler" side.
The final complaint I have, which really isn't a complaint, is that I've found I prefer lightsabers in my Star Wars. In fact, this was a new discovery during this read. Han Solo's great and all, but I really really like jedis and lightsabers I guess. I missed them here. I noted above that Star Wars books have lightsaber sounds, but there wasn't one sound in this audiobook.
Scoundrels is a fun read and the narrator is incredible even, but on the whole I didn't love this book. It was entertaining at times, boring at others, and just didn't live up to expectations. That's not always the book's fault, but it ran a line much too close to Ocean's Eleven that begged for the comparison and missed the mark.
3 out of 5 Stars (Recommended with Reservations)
Note: I have to say this is one of the best covers I've seen whether Star Wars or not. It puts a spell on you so you have to read the book just to hold longer.
Review by Bryce L.
After doing a little online research about a low budget vampire movie called Stake Land (which could be set in the universe of Richard Matheson's I Am Legend), I stumbled over the Double Feature podcast. The hosts, hosts Eric Ingrum and Michael Koester, pair two movies that are somehow connected and bring to the discussion both interesting facts and intelligent analysis (or as they put it "blasphemy, skepticism, dirty words and bloodlust").
In the case of the episode I heard (Die Hard + Man On Wire) the connection goes like this:
"Secret heist films that take place in famous buildings (and are based on books!)"
WOW! I didn't know that Die Hard was based on a 1979 novel called Nothing Lasts Forever by Roderick Thorp!
Did you?
Have a listen |MP3|.
I'm pretty damn impressed with this podcast. The next time I see a movie or two that they've covered I'm listening.
Podcast feed: http://feeds.feedburner.com/doublefeatureshow
iTunes 1-Click |SUBSCRIBE|
Posted by Jesse Willis
According to the Wikipedia entry, BBC Radio 7 was renamed BBC Radio 4 Extra back in April. I'm not much for re-branding – it's a grubby little idea that makes me think of scientific management, focus groups and meetings … endless … unproductive … meetings. The more I think about meetings the less I want to think.
Hopefully the new name will last a few years, and then perhaps BBC management can go ahead and arrange to have a meeting about considering the update of their antiquated delivery methods – perhaps they've already started as I hear they've finally dropped RealAudio (the web's first big audio technology).
Speaking of delivery methods, I discovered my first interesting BBC Radio 4 Extra offering over on RadioArchive.cc. RA.cc is my favourite site for public radio, its chock full of great taxpayer funded programming. The site is extremely well organized and make even people who are wary of the word "torrent" comfortable with the technology. Files are, naturally, in the MP3 format, and when well seeded, a program the size of Topkapi will take only about TEN minutes to download. That's service folks!
Topkapi, aka The Light Of Day, is a 1962 novel Eric Ambler. I'd heard about it – but until it showed up on RadioArchive.cc I never even thought to investigate it. Well, after investigating it turns out that The Light Of Day was an Edgar Award winning novel, 1964, and has a fair cachet in espionage and crime fiction circles. The name change, for this reading, was likely done to remind BBC listeners of the movie – Topkapi is pretty famous, the Ottoman Sultans used it as their personal residence as well as an "impregnable fortress" that housed its famous seraglio/harem.
The Wikipedia entry for Ambler has this gem:
"A recurring theme in Ambler's books is the amateur who finds himself unwillingly in the company of hardened criminals or spies. Typically, the protagonist is out of his depth and often seems for much of the book a bumbling anti-hero, yet eventually manages to surprise himself as well as the professionals by a decisive action that outwits his far more experienced opponents."
That certainly fits Topkapi.
I can't say how much of the novel was excised for this abridgement, but I can say the novel definitely works as a quick listen. There are some unnecessary sound effects added, but when they show up they don't overwhelm the text. The story is told in first person, by the clever, but unlucky anti-hero. David Westhead, the reader, is truly excellent in performing the lead character. He's got a wonderfully subdued humor, and the voice and accent work he provides for the man supporting characters adds a lot of color.
Topkapi (aka The Light Of Day)
By Eric Ambler; Read by David Westhead
Six 30 minute episodes – Approx. 3 Hours [ABRIDGED]
Broadcaster: BBC Radio 4 Extra
Broadcast: May 2011
Source: RadioArchive.cc
Small time operator Arthur Abdel Simpson is an illegitimate stateless half British half Egyptian pimp and pornographer. He makes his living fleecing tourists in Athens, Greece. When he picks up a likely looking pigeon at the airport he soon discovers that he's the one in trouble. He's then blackmailed into driving a car to Istanbul.
1/6. Minor crook Arthur Abdel Simpson spots a likely mark at Athens airport
2/6. Arthur Simpson is interrogated by Turkish security for unintentional arms smuggling.
3/6. Arthur is now seconded to Turkish security. He also has to work at the suspect's villa.
4/6. Unwilling agent Simpson watches a group of 'tourists', while he works as their driver.
5/6. Arthur Simpson witnesses a vicious knife fight and waits for news of Fischer.
6/6. Arthur Simpson is still on the roof. He has just reluctantly robbed the Treasury.
Here's the trailer for the film version:
I'll try to find a copy of the film itself, and maybe see if its anything like the audiobook.
Posted by Jesse Willis
Heist Society
By Ally Carter; Read by Angela Dawe
5 CDs, 1 MP3-CD or Audible Download – Approx. 6 Hours 7 Minutes [UNABRIDGED]
Publisher: Brilliance Audio
Published: February 9, 2010
ISBN: 1441826734 (cd), 9781441826756 (mp3-cd)
Themes: / Crime / Caper / Heist / Grifting / Art / Europe / Romance /
SAMPLE |MP3|
Since she can remember, Katarina's relatives have been grooming her for the family business – thieving. But when Kat tries to go straight and leave the "Life" for a normal life, she's promptly kicked out of her new school for stealing the headmaster's car and mounting it on the school fountain. Although she could have done it without breaking a sweat, ironically, this time, she's innocent. In fact, she was framed – by another highly skilled thief. Her friend and brother-in-trade Hale, with his mischievous smile and limitless bank account, has appeared out of nowhere to bring her back to the Life, back to the family Kat tried so hard to escape. Hale has a good reason: A powerful mobster has just been robbed of his priceless art collection, and he wants to retrieve it. Only a master thief could have cracked this vault, and Kat's father isn't just on the suspect list, he IS the list. Now, caught between Interpol and a far more deadly predator, Kat's dad needs her help. For Kat, a consummate thief in her own right, the solution is simple: track down the paintings and steal them back. So what if it's a spectacularly impossible job? She's got two weeks, a teenage crew, and maybe just enough misguided pride to pull off the biggest heist in history – or at least in her family's (very crooked) history.
I can't say there's much more to this novel than the very detailed premise outlined above. It's theme is as old as YA. A smart kid must save his or her parent from something. Mayhaps it's not the most exicting theme ever, but it's far more interesting than:
"Love conquers all, or love is the strongest force or something. Something about love being so strong to overcome anything."
And as I value my time, and try to be pragmatic about these things, I find it hard not to recommend Heist Society as a breezy listen! It's easily picked up, and just as easily dropped. I listened to it over the course of about four months – between more serious audiobooks and a forced reading of part of Twilight. Now, being a fan of practically every grifter/heist movie ever made, I can't say I learned a single new trick or wrinkle while listening to Heist Society. But then again I didn't really expect to. That isn't to say, though, that I wouldn't have liked to. And while all this probably doesn't sound like a particularly ringing endorsement I'd much rather hand a copy of Heist Society to practically any kid than something far more popular with far more vapidity (like say something with a sparkly vampire and the teen who pines after him). See, the negatives with Heist Society aren't particularly egregious. Sure Katarina's and Hale are a pair of kids who act variously cynical and cool, innocent and dastardly, all while lusting (ever so gently) towards each other – but they do so in a slightly more realistic world, talking about slightly more realistic subjects, with slightly more interest in history, art and a lot more of the taking-charge-of-shit and a lot less of the lying-around-and-wishing-that a handsome-prince-whose-been-in-high-school-for-ninety-years would stare at her while she sleeps.
Bitter? Noooo, I'm not bitter.
Anyway, Ally Carter's writing style is brisk, unobtrusive, and not wholly unsophisticated. It delivers a soft boiled tale that seems far more inspired by the Oceans 11, 12, 13, Entrapment, The Maiden Heist end of the spectrum than the The Silent Partner, The Great Train Robbery, Thief end. And if you're an adult, in the mood for a YA novel that doesn't have a single brooding vampire anywhere in sight (not even in the castles), this might just fill a few empty hours.
Narrator Angela Dawe performs Kat well enough, perhaps sounding a bit too adult. Dawe is not, however, quite able to fully sell me on the male characters. Her voice range isn't particularly vast. Thankfully, as most scenes aren't full of multiple characters, there isn't much of a chance of confusing any of them. She's certainly good enough for this novel.
Posted by Jesse Willis
As part of our revival of the Aural Noir label, we'll be re-running some of our classic (offline) Aural Noir posts, including this "vintage" audiobook review which was first posted in December 2005…
Fever
By Sean Rowe; Read by William Dufris
5 CDs – Approx 6 Hours [UNABRIDGED]
Publisher: Tantor Media
Published: 2005
ISBN: 1400101778
Sample: |MP3|
Themes: / Crime / Heist / Noir / Thriller / Terrorism / Florida / Cuba / Nautical / Family /
Raw, is probably the best one-word sum up of Sean Rowe's first novel Fever. Rowe's prose lacks the polish found in novelists like Lawrence Block, Donald Westlake and Elmore Leonard, but he doesn't lack what it takes to eventually become worthy of hanging out with these masters, especially if he keeps writing like this!
Fever follows a tight knit group of fuck-ups through their attempt to rob thirty million dollars of stashed drug money from an aging cruise ship plying the waters between Miami and Cuba. The crew, on paper at least, looks like it should be able to handle anything. It consists of an ex-FBI agent Matt Shannon, his step brother (an ex-DEA agent named Jack Fontana), an emergency room nurse named Julia, a former Black Panther, and a South American soldier of fortune. Despite their collective skill set these are all losers in almost every way. Shannon's past is slowly revealed, working backwards we know that he's an in-debt alcoholic, with a dead wife, missing an index finger and has a step-brother who is a recently paroled felon. When the step-brother frames Shannon in the sinking of a freighter Matt is half-blackmailed into going along, with a vague desire to somehow help his brother. The rest of the crew are nearly as sad, Julia was an orphan who was sexually abused from a young age. And Jack Fontana is dying after serving his sentence. Even the minor characters have their share of problems…. one passage detailing the last job the mercenary took killing Indians in the jungles of South America is brutal, funny and illustrative of just how unlikely this string will be of pulling off this or any job. The malformed love triangle between Shannon, his brother, and Julia pays off in a tasty neo-noir style. In fact love, brotherly and the other kind is probably at the heart of this story. Fever is extremely enjoyable, the dialogue is crisp and fun, the scenes are imaginative and original. A constant surprise awaits in every chapter. None of it goes exactly according to plan and that makes it all the better to follow. The novel's few problems seem mostly structural, scene transitions aren't handled as well as I'd like and despite it being a first person perspective we never really get an idea of what's going on inside the narrator's head. This could be a deliberate style on the part of Rowe, as both flaws could be thought to pay off in certain ways later in on the book, but I'm thinking a more seasoned novelist might have been better able to give us everything. I eagerly look forward to reading the next Sean Rowe novel!
Read by the always reliable William Dufris, the first person perspective plays into such classics as Double Indemnity and The Postman Always Rings Twice. Dufris' natural timbre doesn't exactly embody the gravelly voiced loser we imagine as the narrator but his voicing of the rest of the crew is spot on. Men, women, a Colombian drug lord, the string and even minor characters like an aging boxer all sound just like you'd want them to. Tantor Media, an exciting new player in unabridged audiobooks has packaged Fever in a clamshell CD case with leaved pages. The cover is the same as the Little Brown & Co. original and the sound quality is phenomenal. The pricing is extremely reasonable too. I think Tantor is probably the most exciting new big little publisher of the decade!
Posted by Jesse Willis