Star Wars: Scoundrels
By Timothy Zahn, Read by Marc Thompson
Publisher: Random House Audio
ISBN: 0345511506
[UNABRIDGED] – 13 Discs, 13 Hours 54 Minutes
Themes: / Star Wars / Heist / Ocean's Eleven / Han Solo /
Publisher Summary:
To make his biggest score, Han's ready to take even bigger risks.

But even he can't do this job solo.

 Han Solo should be basking in his moment of glory. After all, the cocky smuggler and captain of the Millennium Falcon just played a key role in the daring raid that destroyed the Death Star and landed the first serious blow to the Empire in its war against the Rebel Alliance. But after losing the reward his heroics earned him, Han's got nothing to celebrate. Especially since he's deep in debt to the ruthless crime lord Jabba the Hutt. There's a bounty on Han's head—and if he can't cough up the credits, he'll surely pay with his hide. The only thing that can save him is a king's ransom. Or maybe a gangster's fortune? That's what a mysterious stranger is offering in exchange for Han's less-than-legal help with a riskier-than-usual caper. The payoff will be more than enough for Han to settle up with Jabba—and ensure he never has to haggle with the Hutts again.

All he has to do is infiltrate the ultra-fortified stronghold of a Black Sun crime syndicate underboss and crack the galaxy's most notoriously impregnable safe. It sounds like a job for miracle workers . . . or madmen. So Han assembles a gallery of rogues who are a little of both—including his indispensable sidekick Chewbacca and the cunning Lando Calrissian. If anyone can dodge, deceive, and defeat heavily armed thugs, killer droids, and Imperial agents alike—and pull off the heist of the century—it's Solo's scoundrels. But will their crime really pay, or will it cost them the ultimate price?
I have to start out being a bit misleading. Star Wars audiobooks are simply the best – they combine the intimacy of reading a book with the sound effects and music of the movies. Blasters, lightsabers, R2D2 squeals, and the same compositions as the movies! Then they get amazing voice actors who are pitch-perfect when it comes to the voices of the characters we love. That's a pretty big role to fill when books are based on movies since we already know how these people sound and anything different…just wouldn't work.
I have to say Marc Thompson does not let us down. His Lando Calrissian is spot-on even though his Han Solo borders on sounding like Patrick Warburton. You don't realize how close they actually are until you hear it.
There's one scene toward the beginning where Thompson voices 11 characters having a discussion and he doesn't miss a beat. I was astounded, although I had to go back and re-listen because I wasn't paying attention to what was actually being said, it was way too impressive! But I guess I'm getting ahead of myself.
Star Wars: Scoundrels takes us back (or forward since Old Republic is going on right now) to just after the first movie in the Star Wars franchise, episode IV, Star Wars: A New Hope. If you're confused now, it's best to just turn away.
I'm not the most well-read when it comes to Star Wars novels, in fact I've only "read" any of them through audio form. But, I do know that it can be a confusing timeline because there are A LOT of Star Wars books. Where do you even start? Luckily, they provide you with a nice timeline at the front of every book showing a listing of the books and the movies. In this case, Scoundrels can be read as long as you've watched the original movies.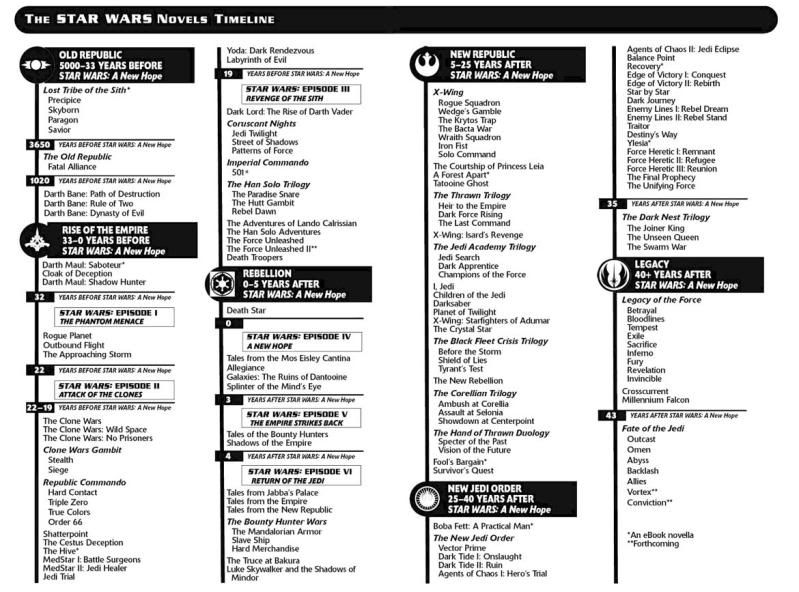 (It looks like this, but I couldn't find one with Scoundrels on it. You'll just have to trust me I guess.)
Another way to put this, if you're human, you can read Scoundrels at any point. It's just filler, taking place in between movies, it doesn't follow any other books, although I've heard it does contain characters from other Han Solo-involved books. Again, I show my lack of actual knowledge. Scoundrels is essentially Ocean's Eleven meets Star Wars. There are even 11 people! Han Solo lost all his reward money and still needs to pay off that darned Jabba the Hutt. He's approached, after a quick nod to the "who shot first" controversy, and gets a team together to get some money.
Of course, it's all but impossible because blah blah blah. The scene mentioned above with the 11-person discussion revolves around this in fact. Like I said, Ocean's Eleven inevitably springs to mind, you can't help it. This comparison's been thrown around a lot and while it's fitting, I think it's a huge detriment to this book. Here's why I said I was being misleading, I've been very positive about this book up to this point, but there was plenty I didn't like. You can't help but think of the comparison, but quickly you start thinking how much better Ocean's Eleven is. At least that was my experience. It really just wasn't that great of a heist. It wasn't terrible, but things just kept getting added on and suddenly the ball starts rolling and I really just didn't care.
Then there's just not a whole lot of Han Solo. He's the person this essentially revolves around, but he doesn't really play a huge part. On the other hand, Lando was really fun to follow for the first time outside of the movies. But he doesn't really do a whole lot in the movies either. This was cool to see his easy-under-pressure "gambler" side.
The final complaint I have, which really isn't a complaint, is that I've found I prefer lightsabers in my Star Wars. In fact, this was a new discovery during this read. Han Solo's great and all, but I really really like jedis and lightsabers I guess. I missed them here. I noted above that Star Wars books have lightsaber sounds, but there wasn't one sound in this audiobook.
Scoundrels is a fun read and the narrator is incredible even, but on the whole I didn't love this book. It was entertaining at times, boring at others, and just didn't live up to expectations. That's not always the book's fault, but it ran a line much too close to Ocean's Eleven that begged for the comparison and missed the mark.
3 out of 5 Stars (Recommended with Reservations)
Note: I have to say this is one of the best covers I've seen whether Star Wars or not. It puts a spell on you so you have to read the book just to hold longer.
Review by Bryce L.