BBC7's The 7th Dimension program is re-broadcasting an action-packed reading of a Leigh Brackett novelette: The Last Days of Shandakor was originally published in the April 1952 issue of Startling Stories magazine. It was first broadcast on BBC7 back in March 2007.
NOTE: The story will be aired in 2 parts on Wednesday, October 15 and Thursday, October 16 evenings at 6:30pm and 12:30am GMT.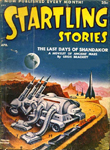 The Last Days Of Shandakor
By Leigh Brackett; Read by Nathan Osgood
Broadcast in 2 parts – Approx. 50 minutes
Broadcaster: BBC 7 / 7th Dimension time slot
Broadcast: Wednesday, October 15 and Thursday, October 16, 2008
An epic science fiction adventure written in Brackett's classic style in which Mars is portrayed as a dying planet where desperate Earthmen compete with the last Martians races for lost knowledge and hidden power. Follow Jon Ros on his solitary trek as he learns more about Mars' history and visits a remote Martian city lost in its own memories of the past.
And remember, if you miss it, BBC7 provides a "listen again" feature that keeps programs available for 6 days following the broadcast –like this and this.
Posted by RC of RTSF